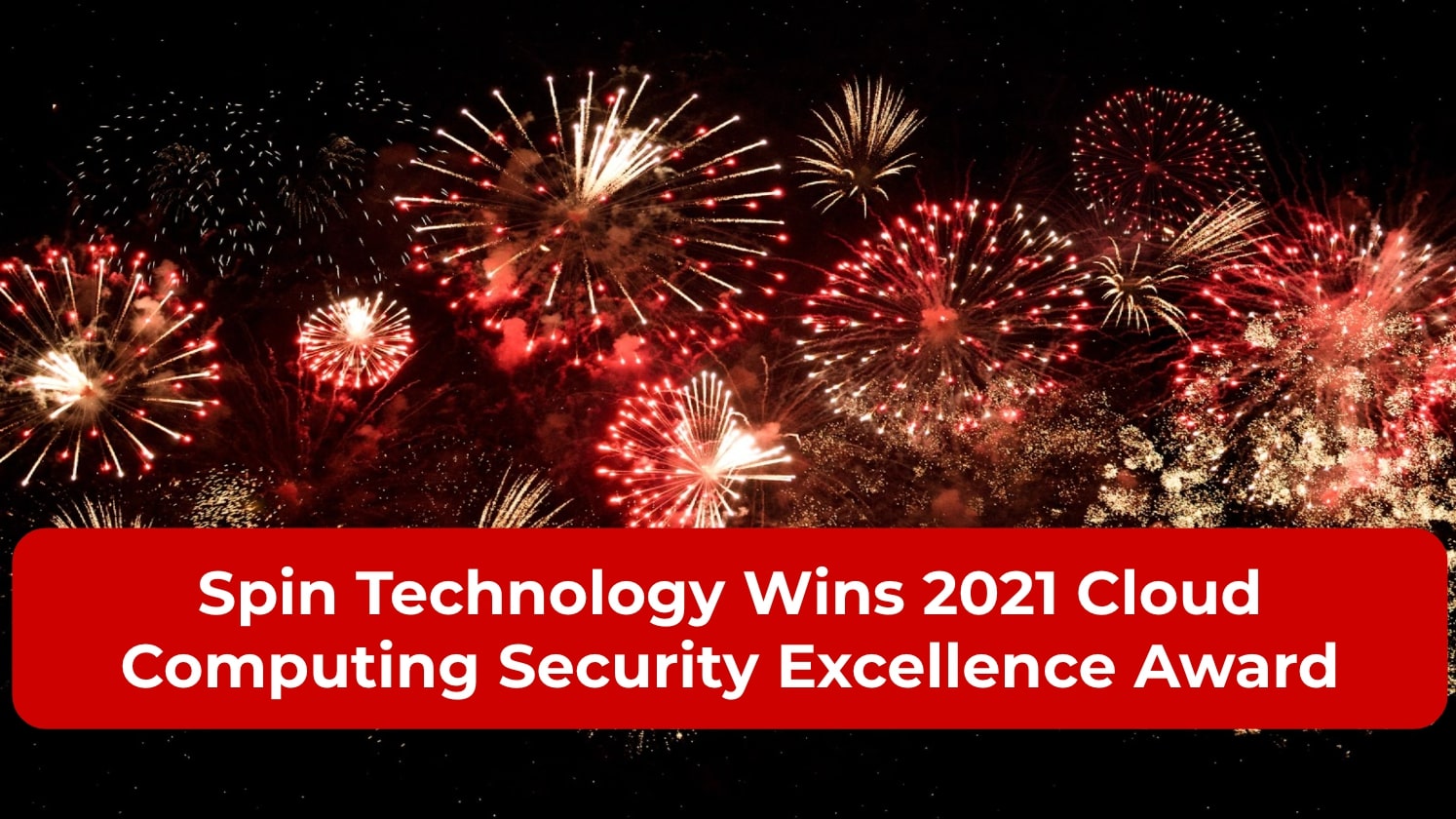 Spin Technology Wins 2021 Cloud Computing Security Excellence Award
Spin Technology
Wins 2021 Cloud Computing Security Excellence Award 
PALO ALTO, CA, — Spin Technology Inc., a leading provider of SaaS application security, announced that its cloud-native SaaS application protection platform was named a 2021 Cloud Computing Security Excellence Award winner.
Cloud Computing magazine's Cloud Computing Security Excellence Award honors companies that have most successfully embraced cloud computing in their efforts to bring new, innovative products to market.
Spin Technology was selected for this award because of its unique All-in-one approach to SaaS application security and contribution to delivering innovation and excellence to cloud security.
We are delighted to announce that Cloud Computing Magazine has awarded SpinOne the 2021 Cloud Computing Security Excellence Award! We are among incredible cybersecurity providers like Zscaler, Red Hat, VMware, and others.
"Congratulations to the winners of the 2021 Cloud Computing Security Excellence Award," said Rich Tehrani, CEO, TMC. "We've seen remarkable progress as security continues to be perhaps the leading consideration in cloud deployments, making this a very competitive process. There are hundreds of new players in the market compared to just a few years ago. It's our pleasure to recognize such impressive and important contributions to the cloud marketplace."
Innovation and excellence to cloud security
SpinOne platform powered by Artificial Intelligence helps organizations of all sizes secure their SaaS environments and address regulatory compliance for SaaS apps monitoring and access management. 
"Traditional backup solutions are inefficient in the SaaS environment due to API limitations and the growth of SaaS data. We believe that most businesses need to reassess their disaster recovery approach for SaaS data," said Spin's Chief Executive Officer, Dmitry Dontov. SpinOne sets a new industry standard for SaaS data protection by offering proactive SaaS security capabilities to prevent data breaches of SaaS applications. Robust application monitoring, continuous risk assessment, and immediate incident response on top of cloud-to-cloud backup help or clients substantially reduce downtime and recovery costs and prevent data breaches of SaaS applications.
About Spin Technology
Spin Technology is a leading provider of SaaS application security and data protection company based in Palo Alto, CA, addressing SaaS security risks and data privacy gaps.
Spin Technology helps enterprise businesses manage cybersecurity risks, protect against cloud ransomware, human error, and insider threats. Spin Technology's solutions extend security across Google Workspace and Microsoft Office 365 environments. SpinOne aims to protect organizations against data leaks and data loss in the cloud by backing up sensitive data to secure cloud storage and identifying security threats. The AI-driven technology provides 24×7 monitoring and detection against malware threats and identifies business risks, while Spin's automated runbooks deploy robust countermeasures to ensure continuous operation.