June 22, 2023 | Reading time 7 minutes
ISO Compliance Guide for Google Workspace Administrators
ISO compliance has been a buzzword in data protection circles for quite some time. In a world where compliance regulations are essential, securing your organization's data has never been more critical. Let's consider ISO compliance for Google Workspace administrators and highlight how SpinOne can help achieve compliance goals in Google Cloud.
Why Compliance Standards Are Important
Compliance standards, such as ISO 27001, HIPAA, and others, play a key role in protecting an organization's data, managing risk, and ensuring the trust of its clients and partners with Google services and other organizations. These standards establish a framework for handling and protecting sensitive data, providing a foundation for an organization's information security management system (ISMS).
For example, HIPAA, or the Health Insurance Portability and Accountability Act, is a crucial compliance standard for organizations handling protected health information (PHI). Controls to support HIPAA compliance ensure patient data privacy and security, helping to prevent unauthorized access and data breaches.
Note the following benefits of implementing compliance standards for your critical data:
Protection of Sensitive Data: Compliance standards outline the necessary security measures to protect sensitive data from threats and vulnerabilities. For instance, with Google Workspace HIPAA-compliant support, HIPAA regulations ensure healthcare data's privacy and security. At the same time, ISO 27001 addresses a broader range of data protection requirements to achieve HIPAA compliance with customer data and other security requirements.
Trust and Reputation: Compliance with established standards demonstrates an organization's commitment to data security, which can enhance its reputation and build trust with clients, partners, and regulators.
Legal and Regulatory Requirements: Compliance standards often reflect legal and regulatory requirements. Non-compliance can result in severe penalties, including fines, legal action, and damage to the organization's reputation.
Risk Management: Compliance standards provide a framework for identifying and managing risk. They help organizations identify potential threats, assess their impact, and establish controls to mitigate these risks.
Operational Efficiency: Achieving compliance can lead to improved operational efficiency. It encourages organizations to review and improve their current practices, leading to streamlined processes and enhanced data management.
Business Continuity: Standards like ISO 27001 require organizations to have a disaster recovery and business continuity plan. It ensures businesses can continue operating and recover quickly during a disruption or disaster and have a data loss prevention plan.
Compliance provides a clear path for organizations to follow in the complex data protection landscape. They offer a comprehensive and continually improving model for managing information security, making them vital for any organization that handles sensitive data.
What is ISO Compliance?
Like Google Workspace HIPAA compliance, ISO compliance refers to adhering to the standards the International Organization for Standardization (ISO) sets. ISO/IEC 27001, in particular, is a globally recognized standard for information security management systems (ISMS). It forms a framework for establishing, implementing, maintaining, and continually improving an ISMS within the organization's context​.
Originally published jointly by the International Organization for Standardization (ISO) and the International Electrotechnical Commission (IEC) in 2005, it was revised in 2013 and most recently in 2022. ISO/IEC 27001 details requirements for establishing, implementing, maintaining, and continually improving an information security management system (ISMS) to help organizations make their information assets more secure.
Most organizations have several information security controls, but these controls tend to be somewhat disorganized without an ISMS. ISO/IEC 27001 helps to handle all aspects of information security, including non-IT information assets like paperwork and proprietary knowledge. The standard requires management to:
Systematically examine the organization's information security risks, taking account of threats, vulnerabilities, and impacts.
To address unacceptable risks, design and implement a coherent and comprehensive suite of information security controls and other risk treatment forms.
Adopt an overarching management process to ensure that the information security controls continue to meet the organization's information security needs on an ongoing basis.
The controls that are part of the ISO/IEC 27001 standard depend on the certification auditor. It can include any controls that the organization has deemed to be within the scope of the ISMS. The auditor can assess the depth or extent of this testing as needed to test that the control has been implemented and is operating effectively.
Management determines the scope of the ISMS for certification purposes, which may be limited to a single business unit or location. It's important to note that the ISO/IEC 27001 certificate does not necessarily mean the remainder of the organization, outside the scoped area, has an excellent approach to information security management​.
Other standards in the ISO/IEC 27000 family provide additional guidance on designing, implementing, and operating an ISMS, such as information security risk management (ISO/IEC 27005)​.
You can learn more about ISO compliance here: https://www.iso.org/.
Google Workspace and ISO Compliance
Google Workspace, formerly known as G Suite, is one of the most popular cloud platforms for business operations and operates in world-class data centers worldwide. It offers tools like Gmail, Google Drive, and Google Meet, allowing users to collaborate and communicate effectively regardless of location. However, the challenge for Google Workspace administrators is to ensure that the organization's data within these tools comply with ISO standards.
Built-in security controls
Like most hyperscalers, Google Workspace has built-in security controls and compliance capabilities to ensure your organization's data is well-protected and adheres to various compliance standards, including ISO/IEC 27001, 27018, and Google Workspace HIPAA compliance. Google Workspace protects data at rest and in transit using multiple layers of encryption. It offers a range of access and authentication controls, including two-factor authentication, to enhance data protection.
The devil is in the details
Complying with the ISO standard and other compliance regulations doesn't end with just using the features in Google Workspace. It also requires a detailed understanding of the specific settings and configurations within Google Workspace and the ability to monitor and manage them effectively.
After all, cloud misconfigurations often lead to data breaches and accidental exposure of private or sensitive data that violate compliance regulations.
Compliance Reports Manager in Google Workspace
Google Workspace offers a tool known as the compliance reports manager. This tool provides detailed reports on your organization's data and how it is managed within Google Workspace. These reports provide insights into user activities, access controls, data regions, and data protection measures in place, among other things.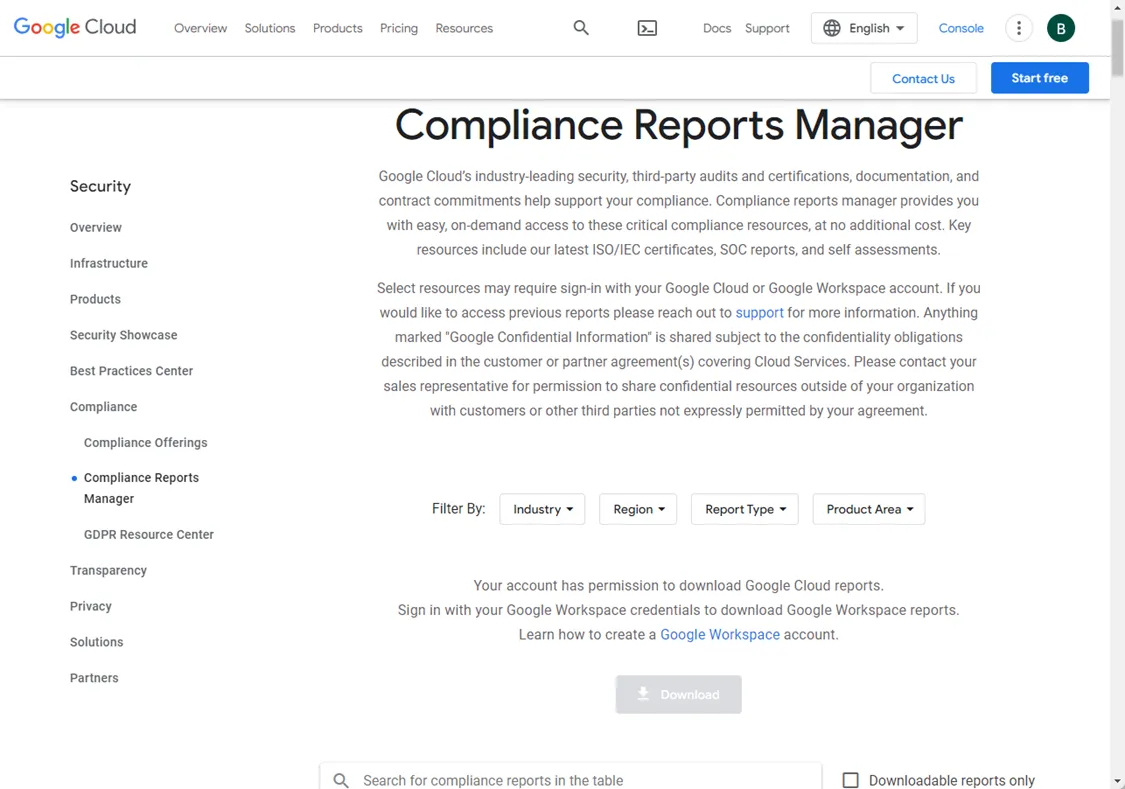 However, while the compliance reports manager is a valuable tool, it might not offer a complete solution for ISO compliance. It is where third-party tools like Spin can add tremendous value to your organization.
SpinOne: Helping you meet ISO Compliance in Google Workspace
Spin.AI offers solutions that map directly to several ISO/IEC 27001 control requirements, providing Google Workspace administrators with an extra layer of security and control over their data. Note the following areas where Spin allows companies to meet ISO compliance standards.
1. Access Controls and Secure Logon
Spin Platform allows customers to quickly identify data shared outside the organization and terminate such access immediately, helping to address ISO control requirements A9.2.3, A9.2.6, and A9.4.1. In addition, Spin offers secure logon procedures, allowing users to turn off Google login and use Spin Platform login credentials in combination with two-factor authentication, meeting the requirement of ISO control A9.4.2.
2. Cryptographic Controls and Physical Security
Spin ensures all data is encrypted at rest and in transit, directly mapping to ISO control A10.1.1. Also, Spin uses first-class cloud data centers from AWS, GCP, and Azure, ensuring the physical and environmental security controls necessary for ISO compliance to protect encryption keys, etc.
3. Malware Protection, Backup, and Event Logging
With its SpinSecurity module, Spin automatically identifies and blocks the source of a ransomware attack, terminates the encryption process, and runs granular recovery of lost files from the last successfully backed-up version (A12.2.1).
It uses the SpinBackup solution to create an exact copy of the data and securely store it in an encrypted format (A12.3.1). In addition, the SpinSecurity module enables customers to review and analyze critical security events, such as abnormal logins or sensitive data sent over email, meeting the ISO control A12.4.1.
4. Management of Technical Vulnerabilities and Software Installation Restrictions
The SpinAudit functionality allows customers to identify and blocklist risky applications that may cause data breaches or result in non-compliant processing or storage of sensitive data, thereby addressing ISO controls A12.6.1 and A12.6.2.
5. Information Transfer and Application Services Security
All data transmitted within the Spin platform is encrypted in transit, ensuring that information in application services passing over public networks is protected from fraudulent activity, contract dispute, and unauthorized disclosure and modification, meeting the requirements of ISO controls A13.2.1 and A14.1.2 requirements.
6. Reporting and Responding to Information Security Incidents
Spin Platform identifies security events such as abnormal logins, brute-force attacks, ransomware attacks, unauthorized data sharing, risky application installations, and sensitive data sent over email and notifying administrators. It responds by terminating ransomware attacks and restoring lost data. Additionally, Spin Platform provides access management and audit features that help investigate incidents and minimize the impact, fulfilling ISO control A16.1.5.
7. Information Security Continuity
The SpinBackup functionality allows customers to restore data in case of data loss, including version control and multi-cloud backup, addressing the ISO controls A17.1.1 and A17.1.2. Spin Platform keeps backed-up data encrypted and protected at all times.
8. Protection of Records and Personally Identifiable Information
SpinAudit allows customers to identify and blocklist risky third-party apps that may cause data breaches or result in non-compliant processing or storage of sensitive data. The SpinSecurity module enables customers to review and analyze various critical security events within the domain, such as abnormal logins or sensitive data sent over email. Furthermore, when customers use Spin Platform, all data is encrypted at rest and in transit, helping organizations meet ISO controls A18.1.3 and A18.1.4.
Spin.AI is revolutionizing the SaaS data security industry by delivering the most innovative last line of defense for ransomware, granular app security, and compliance-friendly backup solutions, all in one platform, for mission-critical SaaS data. It integrates with the most popular business apps to deliver seamless work for SecOps, aiming to save their time and budget​.
Wrapping up
Achieving ISO compliance can seem daunting, especially when dealing with extensive cloud platforms like Google Workspace. However, the journey becomes much more manageable with a comprehensive understanding of ISO controls and the right tools.
SpinOne emerges as an excellent tool for Google Workspace administrators. Its solutions cater to many ISO control requirements, making ISO compliance a less complex and more achievable target.
Remember, ISO compliance isn't just about avoiding penalties or ticking off a compliance checklist. It's about securing your organization's data and building customer trust. With Google Workspace and Spin, you can create a secure, efficient, and compliant digital workspace for your organization.
ISO Compliance FAQ
Is ISO compliance mandatory?
ISO compliance is not mandatory. However, because ISO standards set the best methodologies in the field, many businesses choose to study and introduce them in their various processes.
What are the 5 most popular ISO standards?
There are 22,000 ISO standards for numerous fields of organized human activities, from manufacturing to services. The most popular certificates are information security (ISO/IEC 27001), quality management (ISO 9001), medical device quality management (ISO 13485), occupational health and safety (ISO 45001), food safety (ISO 22000), and environmental management (ISO 14001).
ISO standards are a set of methods that have been developed by the most knowledgeable experts in the field. They describe how a certain process can be organized and implemented in the best way possible. Data protection is one such process. ISO standards are internationally recognized.
How Can You Maximize SaaS Security Benefits?
Let's get started with a live demo
Latest blog posts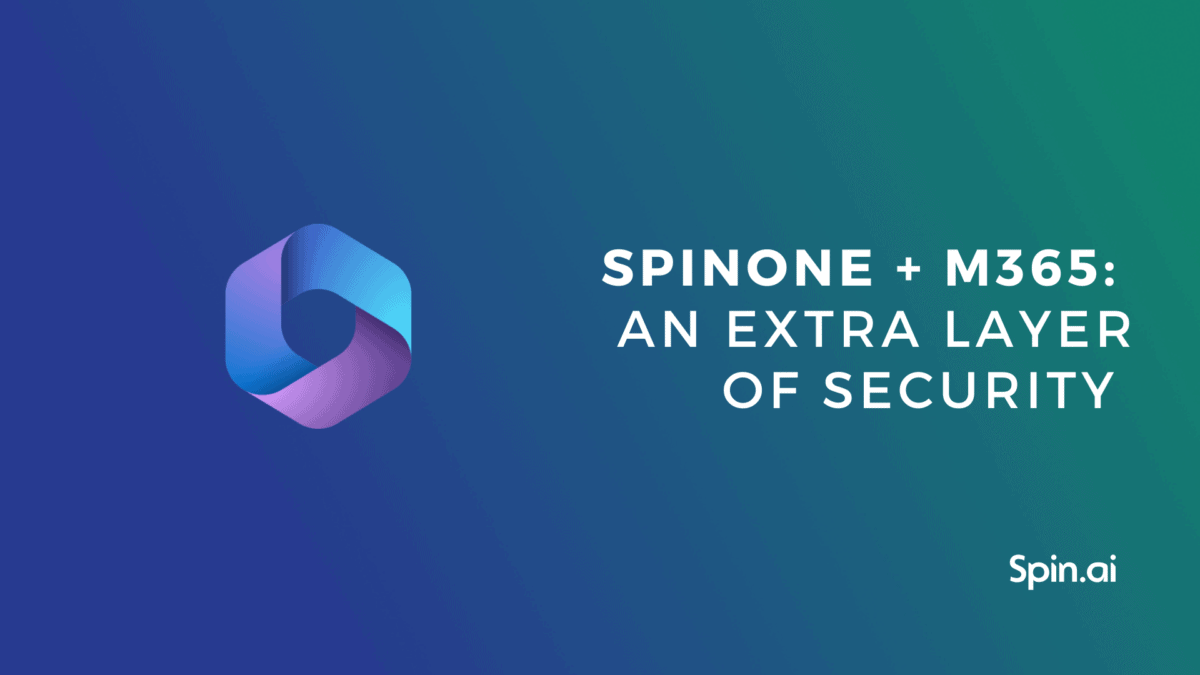 Microsoft 365 (M365) is one of the leading collaboration and communications platforms among organizations today. Companies have been migrating in […]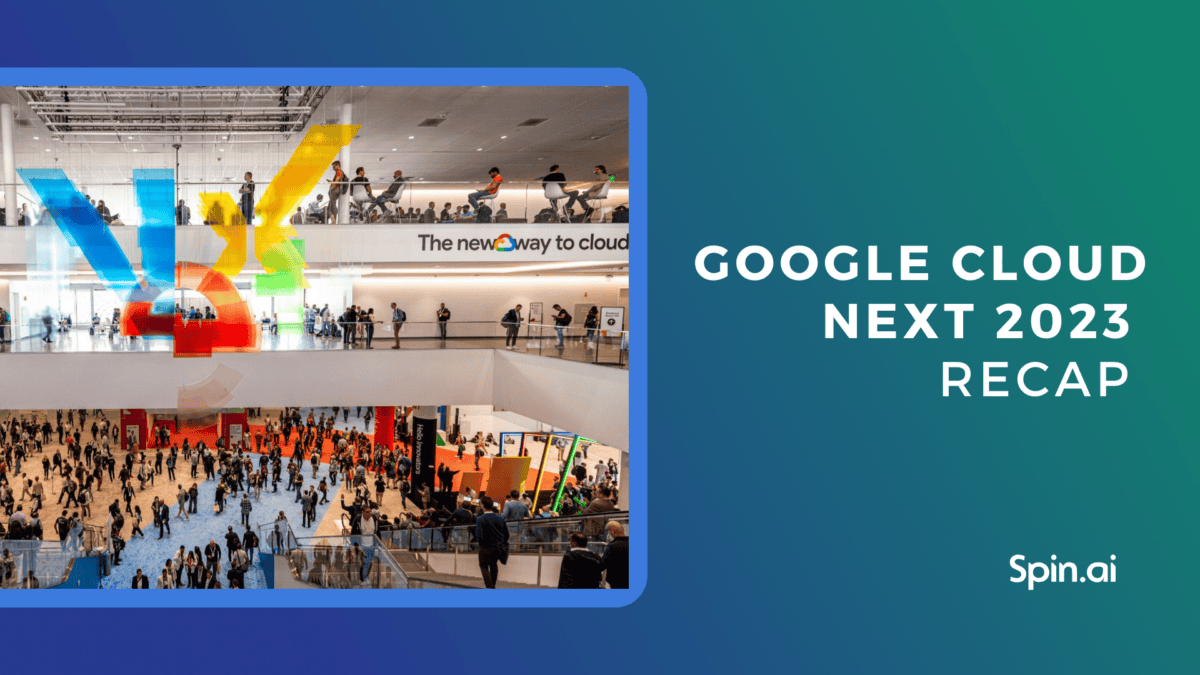 At the San Francisco Moscone Center, the Google Cloud Next 2023 conference was, as expected, one of the highlights of […]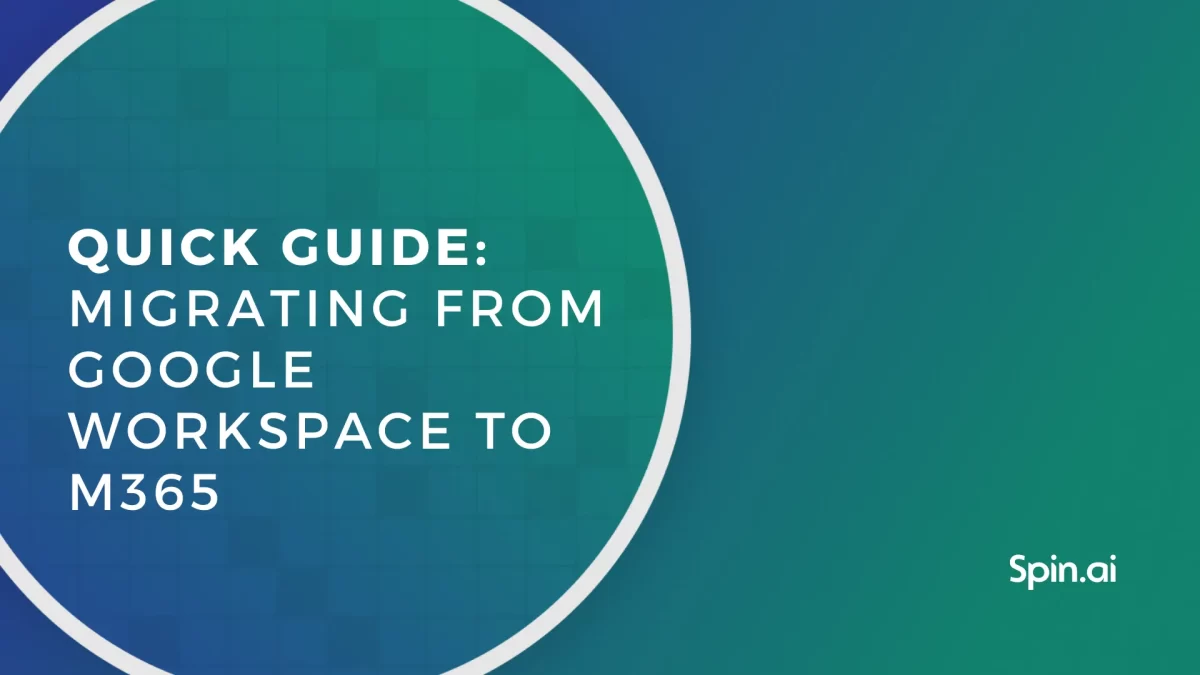 Deciding to migrate from Google Workspace to Microsoft 365 may be on the project list for some organizations. While both […]