SaaS Data Leak Prevention
SpinOne SaaS DLP enables enterprises to automatically discover and protect their most critical and sensitive data elements in Google Workspace, Microsoft 365, Salesforce or Slack cloud environments.
When it comes to SaaS data leaks getting sensitive information into the public eye, there are several avenues by which this exposure occurs. SaaS data exposure incidents can be accidental or criminal, including breaches, hacks, leaks, or malicious attacks.
SaaS Data Leaks Are Expensive and Dangerous
Cloud Ransomware is a type of sophisticated crypto-malware targeting cloud environments that locks users out of their devices or prevents them from accessing SaaS data until a ransom is paid. Ransomware is doing big business for cybercriminals, driving the ransomware SaaS data leaks to happen with any cloud-hosted information. If you're using any of the major cloud platforms – Google Workspace, Microsoft 365, Salesforce or Slack– then your data is at risk of being exposed. Cloud data leaks are not the fault of individual employees. Instead, they are a result of fragile SaaS security processes that can't handle the complexity and scale of cloud operations.

Today's digital world is a highly interconnected and highly value-laden one, where people can access your data with a single click. Enterprises are vulnerable enough to release it to anonymous SaaS applications internet browsers – there are many ways to exploit the lack of SaaS security. This is why SaaS security must be built into the standard procedures of today's businesses.

Every organization today is dealing with an incredible amount of data. Whether it's customer payment histories or financial records, sensitive data is typically the most tightly protected information a company possesses. If a data leak occurs, it can damage the company's reputation and lead to massive fines and lawsuits. Most SaaS security tools can't effectively monitor all communication channels with comprehensive granularity.
The Cost of Data Breach
According to IBM Security and the Ponemon Institute the 2021 Cost of a Data Breach Report:
38% of the total breach costs was a result of lost business
$180 – Cost per record containing personally identifiable information (PII) data
287 days – the average number of days to identify and contain a data breach
$1.07 million – Cost difference when remote work is involved as a factor in the breach
$4.62 million – Average total cost of a ransomware breach
$4.24 million – Global average total cost of a data breach
$5.12 million – Average total cost of a data breach when businesses have extensive cloud migration.
$9.23 million – The healthcare industry retains the highest average cost of a data breach:
Because of this, companies need to make sure they're doing everything in their power to protect the sensitive PII data they possess. Therefore, businesses must deploy Data Leak Prevention (DLP) solutions for their SaaS data.
Data Leak Prevention (DLP) combines SaaS security tools to detect and monitor unauthorized access or transfer of sensitive information, ranging from credit card numbers to social security numbers and other personally identifiable information. Businesses must keep this data safe and secure. It is easy to be intercepted in transit by hackers or even insider threats without proper precautions.
"Through 2025, 90% of the organizations that fail to control public cloud use will inappropriately share sensitive data."
— Gartner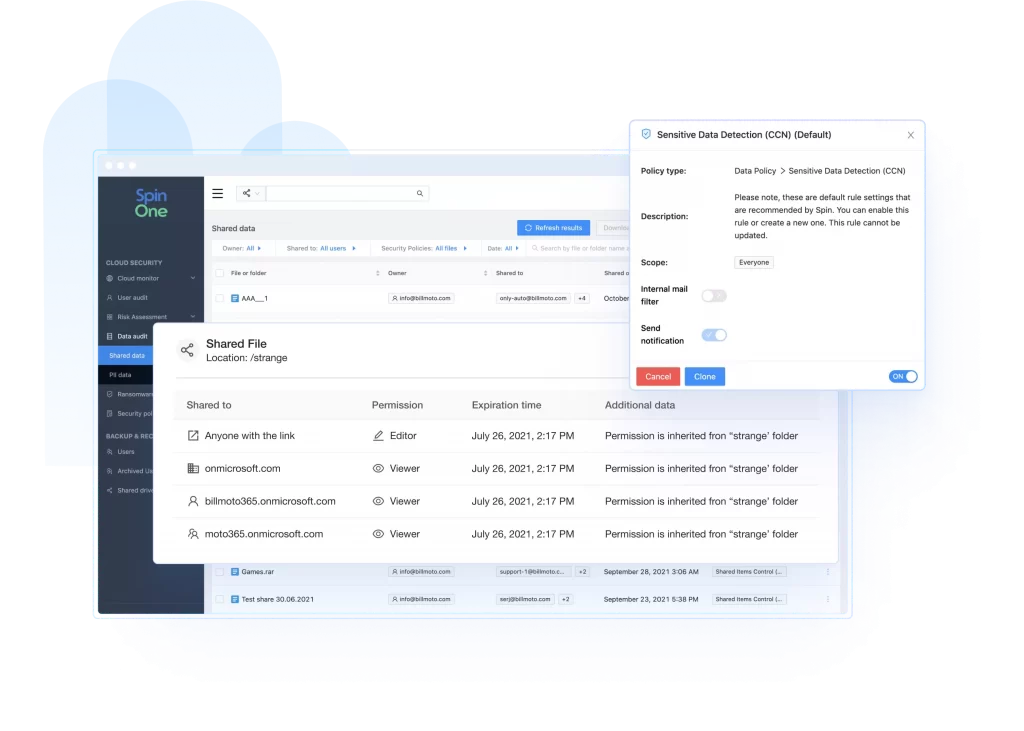 SaaS Data Leak – How It Happens
Organizations are increasingly using cloud SaaS environments such as Google Workspace, Microsoft 365, Salesforce, or Slack to house business-critical data. It is essential to identify and monitor for these three types of leaks to prevent sensitive data leaks:
Shared data by end-users
Risky SaaS cloud applications
Ransomware
What Gets Leaked?
Identity information – name, address, phone number, email address, username, password

Activity information – order and payment history, browsing habits, usage details

Credit card information – card numbers, CVV codes, expiration dates, billing zip codes.
Private, sensitive information is vulnerable and valuable to attackers. Attackers seek to compromise sensitive personal information found in internal databases, user lists, customer records, payment information, and many other data sources.
These are often the first types of SaaS assets that attackers seek to compromise for the treasure trove of sensitive information. Information may be compromised due to weak encryption, no encryption, software flaws, or poorly monitored and controlled cloud Software-as-a-Service environments.
SaaS data sharing by users
Cloud SaaS environments make data sharing easy. With a few clicks, end-users can share data internally or externally. It's important to protect data, as accidental or intentional sharing can cost your company millions of dollars!
Risky cloud applications
Cloud applications found in cloud SaaS application marketplaces, such as Google Marketplace or Microsoft Azure Marketplace, provide robust features. Still, data is dangerous to be leaking into the wrong hands if the application or browser extension is not written with security in mind or is meant to leak or steal your SaaS data fraudulently.
Cloud ransomware
The intention of hackers releasing sensitive data to blackmail you into paying them is a scary one. Unfortunately, this strategy often works out in favor of the ransomware gangs. It's a frightening reality that cybercriminals will target cloud environments more in the coming years. Therefore, businesses need to have a plan to close the gap on data leaks to strengthen their cybersecurity posture.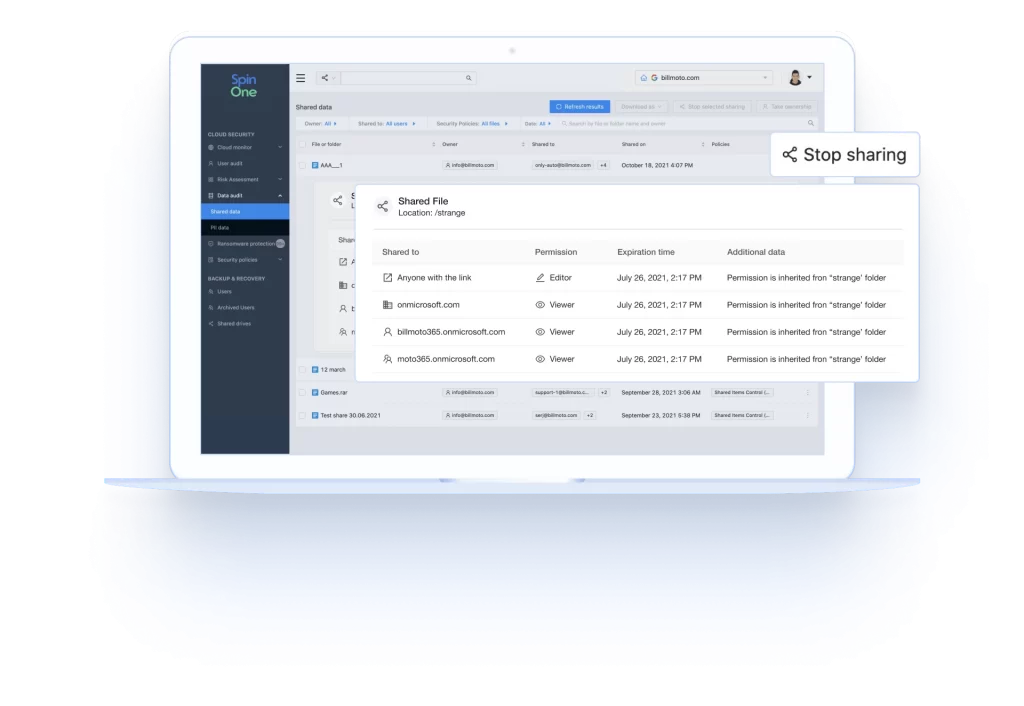 SaaS Data Leak Prevention Features by SpinOne
Data leak prevention is a component of SpinOne's DLP capability that protects your data from leaks, making sensitive information accessible by unauthorized individuals.

SpinOne's robust data leak visibility and controls allow businesses to protect against data leaking out of the sanctioned boundaries of the cloud SaaS environment. Using SpinOne, organizations have clear visibility of where data is shared, who shared it, when it was shared, and to whom it was shared.
Using SpinOne's SaaS Data Audit dashboard, IT admins have quick and ultimate visibility into data shared organization-wide.
As part of the SaaS Data Audit module, the PII dashboard allows seeing redacted PII information quickly.
SpinOne's SaaS Risk Assessment module allows businesses to have full visibility into applications integrated into the environment and either allow or block applications based on the continuous risk and scoring provided by SpinOne.
The automated Cloud Ransomware Protection module helps stop any cloud ransomware attack using SpinOne's automated processes, allowing organizations eliminate data leaks due to ransomware.
SaaS Data Leak Protection by SpinOne
According to Gartner, "Through 2025, 90% of the organizations that fail to control public cloud use will inappropriately share sensitive data. Cloud strategies usually lag behind cloud use. This leaves most organizations with many unsanctioned and unrecognized public cloud use, creating unnecessary risk exposure. CIOs must develop a comprehensive enterprise strategy before the cloud is implemented or risk the aftermath of an uncontrolled public cloud."
SpinOne provides fully automated SaaS Data Leak Protection that requires no human involvement, taking the heavy-lifting out of protecting your cloud SaaS environments from sensitive and PII data leaks. In addition, the visibility and automated remediations offer a level of protection not found using built-in cloud SaaS solutions. SpinOne also helps discover and prevent violations of compliance regulations and cybersecurity frameworks, such as PCI-DSS, GDPR, or HIPAA in all regional variations.
Start Making the Most of Your SaaS Security
It only takes a few steps to get started with our demo.