Combating Compliance Risks
SpinOne simplifies the SaaS data protection and compliance processes in Google Workspace, Microsoft Office 365, and Salesforce.
SpinOne is the All-in-one SaaS Security Platform that provides enterprises with seamless SaaS compliance and cybersecurity controls across multiple cloud environments.
Improve Your SaaS Security and Compliance Posture
Cloud-based SaaS solutions are becoming the leading technology for all businesses. The three most important reasons business leaders opt for this technology are scalability, on-demand functionality, and lower costs. Integrating a third-party application with your cloud SaaS environment allows bridging any gap between your products or services, giving you the ability to find solutions for your business needs instantly.

When integrating a third-party application with your cloud SaaS environment, security teams have to consider the risks of granting external applications access to your business-critical data and your cloud environment. Users can easily integrate third-party applications into cloud SaaS environments when no controls are in place.

Businesses of all sizes must be prepared to keep their SaaS data safe, track who accesses it, and know where it's located at all times. With visibility into security settings across an entire cloud environment, you can monitor and audit access to sensitive data sets, including where data assets are stored and which applications may be sharing information with personal devices or external services.
"The increasing ubiquity of cloud and mobile adoption can reduce the visibility and control that IT security teams have over organizational risk exposure."
— Craig Lawson, research vice president at Gartner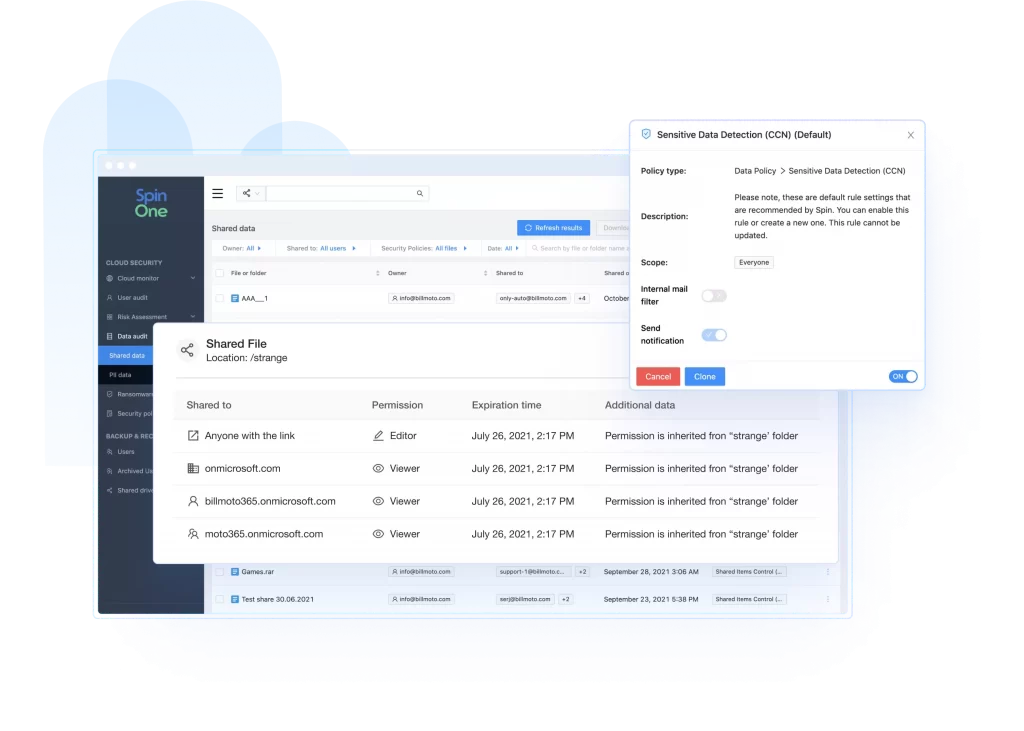 SaaS Compliance Concerns
User activities — For effective compliance and security visibility, companies must have visibility into end-user activities and understand what users are doing, what data they are accessing and sharing, and where and on what devices they are accessing it.
SaaS Applications – Cloud applications have revolutionized the work of organizations. But, as with any technological advancement, there are associated risks. Security challenges pose the biggest threat to cloud-based applications and services, as users are prone to attacks from both internal and external sources.
SaaS Data Protection – Data is the new oil, and businesses need to protect it. As a result, companies must protect their business-critical SaaS data from many different risks, including human error and malicious threats such as ransomware.
Shadow IT – is a severe concern for security teams, given their inherent opaqueness and lack of IT executive oversight. The risk here is that the security team will not be aware of the SaaS applications being used by employees, which will reduce the ability to monitor for malicious activity or data exfiltration.
SaaS Security Governance Is Critical for Reducing Compliance Risk
SaaS Threat Monitoring
Cyber threats are constantly evolving, and threat monitoring must also evolve to meet those challenges. Businesses should integrate cloud monitoring with advanced threat management to ensure adequate and accurate cyber security. By combining threat intelligence and automation in machine learning, companies can protect their cloud environments by identifying emerging threats early on.
Event Logging
Logging events and monitoring activities are essential parts of any cybersecurity and compliance system. Advanced and continuous log-monitoring is required to detect issues and prevent data breaches if you're operating in the cloud. Organizations should monitor and capture events, including:
SaaS applications installed and revoked
Data sharing, revoked sharing permissions, files edited, deleted, and permissions changed
Data downloaded from cloud SaaS storage
Logins – successful and failed
Sensitive data access and transmission
SaaS Data Access Management
Cloud access management is a crucial part of the overall cloud security strategy. It provides organizations with deeper visibility into user behavior and critical insights into making more informed decisions. Cloud access monitoring helps organizations detect suspicious activities and investigate potential threats promptly, thereby reducing the IT security risk.
SaaS Security Policy Orchestration
Businesses of all sizes must meet regulatory compliance and ensure that sensitive data is safe. This requires constant vigilance and reliable cybersecurity solutions. However, built-in tools in cloud SaaS often don't offer the level of visibility and controls necessary to achieve organization-wide compliance.
SaaS Security Automation
Security automation is a high-priority problem for SecOps teams across the world. Contemporary multi-cloud environments create a slew of security challenges that are difficult to effectively handle with manual processes, such as an overwhelming number of alerts, events, and log entries generated by their monitored systems in the cloud. Effective SecOps is incredibly resource-intensive, as their goal isn't just keeping SaaS data safe from cybercriminals but also evolving insider or outsider threats., Businesses must deploy automated, AI-powered solutions that continuously monitor both types of threats to stay compliant and secure.
Compliance Risk Management Simplified with SpinOne
SpinOne is a centralized and fully automated SaaS Security Platform that provides robust tools for cybersecurity and compliance management in a multi-cloud SaaS environment, including Google Workspace, Microsoft Office 365, and Salesforce. SpinOne's provides automated SaaS application risk assessment and security scoring of SaaS applications and user behaviors, leveraging artificial intelligence (AI) and machine learning (ML).

SpinOne allows organizations to audit user activity, review application utilization, data access, and the scope of permissions in real-time, and maintain records for compliance purposes. SpinOne monitors user activities to help you stay compliant so your business operations don't get interrupted and SaaS data remains secure. SpinOne's unmatched knowledge of the SaaS application audit and assessment allows us to understand our customers' specific needs and requirements and solve the complex challenges facing them.
SpinOne allows applying granular Security Policies to SaaS applications that meet multiple criteria, including:
Application category
Application ID
Developer
Scope of permissions
Application Risk Score
OAuth permissions delegation
Chrome Extensions
Market-Leading Performance, Scalability, and Innovation
Intelligent AI/ML behavior monitoring includes monitoring users, data, and applications for anomalies that indicate compromise, risky behaviors, and malicious activities. It provides robust SaaS security policy management for your organization so automated decisions can be made, including allowing, blocking, manual actions, or customized responses.
With SpinOne, you can create custom policies to automate the security processes for SaaS apps, data, and domain-related activities.
SaaS security and compliance capabilities of SpinOne
24/7 monitoring
SaaS Security policy orchestration
Security scoring for SaaS apps and browser extensions
Audit logs and activity history
Blocklisting/ Whitelisting for apps and browser extensions
Immediate security alerts via email and Slack
Account data archiving
Start Making the Most of Your SaaS Security
It only takes a few steps to get started with our demo.