SpinOne All-in-one SaaS Security Platform
Get full visibility and fast incident response
to protect mission-critical SaaS Apps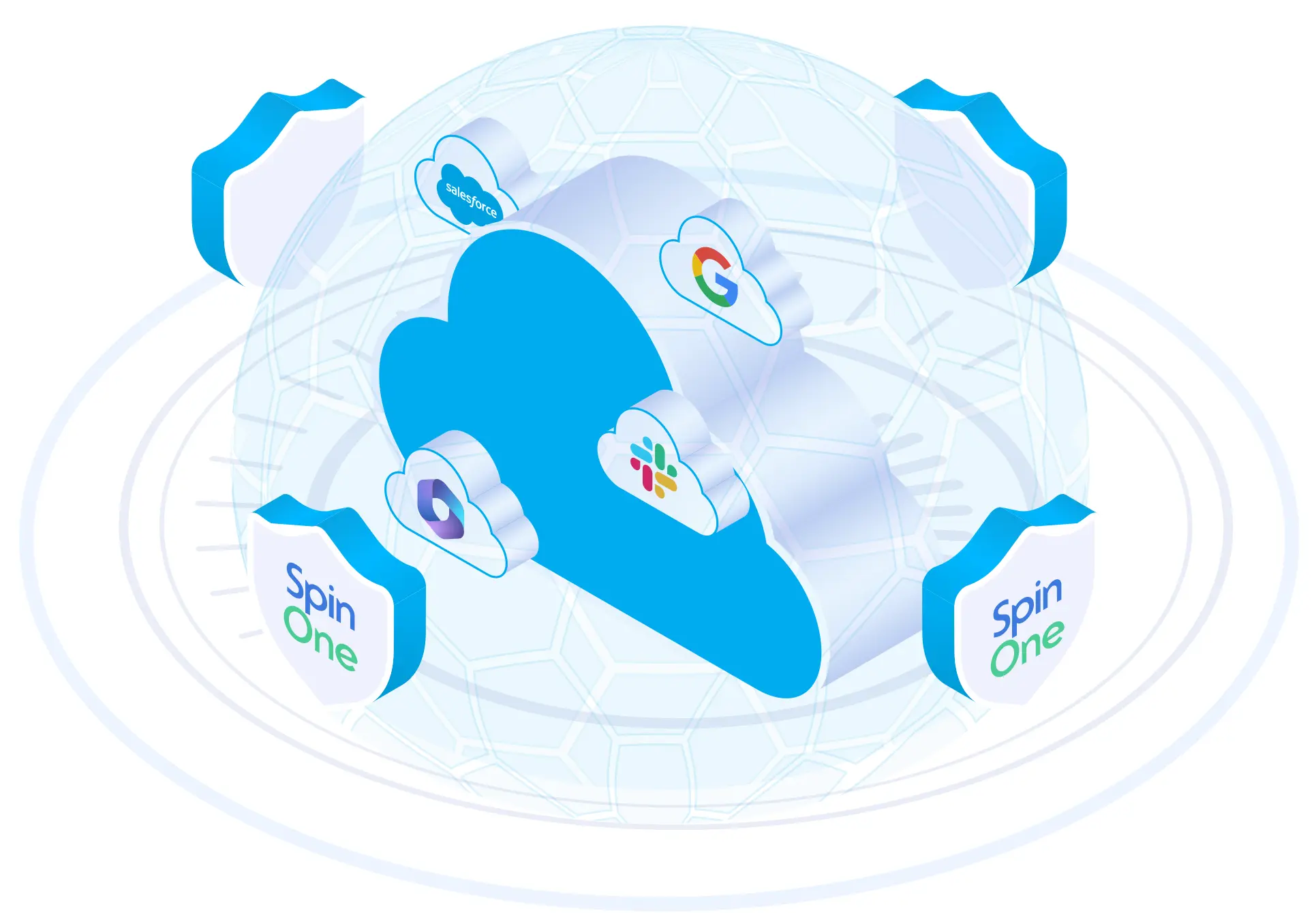 Protect your SaaS Data with SpinOne
SpinOne is an all-in-one SaaS security platform that protects SaaS data against data leak and data loss by helping organizations reduce security and compliance risks, save time for SecOps teams, dramatically reduce downtime and recovery costs from ransomware attacks, and improve compliance.

Top SaaS Security Challenges
SaaS Security Posture Management (SSPM)
Reduce risk and save time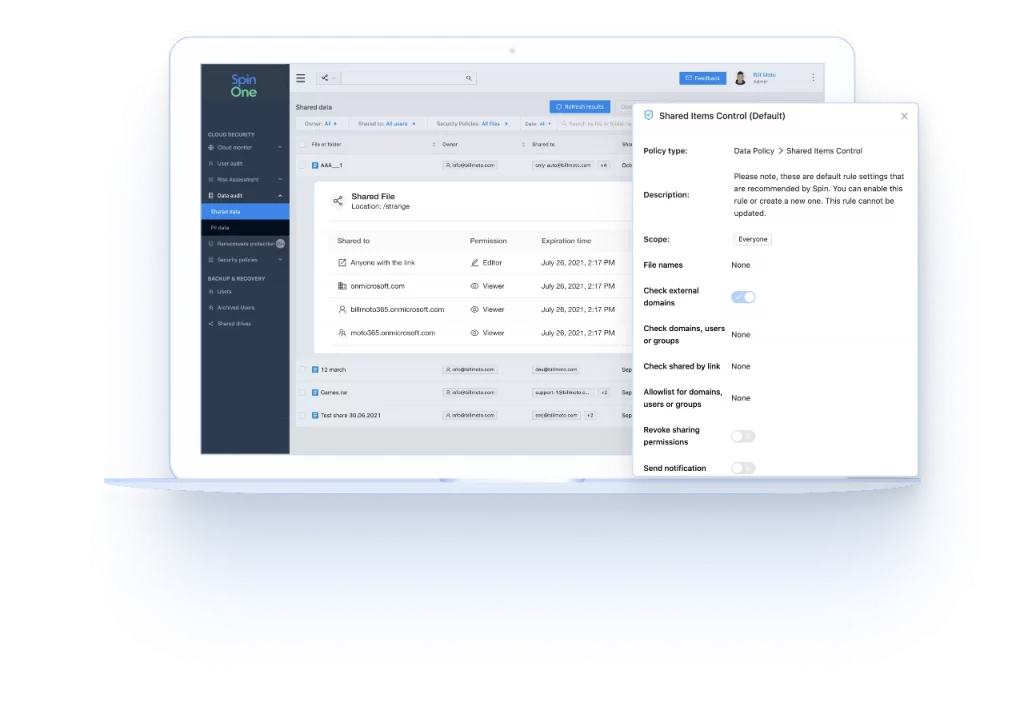 Get full visibility and fast incident response for misconfigurations and unsanctioned third party apps/extensions with SpinOne. Reduce your security, compliance, and data loss risks while reducing manual workloads with automated Security Operations. SpinOne gives you inventory, visibility, assessment, reassessment, access management, and incident response for all cloud services, mobile apps, SaaS apps, and browser extensions that have OAuth access to your collaboration tools. And, with access to our unique database of 300,000+ apps discovered by our AI-algorithms, you can reduce your app risk assessment time from months to seconds.

Read the SSPM Guide
SaaS Data Leak Prevention and Data Loss Protection (DLP)
Reduce security incidents and improve compliance
Shadow IT and insider threats put your organization at high risk for data leak or loss. Control all unauthorized access to sensitive SaaS data with SpinOne's configurable access management and advanced reporting. Recover lost data in a matter of minutes or hours (instead of the typical weeks or months) with integrated, automated SaaS backup and rapid incident response. With low false positives and fast deployment, you can easily reduce security issues by 95%.

Develop your DLP strategy
SaaS Ransomware Detection & Response
Reduce downtime and recovery costs
With SpinOne Ransomware Detection & Response, you can stop in-progress ransomware attacks immediately with 24/7 monitoring and automated incident alerting. SpinOne also reduces recovery costs by 90% by recovering SaaS data in minutes (instead of weeks) – and reduces business downtime from an average of 1 month to less than 2 hours.

Try the free ransomware simulator
SaaS security for every use case
"SpinOne has been a game changer from day one.
We were drawn to SpinAI's platform because it was so easy to set up and manage.
With SpinOne, we have full transparency into what's happening in the environment
and can enforce policies that are stronger than ever before."
Stephan Matter, Technical Operations Manager, Tyk Technologies
One platform for unmatched protection
Why SpinOne?
How it works
SpinOne's agentless, API-based, cloud-to-cloud solutions protect your SaaS data across Google Workspace, Microsoft 365, Salesforce, and Slack.
SpinOne also integrates with popular business apps – Jira, ServiceNow, DataDog, Splunk, Slack, and Teams – to help you save time and reduce manual workloads.
Frequently Asked Questions
SaaS Security helps enterprises protect SaaS data stored in critical SaaS applications. These solutions fill the gaps left by other siloed cybersecurity tools, and provide several layers of protection, including SaaS security posture management (SSPM), SaaS data leak and loss prevention (DLP), and SaaS ransomware detection and response. Enterprises use SaaS Security solutions like SpinOne to mitigate risk, save time, reduce downtime, and improve compliance.
IT Security and Operations teams want to protect mission critical applications like Google Workspace and Microsoft 365, but they face many challenges in terms of visibility, manual processes and risk. They often lack visibility into application risks and shadow IT which can result in apps and extensions that have permission to delete SaaS data, download it, update it, and encrypt it. They are typically faced with manual processes such as continuously assessing app risks or applying policies which reduces their efficiency. And they must mitigate a wide range of risks such leak or loss of sensitive data, downtime from attacks due to app API limitations or throttling, and the risk of noncompliance with regulations such as SOC 2 Type II, GDPR and CCPA. SaaS Security solutions like SpinOne help to mitigate risk, save time, reduce downtime, and improve compliance.
How are SaaS Security solutions different from solutions like CASB?
Traditional cloud security solutions, such as Cloud Access Security Brokers (CASB), require agents which must be installed on each user's device, can cause latency, and require you to store data elsewhere. SaaS Security solutions like SpinOne are more flexible because they are agentless which means you can secure SaaS data remotely. Without a proxy in the middle, you can more easily manage your attack surface by deploying faster with a lower cost and effort.
How secure is SaaS data in Google Workspace, Microsoft 365, Salesforce, and Slack?
The shared responsibility models for Google, Microsoft, Salesforce and Slack note that they take care of the physical security of their data centers and underlying infrastructure, but your data is still your responsibility. Simply using a cloud service provider environment does not eliminate the business responsibility of security and compliance. Organizations are responsible for the protection and compliance of their data. To reduce the risk of ransomware, shadow IT, and data leak or loss, you need a SaaS security solution like SpinOne that protects SaaS data in your Google, Microsoft, Salesforce, and Slack environments.
Your SaaS security starts with SpinOne