October 25, 2021 | Reading time 4 minutes
SaaS Security: Steps to Enhance Threat Detection
Organizations today have many challenges protecting their business-critical data from today's cybersecurity threats. However, one of the cybersecurity gaps that can be highly challenging is a lack of security detection expertise. Worldwide, there is a shortage of trained cybersecurity professionals to fill much-needed security roles across the board. The cybersecurity talent shortage leads to a lack of cybersecurity detection expertise. Why is the detection of cybersecurity threats critical? How can businesses effectively use security automation for cybersecurity threat detection?
Why is cybersecurity threat detection critical?
Cybersecurity detection is crucial to mitigating the damage an attacker can cause after compromising business-critical systems. According to IBM's Cost of a Data Breach Report 2021, the time elapsed between the first detection of the breach and its containment is referred to as the data breach lifecycle. The report goes on to say:
"The average time to identify describes the time it takes to detect that an incident has occurred. The time to contain refers to the time it takes for an organization to resolve a situation once it has been detected and ultimately restore service. These metrics can be used to determine the effectiveness of an organization's incident response and containment processes."
According to data gathered for 2021, the data breach lifecycle is shockingly long. Note the following statistics from IBM's Cost of a Data Breach Report 2021:
Average time to identify and contain a data breach in 2021: 287 days
The data breach lifecycle took a week longer in 2021 than in 2020
In 2021, it took an average of 212 days to identify a breach and 75 days to contain a breach
For example, if the breach occurred on January 1st, it would not be contained until October 14th
As shown by the statistics above, identifying a breach is necessary to contain the breach afterward. The longer an attacker has access to your business-critical data, they can do more damage. Trained cybersecurity professionals have historically performed cybersecurity detection using various techniques and tools such as log monitoring and network analysis.
These are highly specialized skillsets that require training, study, and the right tools. As organizations face the shortage of cybersecurity professionals worldwide, it gives attackers an advantage with the lack of security detection expertise. Even with proper cybersecurity staffing, breaches can be exceptionally difficult for humans to detect with the "noise" of everyday traffic, activity, and other tasks happening in enterprise environments. So, imagine not having detection expertise on top of these challenges.
Cloud SaaS environments can be even more challenging
While there is a general shortage of cybersecurity professionals across the industry, it is even more challenging to find cybersecurity professionals with specialized skills in certain areas, such as cloud SaaS. Cloud SaaS security skills are essential due to the sheer number of organizations migrating business-critical data and services to cloud SaaS environments.
Due to the pandemic, many businesses have been operating with a highly distributed workforce since the beginning of 2020. This shift to a distributed workforce as accelerated cloud migrations as cloud SaaS environments offer powerful remote communication and collaboration platforms.
Quick and aggressive cloud SaaS migrations often leave gaps in cybersecurity. One of those is the ability to detect threats in cloud SaaS environments. Many companies find it challenging to have the visibility and controls needed in cloud SaaS environments to understand data and user activity risks. In addition, built-in security tools in Google Workspace and Microsoft 365 can be lacking. The security capabilities organizations have available may even depend on the subscription level of their cloud SaaS environment, leading to inconsistency and cybersecurity gaps. These factors, including a lack of security detection expertise and inconsistent and lacking native cloud SaaS security tools, can lead to significantly increased cybersecurity risks.
Manual processes vs. security automation in threat detection
Businesses today often lack the technologies and tools that allow having fewer experienced cybersecurity professionals and effectively detecting active threats in the environment. So what are these technologies and tools? In the Cost of a Data Breach Study 2021, it was found that security AI and automation significantly reduced the average time to identify and respond to a data breach and had a lower average cost.
Automation technologies, including artificial intelligence, analytics, and automated orchestration, were associated with lower than average data breach costs. However, attackers are using highly advanced techniques and malicious tools to penetrate cybersecurity defenses. As a result, organizations must use equally sophisticated tools and processes to close the cybersecurity gaps, especially in threat detection.
Cybersecurity automation is especially needed with the sheer width and breadth of cloud SaaS environments featuring many services and data locations. Even a moderately staffed cybersecurity team may struggle to keep up with threats to business-critical data in cloud SaaS environments on top of on-premises threats without security automation.
Security automation can drastically minimize the damage path of modern cybersecurity risks such as ransomware. For example, proactive security automation can us AI intelligence to detect and stop ransomware, minimizing the amount of encrypted data.
SpinOne – Automated security detection for cloud SaaS
We have discussed three crucial challenges related to cybersecurity detection today:
Inferior detection capabilities lengthen the data breach lifecycle
Cloud SaaS environments require specialized skills and security tools
Security automation is needed to detect modern threats effectively
SpinOne provides advanced data protection and security using modern, automated threat detection in cloud SaaS environments such as Google Workspace and Microsoft 365 that solves all three of the challenges listed. In addition, it helps organizations overcome the challenges related to the lack of cybersecurity professionals and, specifically, detection expertise in cloud SaaS environments.
SpinOne uses a security engine powered by artificial intelligence (AI) and machine learning (ML) to give visibility, control, and automated cybersecurity responses in Google Workspace and Microsoft 365. It takes the heavy lifting out of these essential low-level tasks so organizations lacking security detection expertise can access simple but powerful tools for cloud SaaS cybersecurity.
Note the following SpinOne security automation features
Artificial Intelligence-powered SaaS ransomware detection
24x7x365 automated monitoring
AI-based ransomware recognition
Alerts and Analytics
Automated ransomware remediation
Automated ransomware restore
Automated cloud SaaS application risk assessments
SpinOne provides the visibility and controls needed for cloud SaaS cybersecurity, including automated cloud SaaS application risk assessments. SpinOne can:
Automatically audit the risk level of an application
Review user activities across your domain
Review how your data is being accessed and shared
Blacklist/Whitelist applications
Implement security policies
Identify connected devices
The SpinOne Cloud monitor dashboard displays cloud SaaS and SpinOne alerts and information. This view helps both veteran cybersecurity professionals and those who lack security detection expertise view relevant security events.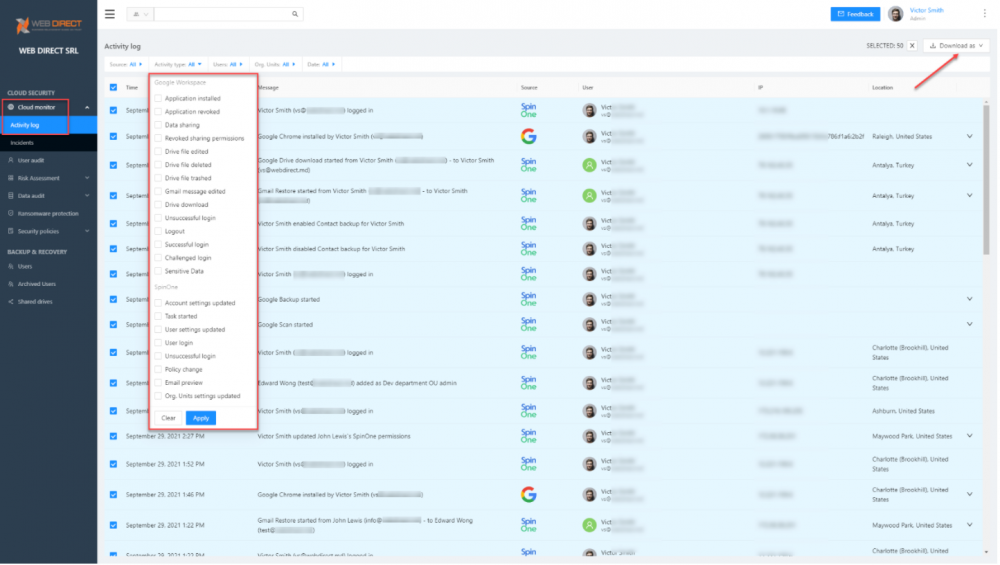 SpinOne Cloud Monitor activity log
Detecting security anomalies with data is extremely important. Securing cloud SaaS environments includes securing the data from threats such as data leaks. SpinOne effectively gives visibility to all data shared inside and outside the organization with the SaaS Data audit dashboard.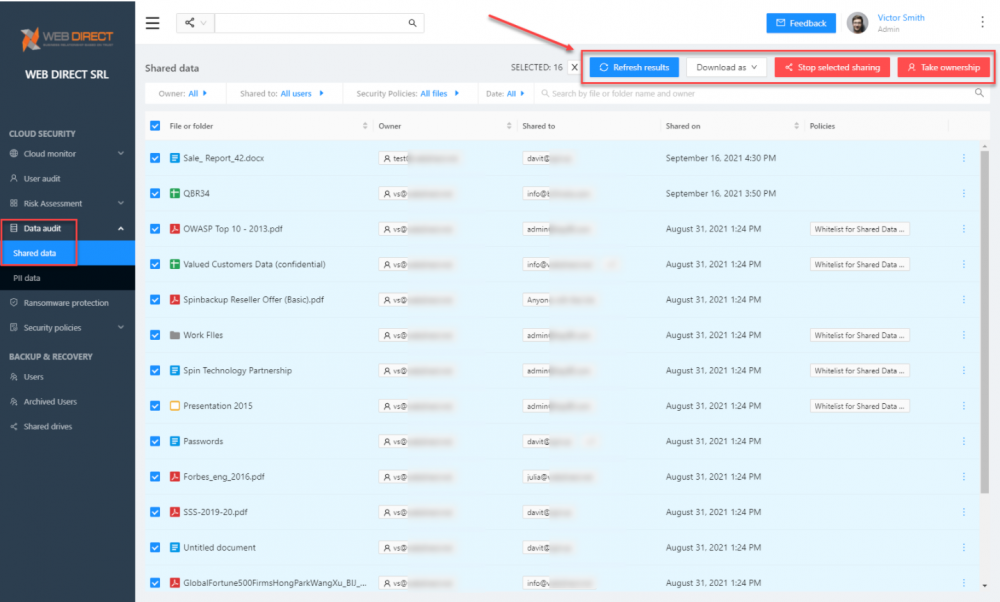 SpinOne Data audit dashboard
With SpinOne's next-generation security automation, it proactively searches for and remediates ransomware attacks with the following workflow:
SpinOne continuously scans for the signs of ransomware attacking the environment
If ransomware is detected, SpinOne forcibly removes the network connection from the ransomware process
It performs scans of the environment to find affected files
Any affected files found are automatically recovered from the last good SpinOne backup (configurable)
It then automatically notifies administrators
How Can You Maximize SaaS Security Benefits?
Let's get started with a live demo
Latest blog posts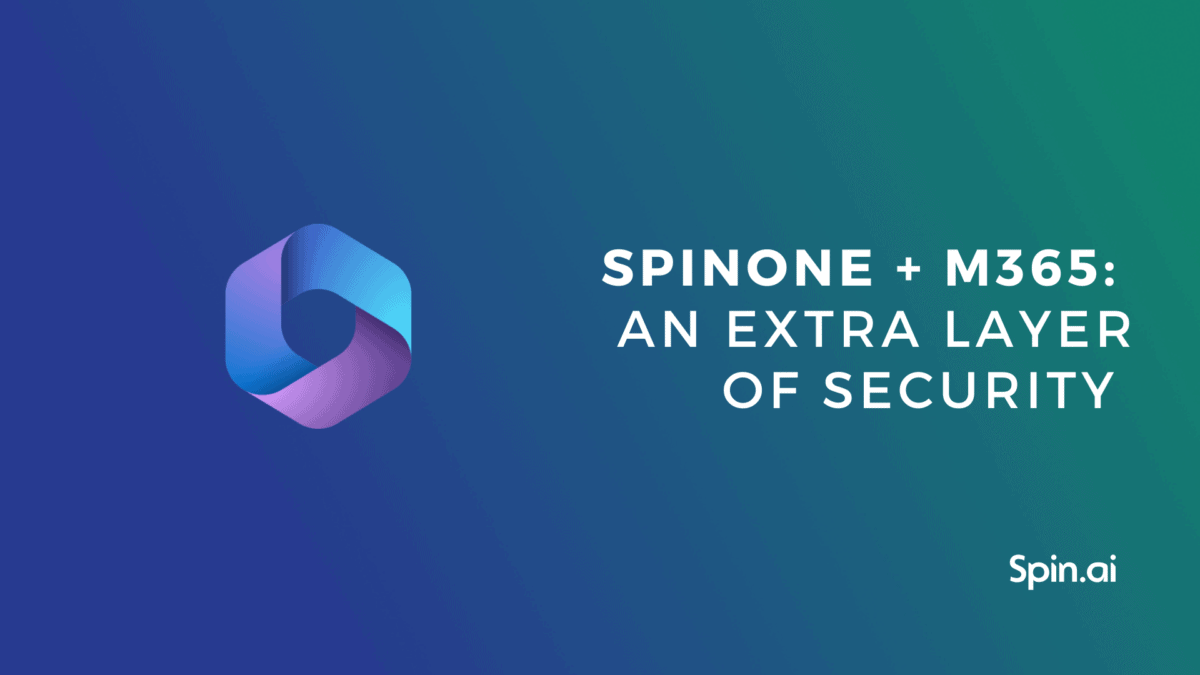 Microsoft 365 (M365) is one of the leading collaboration and communications platforms among organizations today. Companies have been migrating in […]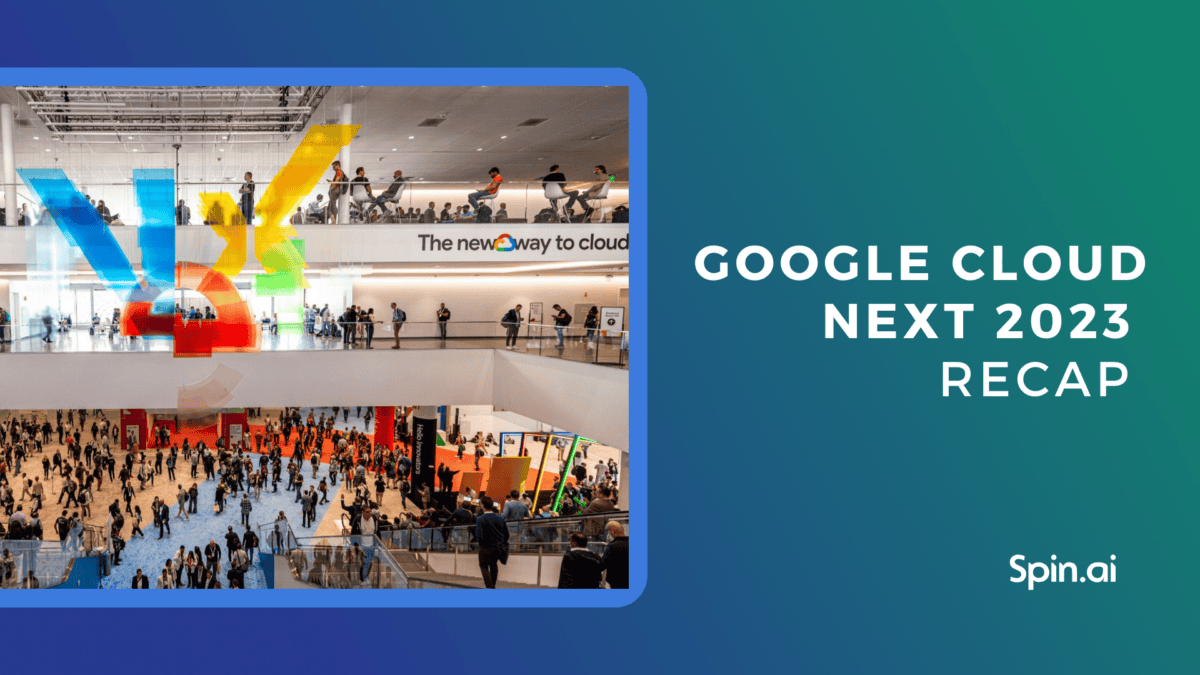 At the San Francisco Moscone Center, the Google Cloud Next 2023 conference was, as expected, one of the highlights of […]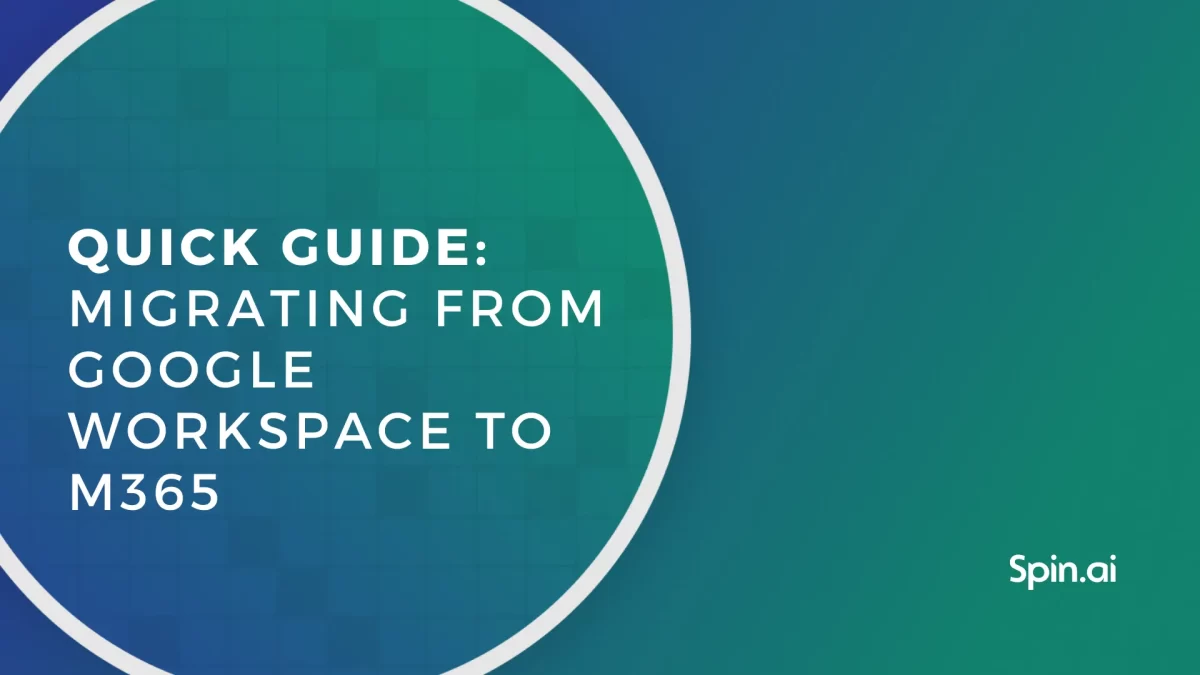 Deciding to migrate from Google Workspace to Microsoft 365 may be on the project list for some organizations. While both […]