October 3, 2021 | Reading time 14 minutes
The Future of Work. Increased Security Risks after COVID-19
Security risks spiralled with pandemics impacting many business operations. In this article, we're taking an in-depth look into the future of work and associated cybersecurity challenges.
There have been many uncertainties due to the global pandemic affecting all areas of life and the COVID-19 pandemic disrupted labor markets globally during 2020 and 2021. Businesses, individuals, and families have all had to make adjustments to adapt to the "new normal." Out of all the uncertainties, there is one thing we do know. As with many aspects of life, the future of work will never be the same as previously.
Businesses are now having to think outside the box of a traditional on-premises workforce. COVID-19 has made us realize that work can and must be carried out effectively, across many business sectors, with employees working remotely. Let's take a more in-depth look at how work has changed due to the global pandemic. What does the future of work look like?
What COVID-19 has taught us about the future of work
As a result of COVID-19, the global pandemic has brought about changes that would have never happened otherwise. In a short time, organizations had to shift to a remote workforce and transition communication, access to applications, and workflows to enable employees to work together effectively, despite being distributed across many different locations.
It has emphasized the ultra-importance of being digitally ready to carry out business-essential operations regardless of employees' physical location. Those organizations with little or no remote technology infrastructure in place most likely suffered the most impact due to the pandemic.
COVID-19 has taught us that we live in a world that can change overnight. Traditional business routines and ways of doing things do not mean these are impervious to change. Even if organizations return to the more conventional on-premises workplace as the pandemic eventually subsides, these need to be ready with the technologies and processes to make the digital shift again when needed.
Increased security risk from remote working
However, for many organizations, the changes in processes may never return to the way they were pre-COVID-19. One of the positive outcomes of COVID-19 is it has helped organizations understand how they can do business more effectively and efficiently with technology. Overall, this has made most companies more robust and resilient to future disruptions. What has enabled this change?
The cloud revolution has enabled the shift to the mindset that physical location or even the device being used to access business-critical data no longer matters. Employees can be productive, effective, and efficient, regardless of location. Highly effective teams of employees distributed across the globe can effectively work together as a team.
Cloud technologies remove the roadblocks that require employees to be located in a specific physical location in the traditional workplace. Businesses can now effectively carry out critical operations in a virtual workplace using powerful cloud applications and platforms. What are these cloud technologies and platforms that allow companies to have the digital tools needed for an effective remote workplace?
The future of work embraces the cloud
The global pandemic has placed laser focus on the cloud to solve the technology challenges facing organizations due to COVID-19. Traditional on-premises environments are generally not equipped to handle the complex technology challenges facing businesses using a primarily remote workforce. Businesses today need flexibility, agility, and access to modern platforms, which cloud solutions give them. Let's focus on how the following cloud platforms and specific technologies empower businesses to be digitally ready.
Cloud Software-as-a-Service (SaaS) environments
Cloud data storage
File sharing
Cloud mobility and access
Embedded video collaboration
1. Cloud Software-as-a-Services (SaaS) environments
For the past several years, organizations have been steadily migrating data and services to cloud Software-as-a-Service (SaaS) environments. Two of the most popular services available are Google Workspace (formerly G Suite) and Microsoft 365 (formerly Office 365). Both platforms provide a tremendous amount of capabilities to businesses looking to move to the cloud.
Cloud SaaS environments allow organizations to focus on what matters most – their data and services. It abstracts all of the underlying infrastructures to be more agile, flexible, and scale services as needed. This, in turn, provides many benefits, including:
Significantly reducing the physical server footprint, lifecycle management, and supporting infrastructure on-premises
Switching from CapEx to OpEx expenditures
Having infinite scalability
Providing easy access to employees regardless of physical location
Having integration with thousands of third-party apps in the cloud marketplace
Remote work and virtual meetings are likely to continue
Most importantly, considering the events of this year, cloud SaaS allows organizations to quickly shift operations from on-premises to any location. Remote employees can access their data and services from anywhere. Also, IT operations have access to triage issues without the need to be on-premises.
Given that cloud SaaS platforms like Google Workspace and Microsoft 365 already have powerful collaboration tools built into their platforms such as Google Meet and Microsoft Teams, these are simply part of the solution. Businesses have access to these tools as part of the cloud SaaS ecosystem. If new services are needed, organizations can buy into those services by upgrading or augmenting subscriptions. There is no hardware to purchase and provision or lifecycle management that must be managed by on-premises teams.
Most businesses are seeing that cloud SaaS and collaboration platforms are the way of the future. Microsoft Teams adoption has skyrocketed in 2020 since the beginning of the pandemic. According to subscription statistics, Microsoft Teams has grown to over 75 million subscribers in April 2020. This is up from 20 million subscribers in November 2019.
2. Cloud data storage
One of the first hurdles that remote employees often have with traditional infrastructure is accessing business-critical files. Traditional networks protect critical file servers on the inside of the network behind a firewall. This helps to protect business-critical data. By design, firewalls make it challenging to access internal resources from the Internet.
A standard solution to this problem is Virtual Private Network (VPN) connections. However, VPN connections can be cumbersome for end-users. They typically do not scale well when considering the need to shift your entire workforce to using a VPN for connecting back to the corporate office.
A better solution is cloud data storage. Using cloud SaaS as mentioned earlier, opens the door to being able to seamlessly store data in the cloud and allow end-users access to the data, regardless of their physical location and their network connection.
Organizations typically start a migration to cloud SaaS with the migration of data storage and services like email. By leveraging the cloud for these two core critical services, your business can start shifting to a digitally ready stance for future-proofing.
3. File Sharing
Closely related to cloud data storage is file sharing. Employees working remotely and collaborating with fellow team members must have the ability to share files and collaborate effectively. Cloud data storage allows employees to effectively share and collaborate on files in the same way that employees do this on-premises, and even better in many cases.
Solutions like SharePoint Online, an extension of Microsoft 365, provide a powerful enterprise document sharing and collaboration platform. It brings all of the enterprise features and capabilities of on-premises SharePoint to the cloud as a service. Again, a digital transformation is made possible by shifting core-critical business services from on-premises environments to the cloud.
4. Cloud mobility and access
When thinking about the future of work, organizations do well to think about how they can position themselves to have always-on, always accessible connectivity to business-critical data and services. The global pandemic has shown that unforeseen disasters can happen at any time. While COVID-19 has not been a disaster causing physical damage to on-premises data centers like other natural disasters, the effects have often been equally disruptive.
Cloud service providers have data centers located in all areas of the world. This type of data diversity and resiliency is difficult, if not impossible, to achieve for most organizations with their own private data center infrastructure. Storing your data in the cloud provides ultra-resiliency and accessibility for your data.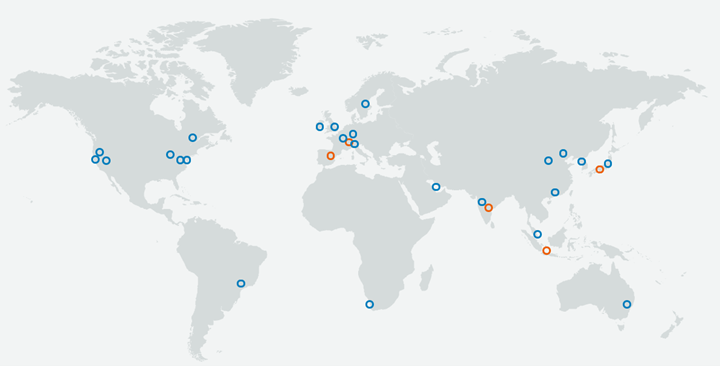 AWS Global Infrastructure Map detailing availability zones
As mentioned earlier, using cloud resources means VPN solutions and other traditional network requirements are no longer needed. Cloud SaaS applications allow remote employees to access data and cloud services from anywhere, at any time, without VPN or internal network connectivity. Additionally, users can connect from any device, including mobile devices, PC, or Mac.
5. Embedded video collaboration
From the beginning of the pandemic, face-to-face communication was no longer possible. COVID-19 has brought into focus the value of face-to-face video communication as a viable and effective alternative. Communication is vital for successful productivity and collaboration. Both Google Workspace and Microsoft 365 have embedded video chat embedded in the solution. Google Meet and Microsoft Teams provide face-to-face video conference capabilities that allow remote employees to regain the familiar feel of face-to-face meetings in the office. These have allowed organizations to carry on team meetings effectively without the ability to be together physically.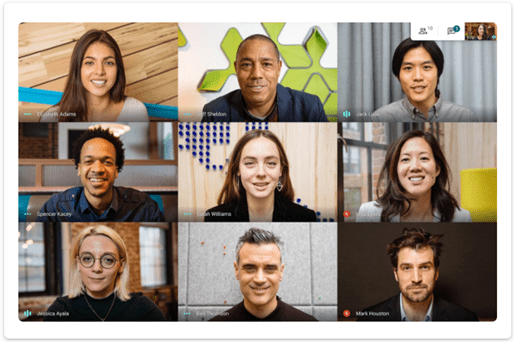 Google Meet video chat
Video communications are an essential component of an effective digital platform leveraged to meet future remote work productivity challenges. Video conferencing built on top of cloud SaaS platforms allows businesses to remain productive and communicate effectively without face-to-face, in-person communication.
Another vital aspect of the future of work as we know it is security. What security challenges have been brought to the fore by the shift to a distributed workforce? How does this affect the future of work?
The future of work must consider security risks
As organizations start shifting quickly to using cloud platforms to carry out business-critical processes, it can become challenging to manage and prioritize security. This year, many organizations have transitioned swiftly from traditional on-premises infrastructure management to cloud SaaS and other cloud tools. What security challenges are organizations facing with remote workers leveraging cloud applications?
Employee auditing
Securing file sharing and data access
Ransomware
Third-party apps and browser extension control
Employee auditing
As discussed, the cloud provides tremendous mobility and ease of access to data and services. However, this can be a "dual-edged sword." With the ability to access data from anywhere and on any device, it can be difficult to secure business-critical data and know who is accessing it. Businesses need to answer the following questions around their cloud data:
Where is access coming from?
What IP addresses are used to access resources?
Is access originating from suspicious geolocations?
What applications are used to access the environment?
Are those applications sanctioned?
Securing file sharing and data access
In conjunction with effective employee auditing, securing file sharing and data access is crucial. Sharing data from cloud environments like Google Workspace and Microsoft 365 is made easy. The sharing of data outside the organization can happen inadvertently or intentionally. This can lead to exposing sensitive information or an all-out data breach.
In thinking about the future of work and leveraging cloud solutions, it is essential to secure file sharing and control how data is shared outside the organization. It is also necessary to have visibility to who is accessing your data, from where, and from which applications.
Ransomware
Ransomware is arguably the most dangerous risk to your business-critical data. Attackers are using ransomware effectively to lock up business data. Merely moving to the cloud does not effectively protect your data from ransomware. Attackers have even escalated cyberattacks since the beginning of the COVID-19 pandemic. Cybersecurity experts have reported 4,000 attacks a day since the COVID-19 pandemic began. This is a 400% increase in the number of cyberattacks
Ransomware can infect cloud SaaS services such as file storage as well as even cloud email environments. As your business looks towards the future of work, properly securing business-critical data means protecting your environments against ransomware. It requires the right tools and solutions, as well as protecting your cloud data with backups.
Third-party apps and browser extensions
Cloud SaaS environments like Google Workspace and Microsoft 365 offer a healthy ecosystem of third-party app integrations with their respective cloud SaaS platforms. These offer the ability to extend the capabilities natively provided. In thinking about proper security, it is essential to control and manage third-party applications and browser plugins that end-users have access to and that are allowed to access business-critical data.
Malicious apps or browser extensions may request end-users to grant permissions to your cloud data only to inject ransomware or steal sensitive information. Third-party applications will undoubtedly be a part of future work solutions that can extend capabilities in the cloud. However, these must be scrutinized and controlled appropriately to ensure sensitive data is protected.
Cloud security solutions
The future of work as we know it has certainly changed. The cloud is introducing new ways of doing business and is allowing organizations to continue carrying on effectively despite current and future challenges. Along with leveraging cloud solutions for productivity, using an effective cloud security solution to meet the security challenges listed above is essential.
SpinOne is a cloud security solution leveraging next-generation technologies like artificial intelligence (AI) and machine learning (ML) to effectively protect your cloud SaaS environments like Google Workspace and Microsoft 365. It allows meeting the challenges mentioned with cloud security capabilities, including:
Implementing cloud security policies
Allow/Deny cloud applications
Identify connected devices
Identify who/what has access to cloud data
Identify where data is shared
Ransomware protection
cloud-to-cloud backups
SpinOne is an excellent example of how organizations can tackle the future of work with confidence. It allows shifting to a digitally ready work environment using cloud SaaS solutions while keeping security at the forefront. The future of work will revolve around effectively using cloud technologies to carry out business, no matter what challenges are on the horizon.
Thanks for your feedback!
How Can You Maximize SaaS Security Benefits?
Let's get started with a live demo
Latest blog posts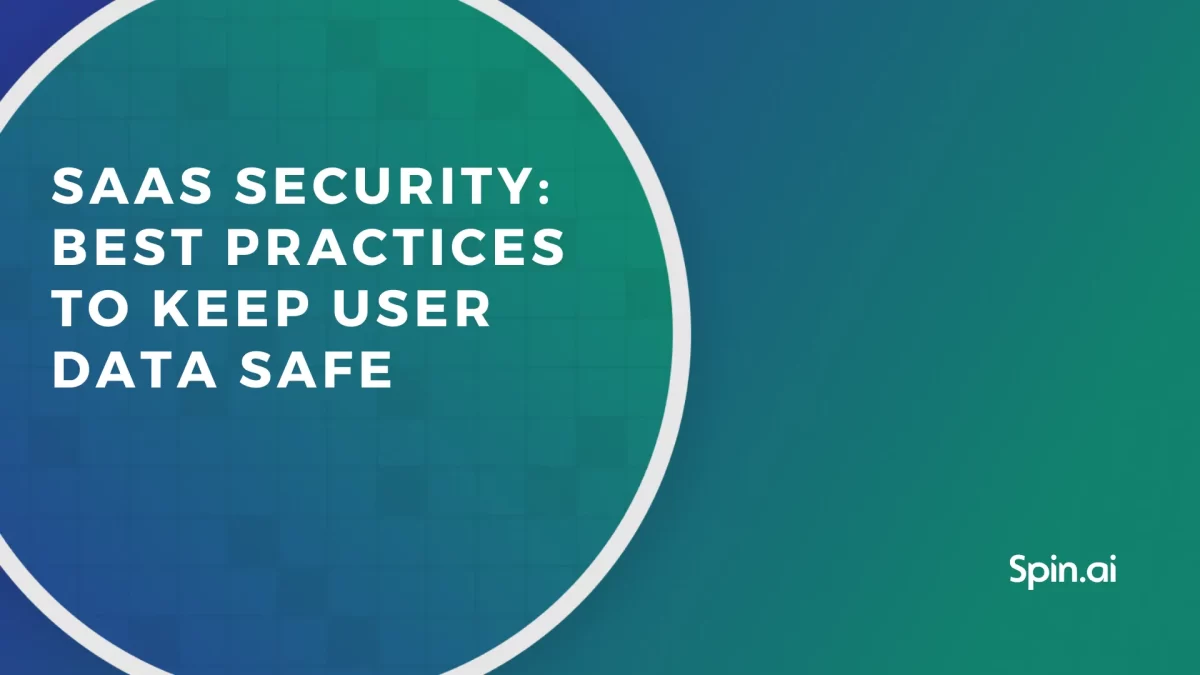 With many businesses relying on SaaS environments, SaaS security has become critical. Learn the best practices of SaaS security that […]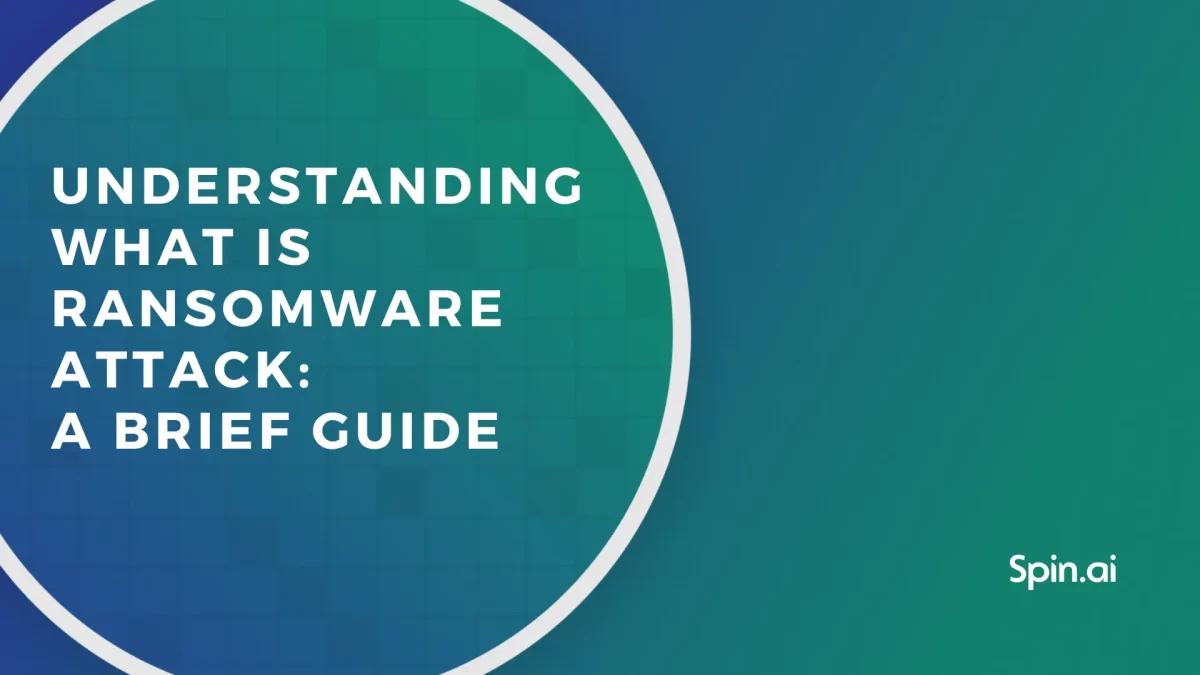 The number of ransomware attacks has been growing steadily for the past years. So have the ransom payments. Experts predict […]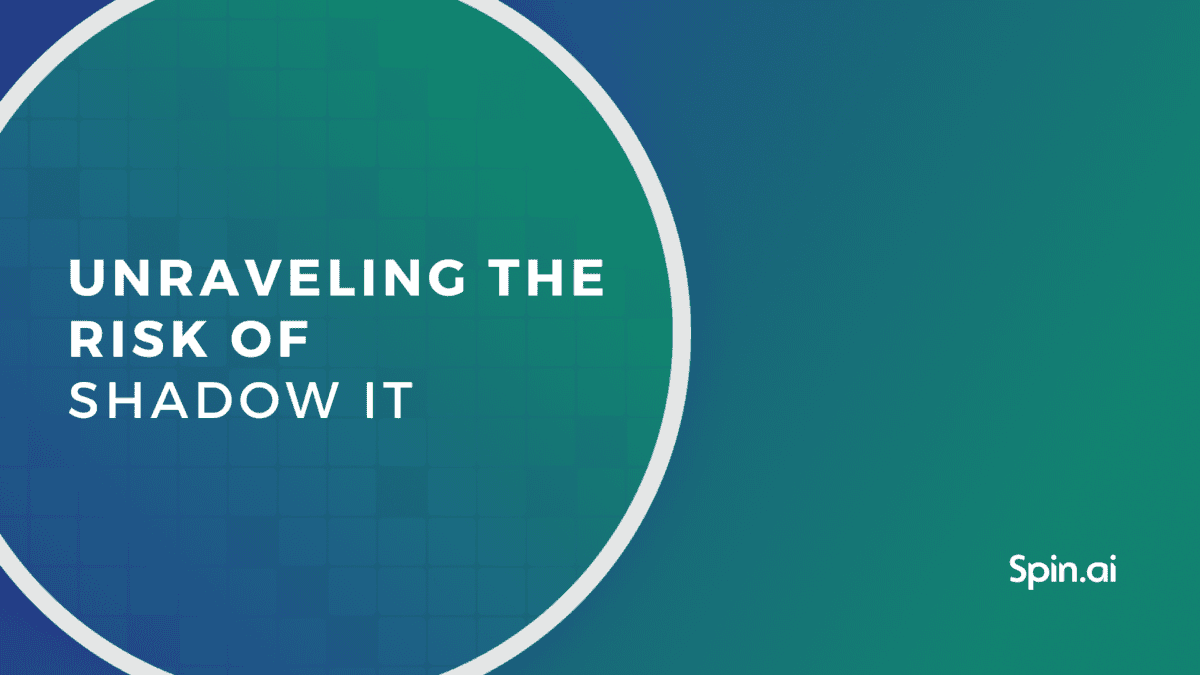 While our workplaces become increasingly reliant on third-party applications, how do organizations balance security and usability? Our Director of Product […]