June 1, 2023 | Reading time 4 minutes
GDPR Compliance Guide for Google Workspace Admins
With companies moving to the cloud, compliance regulations are a pressing priority. In this article, we discuss the General Data Protection Regulation (GDPR). What is GDPR? If you fall under GDPR compliance and use Google Workspace, is Google Workspace GDPR compliant? How can organizations ensure their Google Workspace environment aligns with GDPR requirements?
What is GDPR?
The General Data Protection Regulation (GDPR) is a European privacy legislation adopted on May 25, 2018, to regulate how businesses can collect, use, and store the personal data of their consumers and provide the latter with more control over their data. The GDPR also grants the authority to impose penalties on businesses that do not comply with the regulations.
GDPR lays out specific data security requirements for businesses established in the European Union or serving users in the European Union. Even if your company operates out of the US, if you process the personal data of anyone in the EU, GDPR applies to your organization.
Is Google Workspace GDPR Compliant?
In 2019, Google was fined $57M for GDPR violation: Google needed to adequately disclose to users how their data was collected across its services. Since then, Google's GDPR compliance has implemented the appropriate data protection measures, including encryption, access controls, and data classification, to safeguard customer data.
However, software or platform is rarely compliant out of the box – and Google Workspace is no exception. SaaS users have the unique responsibility of establishing and maintaining sensitive data protection in Google Cloud environments by analyzing risks and setting up their own security processes.
How to Make Your Google Workspace GDPR Compliant?
Agree on Personal Data Processing
The first step many organizations take is to opt-in to the Cloud Data Processing Addendum (CDPA) – a contract between you and Google Workspace that regulates personal data processing. Under the agreement, you serve as the controller of sensitive data and determine the purposes and means of data processing. By acting as a processor, Google would process data on your behalf.
Meet Contracting and Data Transfer Requirements
Next, to comply with GDPR in a Google Cloud environment such as Google Workspace, you need to opt-in to the Standard Contract Clauses (SCCs). The SCCs are the written commitments between the controller and processor that they will take appropriate data protection safeguards while transferring data from the EU to third countries. This means a controller and processor meet the security, contracting, and data transfer requirements.
Register a Data Protection Officer
If your organization falls under GDPR requirements to appoint a data protection officer (DPO), an EU representative, or both, register their details in your Google Admin console. You are required to do this if your organization's core activities involve the processing of sensitive data on a large scale or involve regular and systematic monitoring of individuals.
Meet Data Security Requirements
GDPR compliance is only possible if you can ensure data security within your workspace, either on-premise or cloud-based. Art. 32 GDPR requires the processing of personal data securely. Businesses are free to decide what measures are appropriate depending on their circumstances and the data they're processing. However, minimum established security measures should be designed into your systems at the outset and maintained effectively throughout the life of your system, including:
Ensuring ongoing confidentiality, integrity, availability, and resilience of processing systems and services;
Ability to restore the availability and access to personal data promptly in the event of a physical or technical incident;
Maintaining processes for regularly testing, assessing, and evaluating the effectiveness of technical and organizational measures for ensuring the security of the processing.
How SpinOne Enhances Google Workspace GDPR Compliance
While Google Workspace has some built-in features to help secure your data and align with GDPR provisions, it follows a shared responsibility model: the responsibility for the cloud-based assets is shared between the cloud provider (Google Workspace) and the customer (you). In the case of Google Workspace, you are responsible for the security of your content and access policy in your cloud. Simply put, you are responsible for using appropriate technical and organizational measures when processing personal data in the Google Workspace environment.
SpinOne provides powerful automated tools to protect data in your Google Workspace environment- and comply with GDPR. These tools help achieve the following:
Ransomware Protection and Response
SaaS Security Posture Management (Automatically auditing and controlling third-party SaaS applications)
Data Loss Prevention and Data Leak Protection
Let's take a closer look at how SpinOne allows you to meet GDPR compliance provisions in Google Workspace.
SaaS Security Posture Management for Google Workspace
With SpinOne, you can conduct a total app risk assessment that helps to identify applications and extensions that are risky to your data – and see which applications have read, write, and delete permissions to your sensitive data. This also helps to reduce the risk of shadow IT applications being installed by end-users that bypass organizational policies and other best practices.
SpinOne provides a database of 55,000+ (and growing) apps and browser extensions that have passed AI-based scoring. This allows your organization to have a completely automated auditing and risk assessment platform for any application that end users attempt to integrate with the Google Workspace environment containing PHI information. SpinOne's App Risk Assessment includes:
Application allowlisting and blocklisting
Custom security policies
Visibility to app permissions granted in Google Workspace
Google Workspace Ransomware Protection
Ransomware is one of the biggest threats facing businesses today as adversaries now execute ransomware attacks at scale. Sophos's research revealed 66% of companies were hit by ransomware in 2023, with adversaries succeeding in encrypting data in over three-quarters (76%) of ransomware attacks. Companies can be stuck paying a hefty ransom or dealing with a costly recovery process – in addition to GDPR fines for insufficient measures to safeguard personal data.
SpinOne's automated ransomware protection provides complete visibility into the scope of the damage when a ransomware attack occurs and a fast. SpinOne's AI-powered solution can
Automatically detect the ransomware infection underway using practical file-behavior analysis
Block the attack source in real time
Identify the files that have been infected/encrypted with ransomware
Recover damaged files from the latest good backup of your Google Workspace environment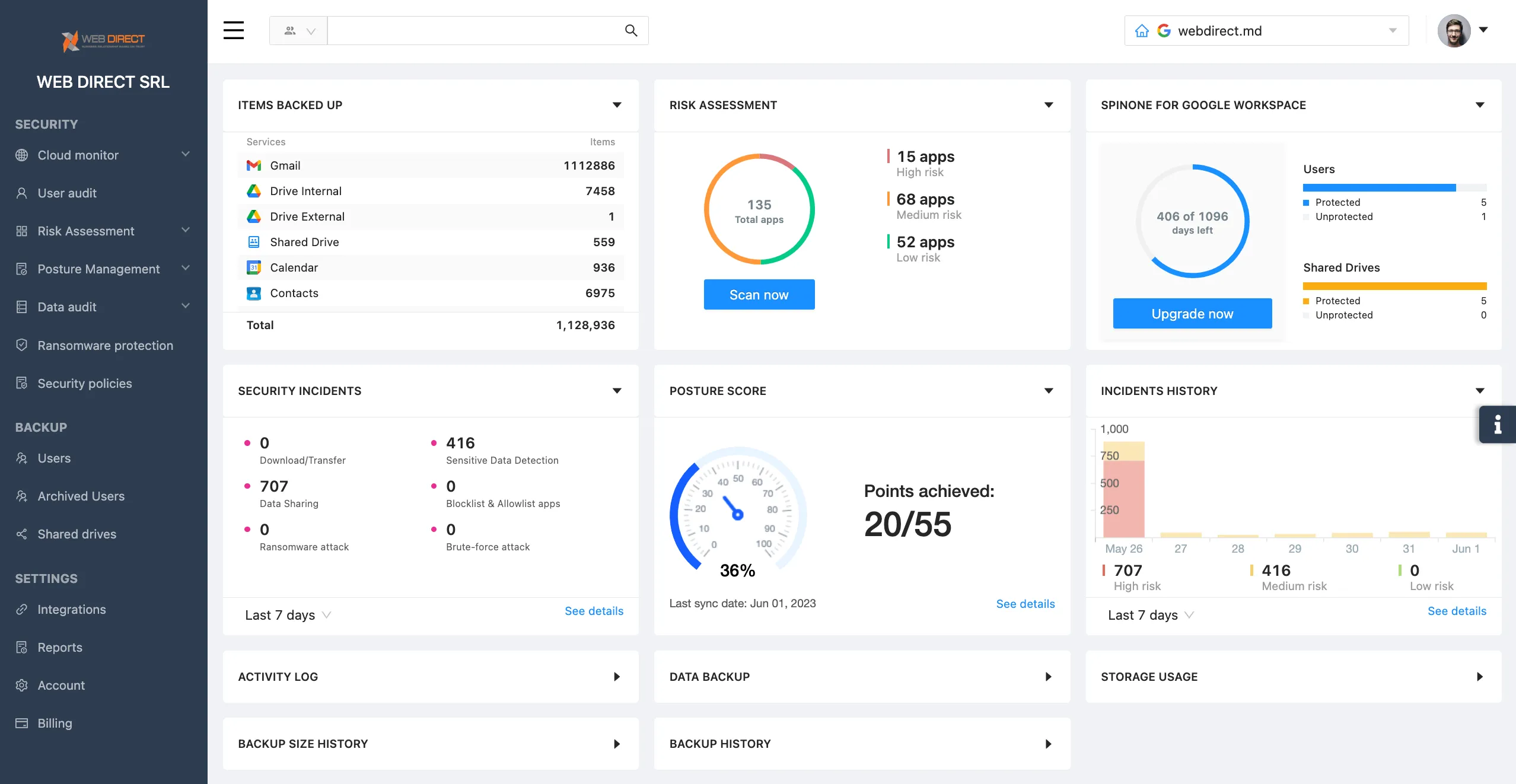 SpinAI Data Leak Protection and Data Loss Prevention for Google Workspace
Corporate data can be shared externally by mistake or malicious intent – which is unacceptable under GDPR. Inadequate data handling may cause data breaches and leaks of sensitive information. SpinOne helps identify improperly shared files and immediately change sharing settings to safer ones – helping prevent data leak or loss by:
Monitoring data transmitted outside or inside your organization
Changing data access and ownership of files to protect them from possible data leak
Monitoring and receiving alerts for confidential data sent or received by your users
Setting DLP policies to automate file-sharing access management
control abnormal events such as logins, data downloads, or transfers to take timely action
Offboarding employees safely to avoid unauthorized sharing or data theft
Receiving real-time incident alerts to data leak threats with automated notifications
Google Workspace is a powerful platform for enhancing productivity and collaboration. As data protection regulations evolve, organizations must remain proactive in ensuring their use of Google Workspace aligns with the latest compliance standards, ultimately safeguarding sensitive SaaS data. To schedule a SpinOne demo, click here.
How Can You Maximize SaaS Security Benefits?
Let's get started with a live demo
Latest blog posts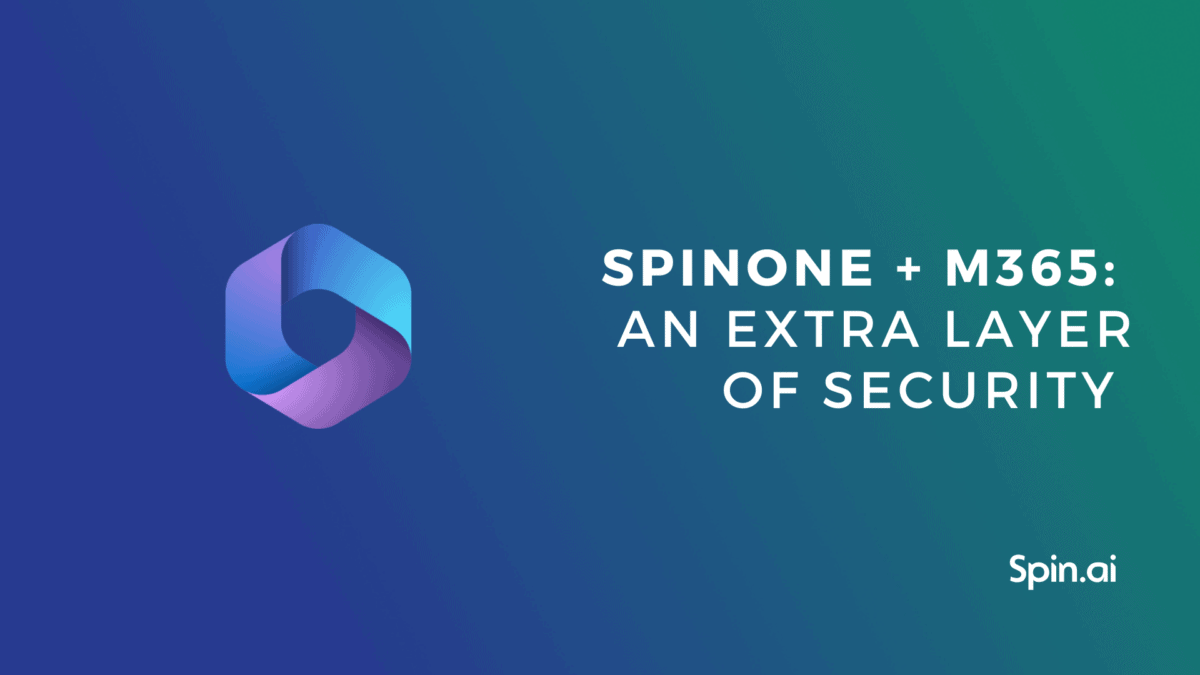 Microsoft 365 (M365) is one of the leading collaboration and communications platforms among organizations today. Companies have been migrating in […]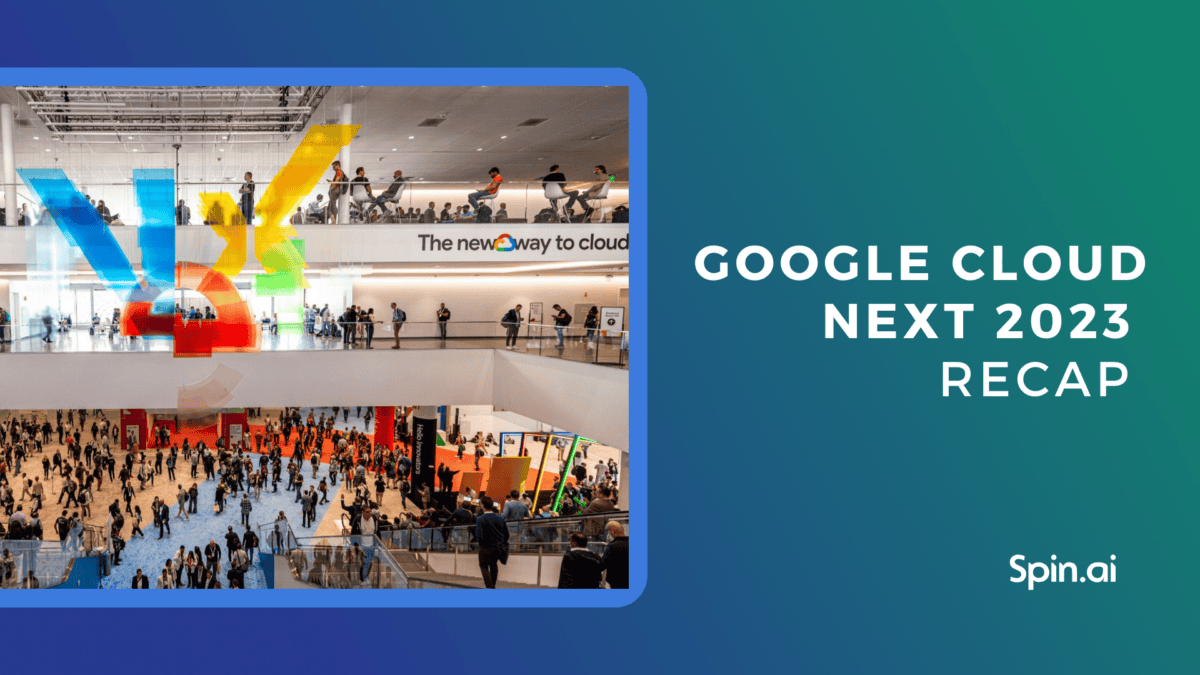 At the San Francisco Moscone Center, the Google Cloud Next 2023 conference was, as expected, one of the highlights of […]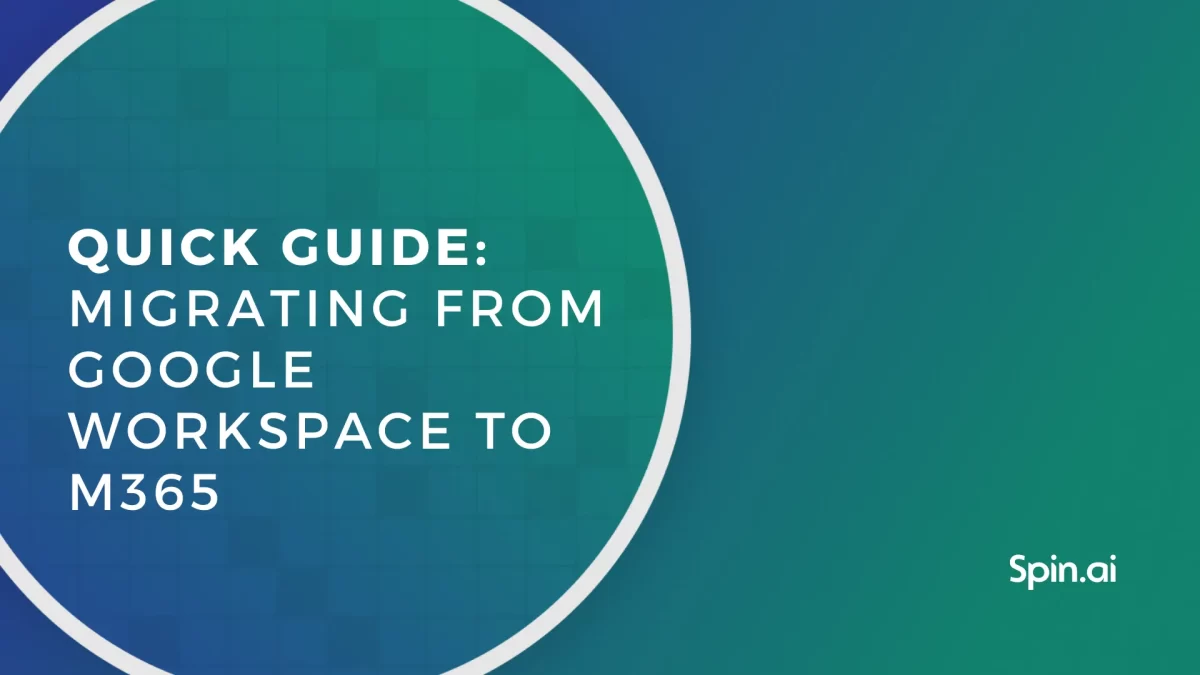 Deciding to migrate from Google Workspace to Microsoft 365 may be on the project list for some organizations. While both […]