How Avoid SaaS Downtime
SpinOne helps avoid or reduce downtime for your SaaS environments with proactive security capabilities protecting your data from ransomware and recovering it within just a few hours.
SpinOne is a one-stop, real-time SaaS security solution that provides immediate insight into your cloud-based applications. It is designed for cloud-first companies that combine Google Workspace, Microsoft 365, Salesforce, and other SaaS services to ensure their employees always have access to the most advanced cloud collaboration platforms.
Safeguard Your People and SaaS Data
Your business survival requires Always On. SaaS data disasters can be very costly; they can even ruin your business for good. As businesses become more reliant on cloud technology, they must also protect their SaaS environments. How do you avoid cloud SaaS downtime? It's essential to know the potential causes of SaaS downtime and the tools and solutions necessary to mitigate them and reduce your risk of being hacked or being the victim of a natural disaster. Have you developed a strong disaster recovery plan for your critical SaaS data?
"Almost all successful cyber breaches share one variable in common: human error. Human error can manifest in a multitude of ways: from failing to install software security updates in time to having weak passwords and giving up sensitive information to phishing emails."
— The Hacker News, "Why Human Error is #1 Cyber Security Threat to Businesses in 2021"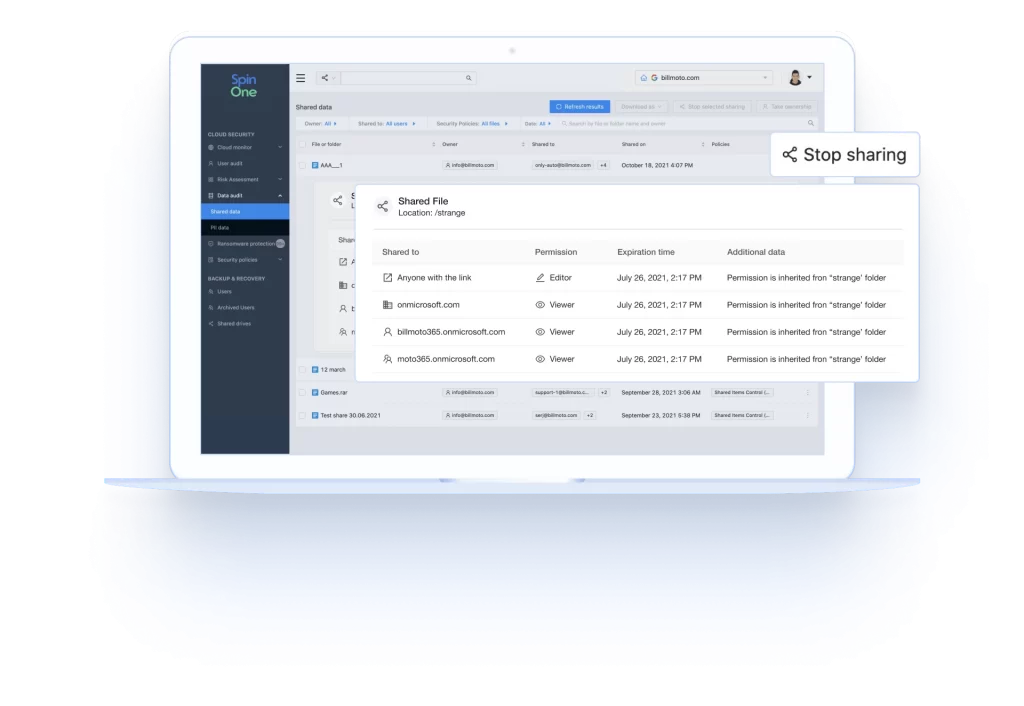 What Causes SaaS Downtime
SaaS Downtime can happen for many reasons, ranging from accidental or deliberate SaaS data deletion to advanced ransomware attacks to cloud outages.
Ransomware and cyberattacks
File synchronization
Double encryption threat
Throttling
API Limitations (10 I/O requests per second)
Cloud Outages
Human error
Ransomware and Cyberattacks. Ransomware is not just an on-premises problem, and modern ransomware variants are increasingly adding cloud SaaS capabilities. These allow ransomware gangs to leak and lock data in Gmail, Exchange Online, SharePoint, Google Drive, OneDrive for Business, Salesforce, and Slack.
Double Encryption Threat. New cloud ransomware tactics include double extortion. First, cybercriminals extort money to recover encrypted data, and second, to keep the data from being leaked to the dark web. Even if companies have their backups required to cover the encrypted data, cybercriminals are now exfiltrating data first, so they have a good copy of the data to filter through and leak for additional leverage.
API throttling limitations. Both Google and Microsoft implement throttling by customer tenant organizations in their respective cloud SaaS environments to avoid the "noisy neighbor" situation. Under normal circumstances, throttling API connections to cloud SaaS environments is a good thing that prevents any single organization from affecting the performance of all other tenants. However, it can affect SaaS downtime.
Cloud Outages. The recent pandemic has accelerated the reliance companies have on technology companies that provide third-party cloud computing services. It has also shown how quickly they are moving to the public cloud to digitize their operations and access a variety of services. The recent lengthy outages at Amazon Web Services (AWS), Google, and Microsoft remind us that mega-companies are also susceptible to cyberattacks or natural disasters, causing chaos for millions of SaaS users and companies worldwide.
Human Error. 'Human error was a major contributing cause in 95% of all breaches.' — IBM Cyber Security Intelligence Index Report. Human error is commonly cited as the leading cause of data loss and data breach events. Cloud SaaS environments may seem impermeable to human error, but it can wreak havoc on them as well from missteps and mistakes made by both employees and IT staff.
Ensure SaaS Data Security and Availability
Data availability is a critical component in a strong enterprise company. SaaS data availability is making data available when and where it is needed. It includes not only accessibility but also business continuity.

Availability of SaaS data is about always-on accessibility and business continuity. Accessibility is vital to having a data economy that works. Availability ensures that SaaS data is not restricted or limited in terms of where it can be used or when it can be used. The data should be available and usable to employees and customers.

You need solid cybersecurity management procedures, robust data protection solutions, and technologies to make your SaaS data available.
SpinOne is the advanced SaaS data protection solution that helps enterpises avoid downtime and maintain business continuity. SpinOne provides robust AI-powered protection against a wide range of cloud ransomware and malware threats, automating the cloud-to-cloud backup process and enabling an easy, hassle-free restore.
SaaS Data Protection & Disaster Recovery with SpinOne
Data loss and security challenges are still problems with on-premise environments, but they also happen in cloud SaaS environments. While many companies think that a data breach can't happen to them, they might be wrong.

Data loss can happen in various ways, including human error, ransomware, and infrastructure failures. And while traditional legacy security and backup solutions have been useless in backing up data from cloud-based environments, it's not too late.

Even when data and services are housed in robust cloud SaaS environments, such as Google Workspace and Microsoft 365, businesses must take data backups seriously as part of the shared responsibility model. SpinOne is a powerful SaaS backup and SaaS security solution that secures and protects data using AI-based cybersecurity and automated backups, helping to solve the compliance challenges of data loss resulting from end-user mistakes, ransomware, and cloud outages.
Automated cloud-to-cloud backups 1-3 times a day
Multi-cloud backup approach: SaaS data is stored in GCP, Azure, or AWS
100% recoverability of data
Searchable backups to instantly find files
Backup encryption, both in-flight and at-rest
Automated 1x or 3x a day Backup
Multiple storage locations (AWS, GCP, Azure, custom)
99.9% accurate granular recovery
Fast data restore
Easy data management
Comprehensive reporting
Centralized Admin Panel
24/7 support: chat, email, phone
Compliant backup: SOC 2, EU Privacy Shield, and GDPR

100% Automated Ransomware Protection by SpinOne
Ransomware is on the rise. It can crush your enterprise anywhere and compromise core cloud operations. Following an attack by ransomware, your enterprise may find it difficult to operate because most of the systems may be encrypted, which can lead to the disruption of their day-to-day business.
Cybercrimes are costly to businesses, especially ransomware attacks. This highly skilled hacker group targets large corporations and then demands a ransom payment. The payments serve as a means to fund further attacks and efforts of the malicious organization. Even ransomware gangs align with specific causes or sell services such as "ransomware-as-a-service" on the Dark Web.

Eight of the most notorious ransomware groups were responsible for 290 ransomware attacks in 2021. Collectively, these groups have netted $45 million from their various attacks.

Ransomware gangs have targeted various industries, including manufacturers, transportation, construction, education, healthcare, critical services industries, and cloud service providers, such as Google, Microsoft, Salesforce, and Slack.
Proactively searches for ransomware infection
Blocks ransomware processes at a network level
Detects assets affected by a ransomware attack after it is blocked
Automatically recovers good copies of files from the latest clean backup
Automatically notifies domain administrators
Achieve Zero SaaS Downtime with SpinOne
It only takes a few steps to get started with our free demo.