July 31, 2023 | Reading time 4 minutes
Benefits of Implementing CSPM in Your Cloud Environment
As most businesses have successfully adopted cloud solutions and have about 50% of their data stored in cloud environments, cloud security becomes topical. The interest in the tools and practices to prevent data breaches in the cloud spiraled in the previous year. One such example is Cloud Security Posture Management. In this article, we discuss the benefits of implementing CSPM in your cloud environment.
Cloud security architecture and CSPM
Unlike any on-prem security architecture, cloud security architecture doesn't have defined boundaries. Being a part of the internet, the cloud is intertwined with it. It has much more entry points, and, thereby, its attack surface is much larger than on-prem.
The main risks in the cloud include:
Ransomware
Account hijack
Risky applications
Cloud security misconfigurations
Unauthorized access to data
Non-compliance
Man-in-the-middle attacks
One of the key problems of cloud environments is the lack of visibility that can cause late response to a cyber event and hinder remediation and recovery.
That is why cloud environments need security architecture that was built specifically to take into account their risks and vulnerabilities.
Cloud Security Posture Management (CSPM) is the body of tools and practices to strengthen and maintain a high level of security in SaaS, IaaS, and PaaS. Its three key features include:
Cloud consolidation
Continuous monitoring and Threat Detection
Risks mitigation and Automated Remediation
The term CSPM also refers to the class of tools that enable to manage security posture in the cloud.
Benefits of Implementing CSPM in Your Cloud Environment
Businesses can benefit in multiple ways from implementing CSPM in their cloud. Let's take a closer look at each of them.
Reduction of Security Risks
One of the biggest benefits of any CSPM is reducing cloud security risk. It is achieved through:
constant monitoring of threats
providing a full visibility into cloud environment
analyzing multiple sources of data
detecting potential threats, vulnerabilities
prioritizing multiple alerts
automating incident response with security policies.
CSPMs can detect the following threats and vulnerabilities:
unauthorized access both from outside and within the organization
data breaches
incorrect security configurations
data breaches and attacks
exposure of sensitive data.
CSPMs are also good at preventing remediating security incidents. Mostly they do it via security policies (the algorythms providing clear instructions on what must be done in case of a security incident).
CSPMs are able to feed the data from various cloud environments to SIEM tools that will then use AI to consolidate
Closing Talent Gap
One of the key issues of cloud security is the lack of talents. Partially, this problem stems from the lack of trained professionals. However, the work overload impacts it even more significantly. With the lack of talents, the excessive amount of data that needs to be processed and processes that must be controlled, expects feel overwhelmed. The rampaging cyber crime as well as the forced transition to FWH in 2020 (and the abrupt increase of attack surface related to this event) are contributing factors.
Finally, we're seeing a true technological race between the hackers and the cybersecurity companies. This causes the growing skill gap and the inability of overloaded cloud security experts to keep up with all the new technologies and methodologies.
CSPM automates many of processes that are otherwise carried out by humans. The computing power enables teams to process large pools of data from different sources and prioritizes them. It streamlines the tasks and takes away the burden from humans.
Mitigating Human Errors
Because CSPM carries out many routine processes, the chances of human error are reduced significantly. Obviously, such tools still can generate false positives or false negatives. However, experts emphasize that this problem can be solved by properly configuring the tool.
Many CSPM use machine learning technology. That's why with time the number of mistakes decreases as the solution "learns" from its mystakes.
Machines are better at processing large data sets and they never lose focus. They do not get overwhelmed by work. They do not have stress related to personal issues. And they can find the trends that humans can't.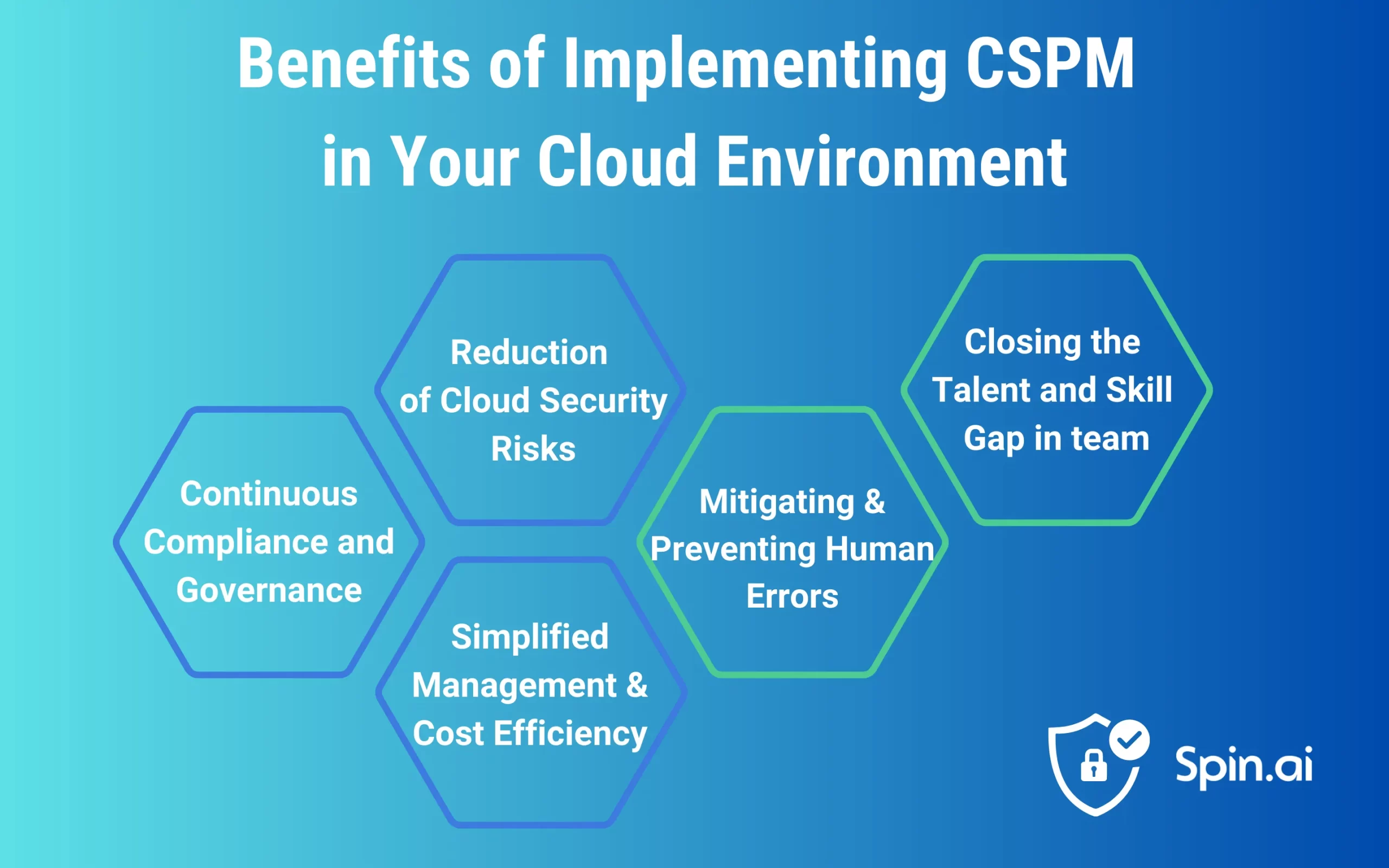 Continuous Compliance and Governance
Compliance is becoming one of the most critical aspects of security. As governments tighten the laws governing data, businesses need to respond with timely changes. CSPM can help businesses with compliance in several ways:
Implement compliance requirements through unified security policies.
Detect non-compliance.
Change configurations and increase security posture to meet compliance requirements.
Unify compliance across several platforms.
Simplified Management & Cost Efficiency
One of the key problems of modern security is the abundance of tools that provide very limited functionality. CSPM provides a single pane of glass for many security features. It facilitates security management and enables to consolidate work in one tool. It has several benefits:
helps save the time necessary for switching between platforms
reduces the chance of forgetting about a certain tool.
removes any issues of non-compatibility and overlap between tools
helps simplify the adoption of security policies
cuts expenses on many tools.
Conclusion
CSPM tools have multiple benefits for cloud security posture. They help consolidate all the work in one tool, improve incident prevention, response, and remediation, as well as contribute to compliance.
Overall, we suggest companies adopting CSPM tools. Judging by the trend of recent years, in the near future, cyber crime incidents will continue to grow. Meanwhile, the percentage of corporate data stored in the cloud will increase. Companies will need tools that will help them protect their cloud environments from the current and new upcoming threats.
FAQ
How does CSPM provide real-time monitoring and visibility into cloud resources?
CSPM connects with the cloud via API and records the logs of all events that happen within the cloud. It also studies the current cloud configurations. Next, it analyzes the data and sifts out the events that have no threats and then prioritizes threatening events by their urgency and danger level.
How does CSPM automate compliance checks with industry standards and regulatory requirements?
CSPMs usually keep their database up to date with the existing laws and regulations. They then compare the configurations of the cloud environments with these rules, and identify the gaps. This process is 100% automated and has little to no human involvement.
Does CSPM help in reducing the risk of security breaches and data exposure in the cloud?
SPM helps reduce the risk of security breaches and data exposure by identifying security gaps, and either remediating them automatically or reporting them to the security team.
How Can You Maximize SaaS Security Benefits?
Let's get started with a live demo
Latest blog posts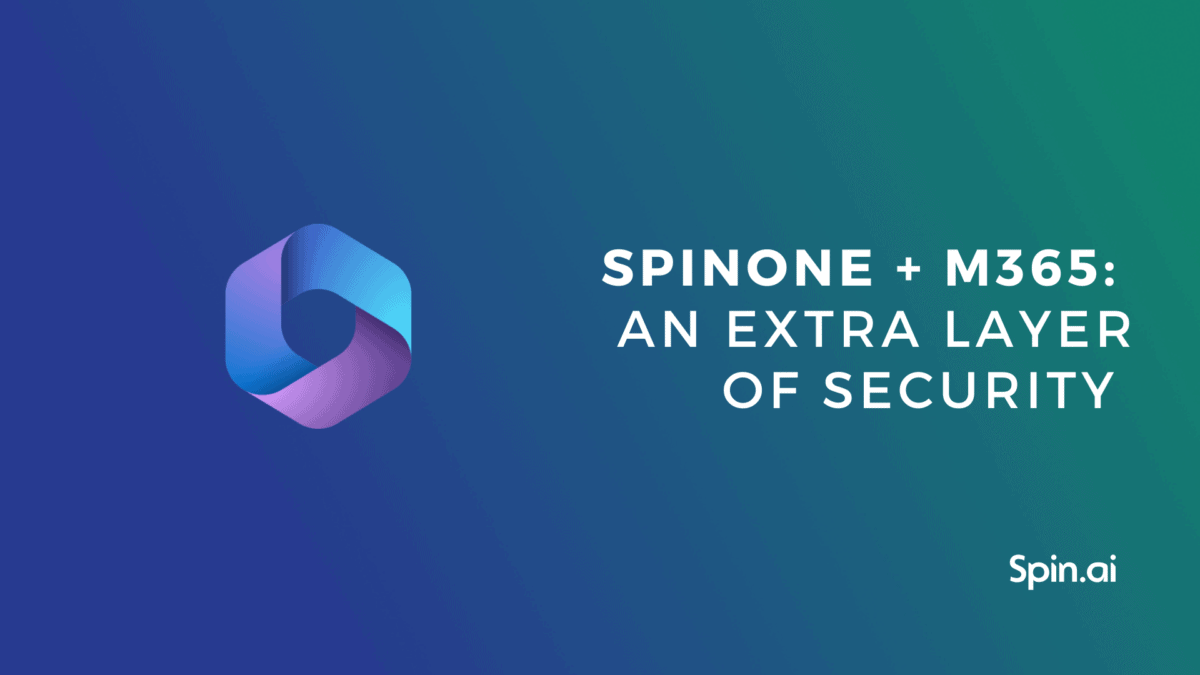 Microsoft 365 (M365) is one of the leading collaboration and communications platforms among organizations today. Companies have been migrating in […]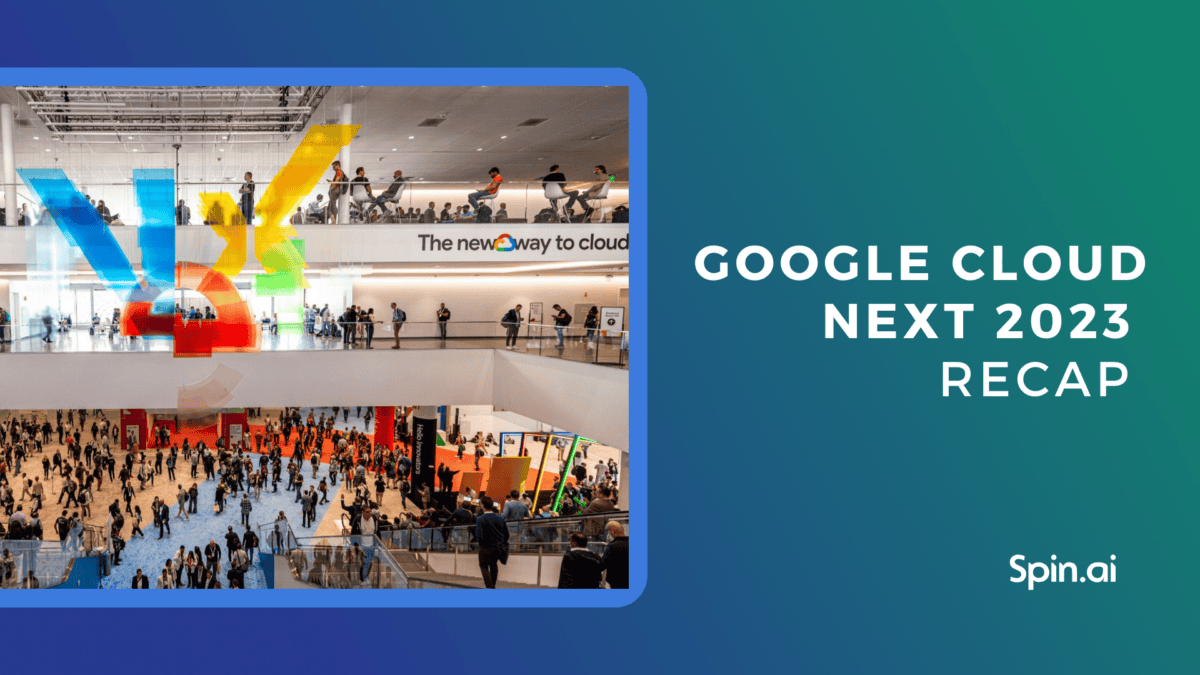 At the San Francisco Moscone Center, the Google Cloud Next 2023 conference was, as expected, one of the highlights of […]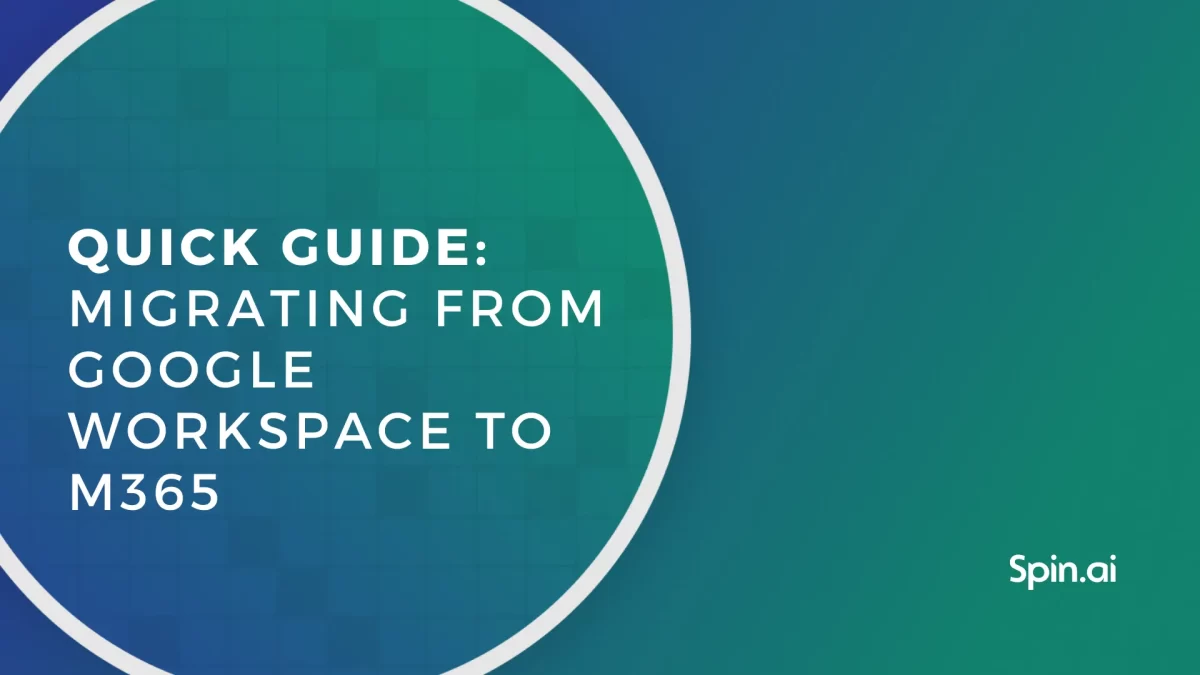 Deciding to migrate from Google Workspace to Microsoft 365 may be on the project list for some organizations. While both […]