November 29, 2022 | Reading time 4 minutes
The Complete Guide to App Risk Assessment
Security is one of the top concerns of organizations today. With high-profile breaches, ransomware attacks, newly discovered zero-day vulnerabilities, and other threats, there is no shortage of risks to business-critical data. With the surge of cloud-based applications, a proper cybersecurity posture must include an appropriate risk assessment of the wide range of applications used, both on-premises and in the cloud. Let's consider app risk assessment and what today's app risk assessments should include.
Why are app risk assessments critical?
Today's modern hybrid workforce utilizes a wide range of primarily SaaS-based applications. With the shift to modern cloud Software-as-a-Service platforms, businesses can easily empower remote employees with the communication, collaboration, and productivity tools they need in a quick and easy subscription model. In fact, according to one survey, 70% of apps used by organizations are SaaS-based.
In addition, cloud SaaS marketplaces offer hundreds of third-party SaaS applications that can easily integrate with the native cloud SaaS services found in Google Workspace and Microsoft 365, adding to the extensibility and flexibility of the cloud. However, this easy access to cloud SaaS applications and third-party integrations opens a pandora's box of risks for businesses.
With rising cybersecurity risks and costs of data breaches skyrocketing, businesses must give proper attention to assessing the risks of applications used by end users. Without a proper app risk assessment, organizations are exposing themselves to the potential for a cybersecurity breach or compliance violation.
Complete guide to app risk assessment
What steps are included in a proper app risk assessment? Since an app risk assessment aims to identify any risks posed by an application to the organization's overall cybersecurity posture, it must effectively help prevent and remediate any security risks and vulnerabilities and assess the overall risk of using the application.
Note the following components of a proper app risk assessment:
Inventory all applications
Determine how the app stores, processes, transmits, and retains data
Assess the reputation of the application
Disaster recovery
Privacy and security controls in place
Security audits
Compliance
Inventory all applications
Without identifying all applications used in the organization, businesses leave themselves open to shadow IT threats, data leaks, and compliance violations. Therefore, a good app risk assessment should begin with thoroughly discovering all apps used in the environment, who are using them, and what data the apps can access. It helps to uncover "blind spots" that may lead to sensitive data being exposed.
Determine how the app stores, processes, transmits and retains data
A vital part of an app risk assessment is understanding how the app stores, processes, transmits and retains business-critical data. Protecting your data is arguably one of the vital components of a modern cybersecurity strategy. After all, it is the data that attackers target and falls under compliance regulations' purview.
Like identifying and understanding which apps are used, businesses must understand how applications integrate with critical data, store it, process it, or even share data. This understanding helps provide a complete picture of the application's security posture and if it aligns with security and compliance requirements.
Assess the reputation of the application
An app risk assessment should consider the reputation of the software vendor. For example, is the software application or cloud SaaS app from a known reputable software vendor? Or is it produced by a relatively unknown company with little information or transparency?
What behaviors are exhibited by the application? For example, what network connections does it make, and how does it handle your sensitive information? A proper risk assessment should help to answer these and other questions regarding the security posture and reputation of the app vendor and application itself.
Disaster recovery
How does the app handle disasters? If using a third-party cloud SaaS app, can it withstand an outage of whole cloud regions? How does it react to problems in specific availability zones, geographic areas, and other degraded services? Suppose the app is not correctly architected for high availability and resiliency. In that case, it can lead to a tremendous risk to your business if you rely on the app for core critical functionality.
Understanding how the third-party software vendor handles cloud outages, disasters, and other data loss events helps to understand the risk associated with using the app in your business.
Privacy and security controls
Application vendors and cloud application providers should have reasonable security measures to prevent security breaches when using their software applications and cloud services. A risk assessment helps to determine and assess how the software vendor can handle cyberattacks on their infrastructure and, by extension, your data. Third-party vendors can be a tremendous risk for organizations.
This danger is well-illustrated by the 2013 Target breach, where a third-party vendor was compromised, leading to over 40 million debit and credit cards stolen along with 70 million customer records. As a result, organizations must remember their cybersecurity stance is only as strong as the third-party vendors they use.
Security audits
Along the same lines, it is essential to know if third-party app vendors can produce proper security audit reports from external audits. Reputable software companies undergo external audits to determine how well the company and software align with cybersecurity and compliance best practices.
Compliance
As part of the app risk assessment, businesses must understand how the app aligns with their compliance requirements. For example, is the app compliant with modern regulatory frameworks, such as GDPR, HIPAA, PCI-DSS, and others?
Automated SaaS app risk assessment
With the hundreds of SaaS applications available in popular cloud SaaS environments, how can organizations effectively identify SaaS apps and perform risk assessments on the numerous apps in SaaS app catalogs? SpinOne provides an automated cybersecurity and risk assessment app for SaaS apps, allowing businesses to leverage the power of artificial intelligence (AI) and machine learning (ML) to determine SaaS application risks effectively without manual efforts.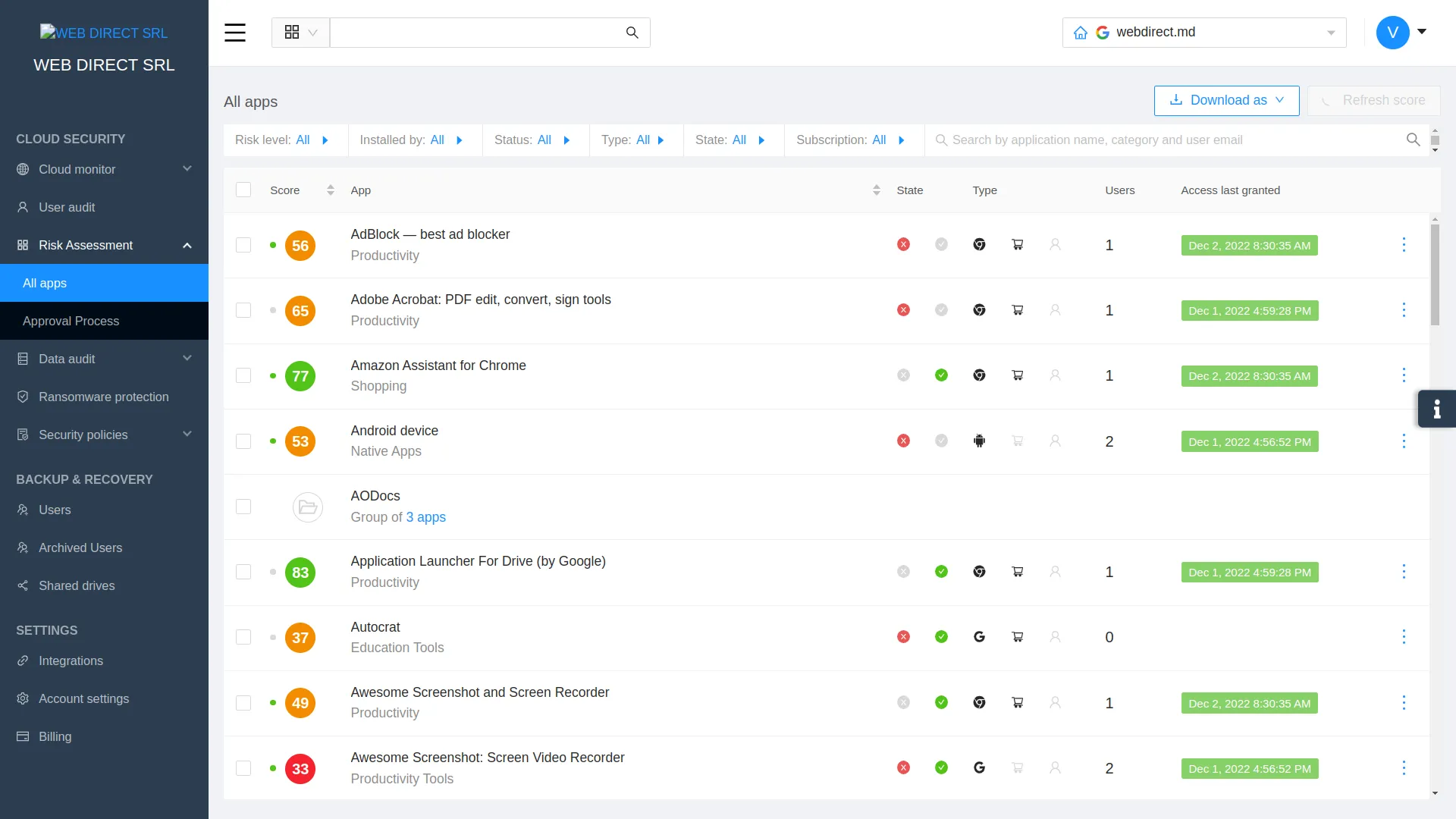 Spin allows businesses to leverage the power of automated risk assessment scoring with policy-driven automation to block or allow apps based on their risk score automatically.
SpinOne provides:
Application scoring
Access management
Security policies
Zero-day mitigation
Compliance enforcement
A built-in approval process for apps
App security visibility
Alerts and reports
If you would like to speak with a Spin Solution Engineer to discuss how SpinOne can help you meet your cloud SaaS risk assessment initiatives, click here to book a demo: Request a Demo of SpinOne
How Can You Maximize SaaS Security Benefits?
Let's get started with a live demo
Latest blog posts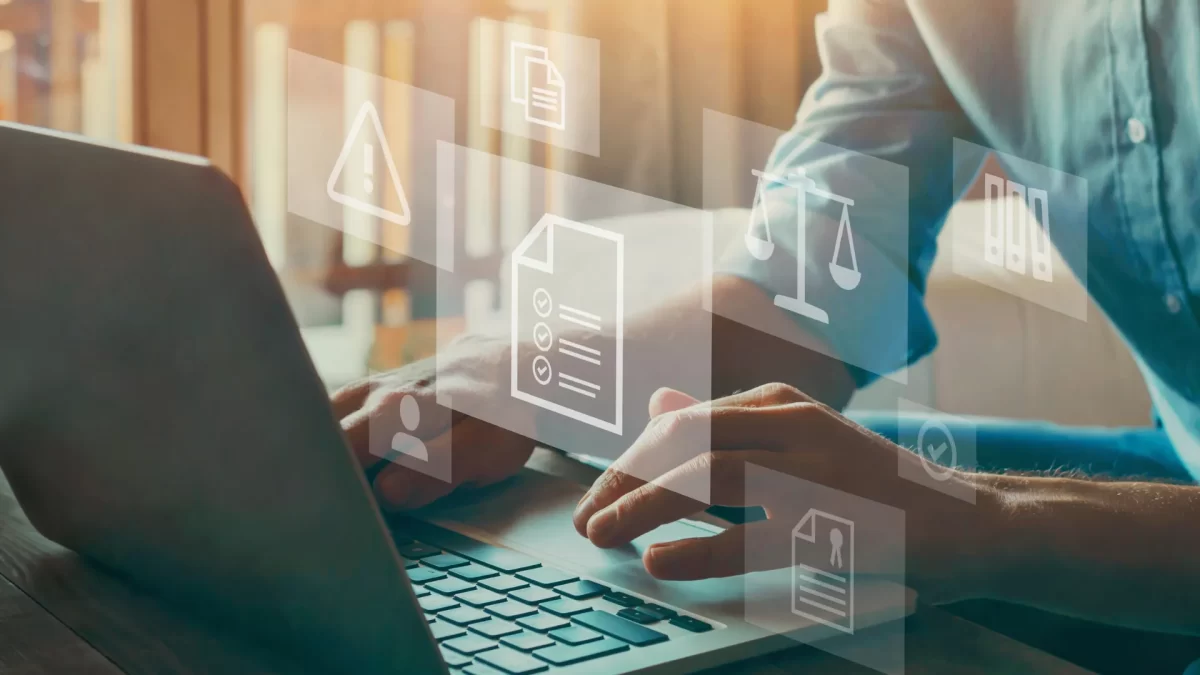 With companies moving to the cloud, compliance regulations are a pressing priority. In this article, we discuss the General Data […]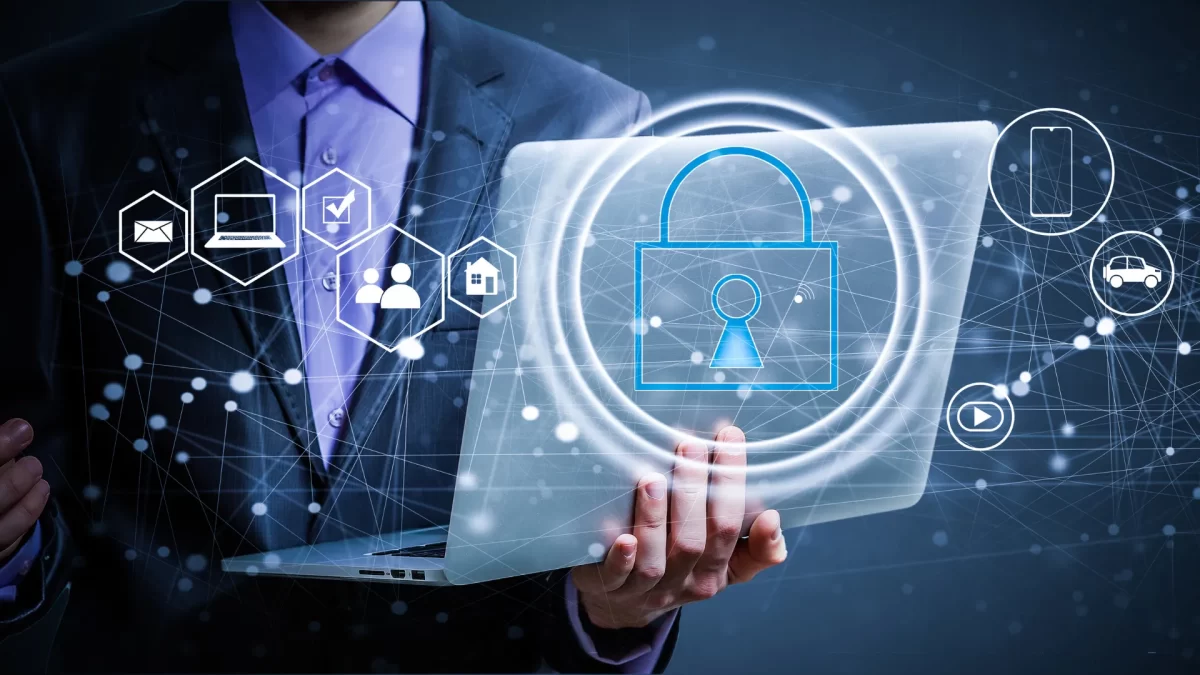 As the digital era and hybrid work continues to evolve, businesses have become increasingly dependent on platforms like Google Workspace, […]
Generative AI is dominating headlines, and users are chomping at the bit to try it for themselves. ChatGPT eclipses other […]