October 15, 2021 | Reading time 16 minutes
Comparing G Suite vs Google Workspace: Guide for Enterprises
This article compares G Suite vs Google Workspace. Recently, Google announced the rebranding of G Suite to Google Workspace. Google's rebranding is an interesting move to consolidate services into a more streamlined and integrated solution with a more seamless feel. Additionally, Google has introduced a new license tier called Business Plus. An area of concern for current G Suite Business customers is how current features are affected when switching to the equivalent Google Workspaces Business editions.
With the onset of the global pandemic, organizations have shifted how they carry out business operations. Many employees are still working from home since early this year. Many organizations have accelerated migrations to the cloud during recent months to bolster work-from-home initiatives and provide easy access to business-critical services and data. Google G Suite has long been a popular cloud Software-as-a-Service option with many capabilities for organizations. In fact, the G Suite database includes 70M international companies worldwide.
Are there changes for organizations transitioning from G Suite to Google Workspace business editions? What is included with the new Business Plus license tier? Why would organizations consider upgrading to this tier? Are there considerations to make before switching between editions? How can businesses switch between Google Workspace plans? SpinOne's G Suite expert answers these questions.
Comparing G Suite vs Google Workspace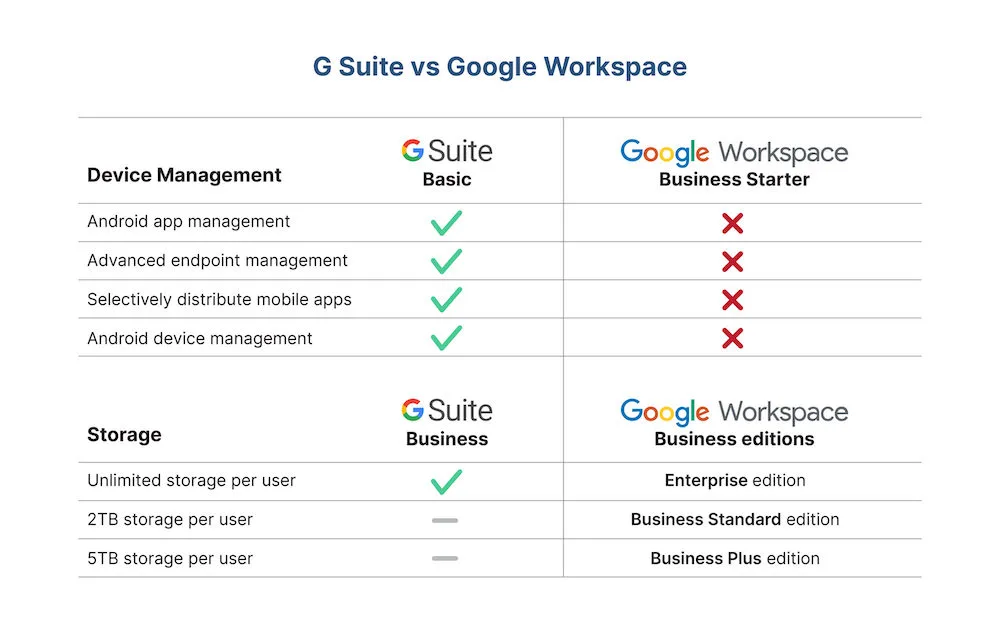 Let's start with a short overview of the previous Google business suite. And then take a closer look at changes in functionality and compare G Suite and Google Workspace pricing.
G Suite for business had three plans:
G Suite Basic plan ($6 per user per month) was suitable for small firms of several people. It provided limited storage space, but no archiving or advanced security features.
G Suite Business ($12 per user per month) had more storage than Basic, Google Vault, and Google Hangout. However, it lacked the DLP or security management features.
G Suite Enterprise plan ($25 per user per month) had all the previous features plus advanced security functionality suitable for large companies.
Vendors often phase out or discontinue legacy services when rebranding or transitioning their solutions. This apparently will be the case with the G Suite pricing tiers. Note the following, in the official Google Workspace Updates blog:
"As an existing G Suite Basic, Business, or Enterprise customer, you can rest assured we'll give you the time and support needed to transition to one of these new offerings. If you purchased G Suite directly from Google, please look for an email to the primary administrator in your domain arriving no later than Friday, October 16. This email will outline the specific impact to your organization and who to contact for more info."
There is a notable disparity between G Suite Business and the equivalent Google Workspaces Business plans for current G Suite customers. These come in the form of either lost features altogether or significantly reduced storage maximums. One of the first points of scrutiny that some have noted is the removal of features between G Suite Basic and Google Workspace Starter.
Google has removed the following G Suite Basic features from Google Workspace Business Starter:
Device Management
When compared to G Suite Basic, Google Workspace Business Starter does not include Android app management, advanced endpoint management, ability to selectively distribute mobile apps, and the lack of Android device management
What has changed between G Suite Business and Google Workspace Business editions?
Storage
As noted by ZDNet, Google has now removed the Unlimited storage from the Google Workspace Business plans for organizations buying more than 5 users. This was a very popular feature of the now legacy G Suite Business plans. While very small businesses buying less than 5 users will increase from the 1 TB in G Suite Business to 2 TB in the Google Workspace Standard option, the change will undoubtedly affect more organizations who will be losing the unlimited storage provided by G Suite.
Business who have been making use of unlimited storage with the G Suite Business plan may have a difficult, and costly road ahead for transitioning data to Google Workspace or another cloud option altogether
To regain the unlimited storage option, organizations will now have to upgrade to the Enterprise edition of Google Workspace, as shown below.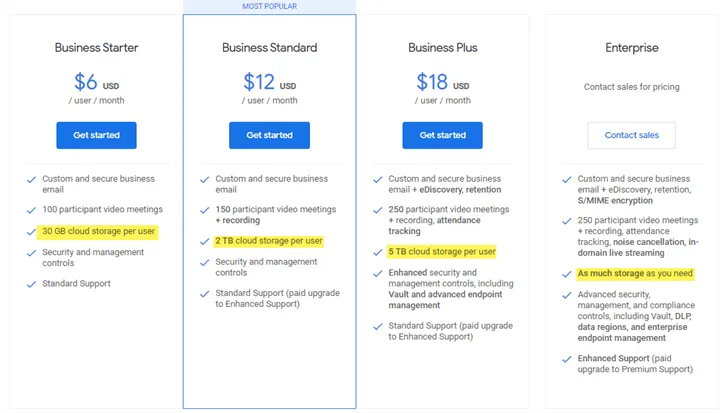 New Google Workspace Business Plus Pricing Tier: Google Workspace vs G Suite
If you take a look at the screenshot from the previous section, you can see the pricing hasn't changed a lot. For example, the G Suite basic vs Google Workspace Starter remains the same. What's new is the diversification of G Suite Business into Standard and Business Plus. In our opinion, it benefits businesses as such diversity can help them find solutions that meet their needs most.
While the rebrand comes with lost features compared to G Suite subscriptions, Google has introduced a new Business Plus pricing tier. The new subscription tier may make a lot of sense for organizations looking to regain lost G Suite features. Introducing the new subscription level and pricing helps to position Google services more effectively against similar pricing tiers in the Microsoft 365 SaaS offering. Microsoft's equivalent is the Microsoft 365 Business Premium tier, which comes in at $20 user/month. The new pricing tier provides additional pricing and features options without jumping to the Google Workspace Enterprise plan.
Where does the new Business Plus level fit in with the other pricing levels of the rebranded Google Workspace? Below is taken from the official Google Workspace pricing page.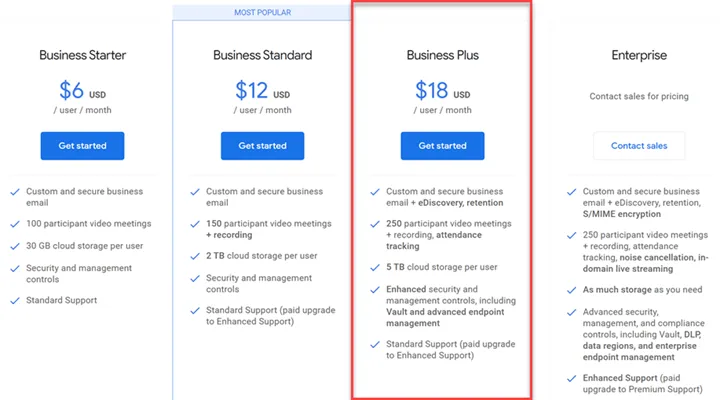 What Enhancements Come with the Business Plus Tier?
You will notice, several differences stand out between the different pricing levels. Let's analyze these a bit further and see what enhancements come with the Business Plus tier.
Enhanced email with eDiscovery and retention
Higher maximum number of video attendees with video meeting analytics
More extensive cloud storage per user (5 TB)
Inclusion of Google Vault
Advanced endpoint management capabilities
Business Plus provides the addition of Vault for eDiscovery and information governance compared to Business Starter and Standard. What is Google Vault? Google Vault is a tool for information governance and eDiscovery. Google Vault allows you to retain, hold, search, and export data from Google Workspace. So, this may be a value add for businesses that need compliance, legal, and other reasons to place holds on business data.
Features and Capabilities
Most organizations are now using video conferencing solutions more than ever before. The features and capabilities of these solutions are undoubtedly important. The Business Plus plan offers advantages over the other Business tiers in this area. With the Business Plus plan, you can have up to 250 participants in a single video meeting. This number of participants is 100 more than Business Standard and 150 more than Business Starter.
You will note that one of the significant differences between Business Plus and the other two subscription levels is advanced endpoint management. While in many categories, the Business Plus plan has only a single feature unique to the pricing tier, it offers a considerable advantage in terms of included features in the realm of endpoint management.
The table below will help you compare Google Business Starter vs Standard vs Plus.
| | | | |
| --- | --- | --- | --- |
| Features | Business Starter | Business Standard | Business Plus |
| Fundamental endpoint management | ✔ | ✔ | ✔ |
| Android app management | | | ✔ |
| Advanced endpoint management | | | ✔ |
| Enterprise endpoint management | | | |
| Selectively distribute mobile apps | | | ✔ |
| Devices audit log | | | ✔ |
| Report inactive company-owned devices | | | ✔ |
| Company-owned Android devices | | | ✔ |
Google Workspace Business Plus provides many additional mobile device management features
Why would organizations consider the Business Plus Tier?
There are a few key differences that organizations will undoubtedly want to consider when choosing a Google Workspace Business plan. It may also lead some organizations to consider upgrading from either the Google Workspace Starter or Standard subscription to the Plus level tier. Whereas Google Workspace Enterprise may be overkill and cost-prohibitive for some, the new Business Plus pricing level may be a "sweet spot" of features and price.
It comes down to the following areas of functionality and capabilities when considering the Business Plus plan.
More storage for users
More eDiscovery and data hold features
Better video meeting capabilities
More powerful endpoint management and security
With most of the workforce still working from home with even more transitioning back to working from home as the global pandemic continues to wreak havoc, many organizations may benefit from the additional user storage and video conferencing features.
Additionally, endpoint management and security features are, no doubt, more important than ever. Cyberattacks and malware are targeting remote workers, often through mobile devices, email, and other third-party applications. The new Business Plus mobile device management and security features help ensure that remote workers are protected when using mobile devices for business-critical communications and data access.
Unfortunately, this plan doesn't include Data Loss Prevention functionality. However, you can use third-party apps like SpinOne platform to create Google Workspace DLP policies and protect your data.
Considerations to make before upgrading your subscription
Google makes the process to transition to the Business Plus pricing tier and features relatively easy. However, there are a few considerations to make before switching from Business Starter and Standard up to Business Plus. What are these?
You have to switch all users to the new pricing plan – Your organization will need to upgrade all users to the Business Plus pricing tier. In other words, you can't keep some users on Business Starter and upgrade another group of users to Business Plus.
Make sure of your user count before switching – Google does allow organizations to downgrade from Enterprise edition to the new Business Plus plan. However, you need to make sure your total user account does not exceed 300 users.
Ensure your users' storage does not exceed 5 TB (limit of the Business Plus plan). If the data is more than 5 TB for any user, they do not lose data but instead will not be able to sync new files to Drive and will receive warnings in Gmail
Even if you are on an annual/fixed-term plan, the edition change includes all of your current users.
If you bought your subscription from a reseller, you would need to coordinate with the reseller for your Google Workspace Security administrator account to proceed with the upgrade.
What does the process look like to switch from a different version to Business Plus?
Switching to the new Business Plus plan
After you have verified the details mentioned in the considerations section, you can switch from one of the other Business plans to the Google Workspace Business Plus plan. Login to your Google Workspace Admin Console and navigate to the Billing dashboard.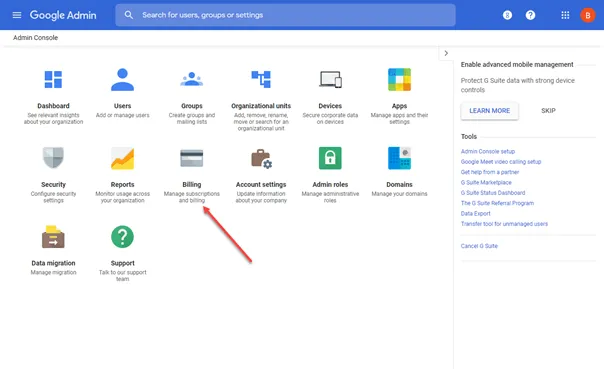 Switching between versions using the Billing dashboard in the Google Workspace Admin Console
Scroll down to the Google Workspace Business Plus tile and select to Upgrade or Downgrade.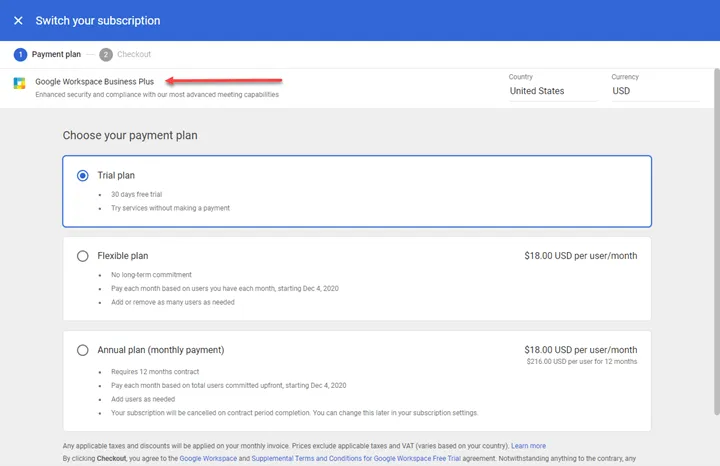 Concluding Thoughts
This concludes our overview of Google D Suite vs Doogle Workspace. The new Google Workspace rebrand helps to align Google more effectively in the Software-as-a-Service marketplace. With Google Workspace, Google is heavily focusing on streamlining its services and making these more seamlessly integrated to create an effective digital workspace. It appears that organizations currently using the G Suite Basic and Business plans will be losing features for equivalent pricing plans in Google Workspace.
The new Business Plus plan is a new pricing tier that will help create a much-needed pricing tier to compete with Microsoft 365. It will also help businesses who need a Google Workspace business plan to regain features lost from G Suite transition. Business Plus adds mobile device management and other security features. However, it still lacks the unlimited storage provided in Enterprise and the old G Suite Business plans. This will no doubt be a sore spot for current G Suite customers.
No matter how much data you have in your cloud SaaS environment, you need to ensure you have backups. SpinOne provides enterprise-level data backups for your Google Workspaces and Microsoft 365 SaaS environments.
G Suite vs Google Workspace FAQ
Is G Suite the same as Google Workspace?
Google Workspace is the rebranding of G Suite. The environment retained many of the essential services of G Suite, such as Gmail, Drive, Sheets, Contacts, etc. The difference between Google Workspace and G Suite is in the package offered for businesses, the addition of new features, and a more unified user interface.
When did G Suite change to Google Workspace?
Google decided to rebrand G Suite into Google Workspace for the title to reflect their product vision better in 2020.
What are the advantages of Google Workspace?
The advantage of Google Workspace compared to G Suite is enhanced data encryption. It has lower prices compared to its main competitor, Microsoft 365. Other advantages include easy collaboration on business-critical data, great UX, and accessibility of the services.
What are the disadvantages of Google Workspace?
Compared to Microsoft 365, Google Workspace has several disadvantages. It doesn't have desktop tools which might be inconvenient for some users. The participant limitation in Google Meet is smaller. The security controls are less advanced.
What is Google Workspace used for?
Google Workspace is used by businesses primarily for quick and seamless collaboration on business-critical documents. It helps prevent the issue of versioning and duplicates as well as provides enhanced cloud computing capabilities. SMBs are the main users of Google Workspace. However, there's a substantial amount of enterprises that use it for their business.
Is Google Workspace right for my business?
If you are considering choosing between a cloud and on-prem solution, yes, Google Workspace (just like Microsoft 365) is right for your business. Cloud solutions have multiple advantages compared to on-prem. If you are considering between the two office suites, the answer depends on multiple factors, including your company size, the number of regulations your business is subject to, and the necessity of security controls.
How to protect Google Workspace?
Google Workspace has several vulnerabilities: ransomware, insider threats, data loss, human error, and SaaS applications. We suggest acquiring a SaaS Security Platform that will help you address these threats efficiently.
Thanks for your feedback!
How Can You Maximize SaaS Security Benefits?
Let's get started with a live demo
Latest blog posts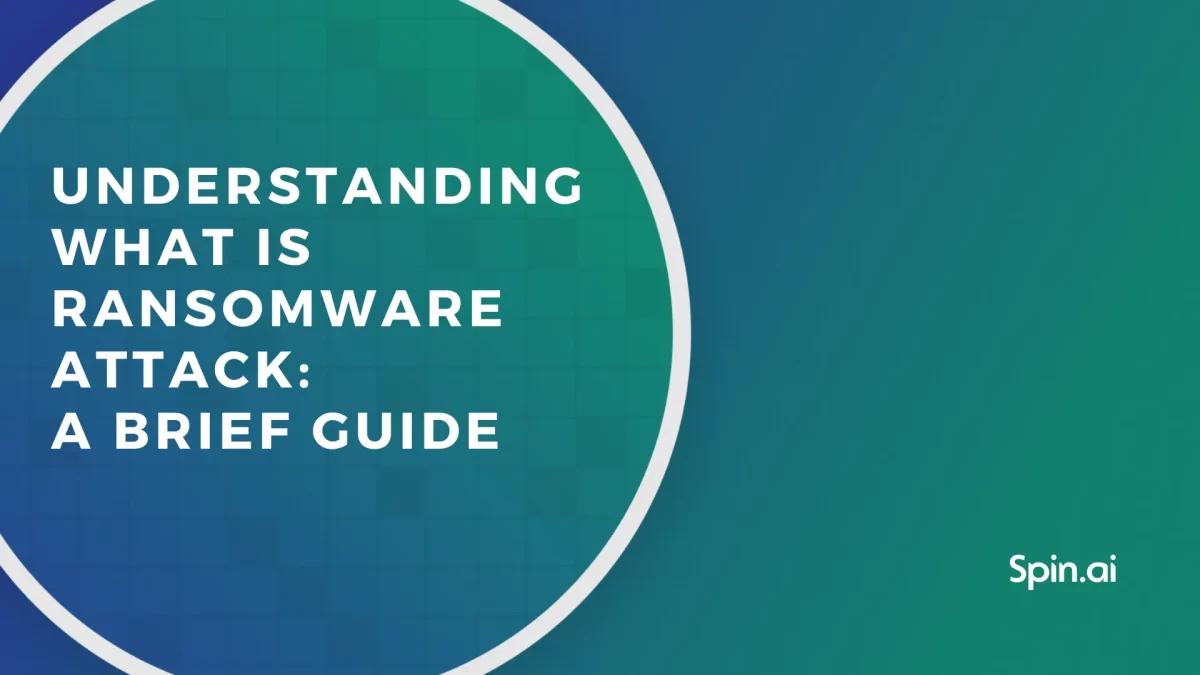 The number of ransomware attacks has been growing steadily for the past years. So have the ransom payments. Experts predict […]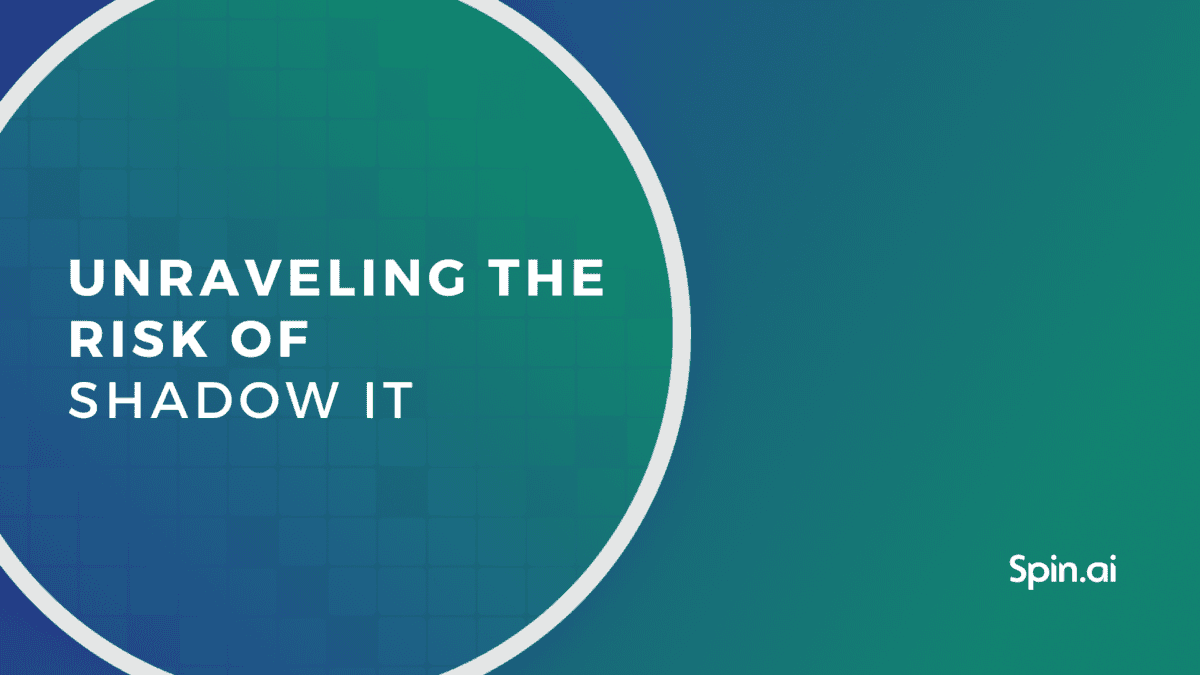 While our workplaces become increasingly reliant on third-party applications, how do organizations balance security and usability? Our Director of Product […]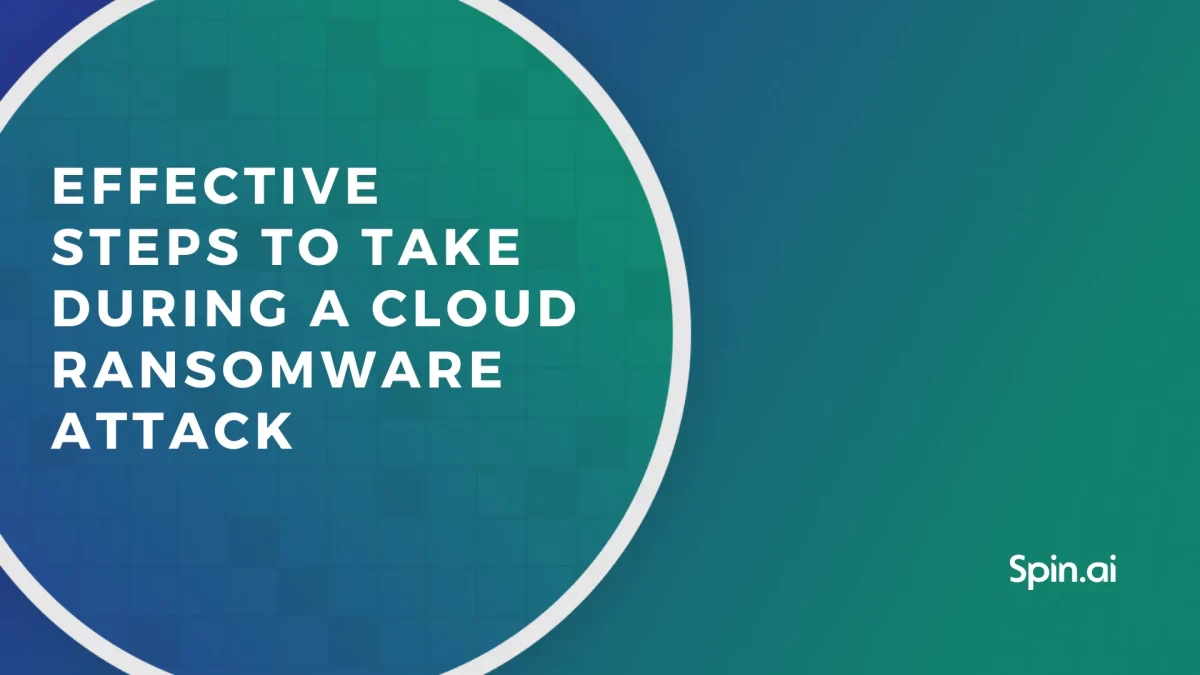 In 2023 alone, 72% of companies were affected by ransomware, a significant increase compared to 55% in 2018. Unless your […]