June 6, 2022 | Reading time 7 minutes
ISO 27001 Compliance: Overview and Best Practices
Outside of cybersecurity, there is arguably not a topic that is more important to businesses today than compliance. However, both cybersecurity and compliance are closely related. There are many compliance frameworks that organizations may be obliged to comply with and adhere to implement a solid baseline for cybersecurity and best practices. Two major compliance frameworks that help organizations meet a high level of confidence in people, processes, and technologies are SOC 2 and ISO 27001. What are these compliance standards? In this overview of SOC 2 and ISO 27001 compliance, we will look at these in more detail and see how they benefit businesses as they migrate to the cloud. How does it affect which cloud solutions you choose?
What is the SOC 2 compliance framework?
To begin, what is the SOC 2? System and Organization Controls (SOC), developed by the Association of International Certified Professional Accountants, is a framework for service organizations that store client data in the cloud. It includes organizations that offer SaaS and other cloud services or leverage cloud storage solutions to store client information.
SOC 2 audits are critical compliance audits used by organizations that outsource cloud services that access customer data. It helps to ensure that customer data is secured, protected, available, and regarded as confidential and sensitive. In addition, the principles outlined in SOC 2 guidance ensure organizations meet the best practice guidelines regarding system processing. SOC 2 is also a highly esteemed compliance designation for service providers and other organizations locating data in the cloud to give proof of compliance for business stakeholders and customers.
Notably, customer organizations who use cloud service providers benefit from the required SOC 2 audit of cloud service providers. The audit helps to provide customer organizations proof to client companies to guarantee the security and care of their customer data entrusted with the cloud service provider. It also offers these SOC 2 organizations' requirements on how data is transmitted, stored, processed, and disposed of. Examples of companies that may undergo regular SOC 2 audits to measure their continued compliance with the standard include Software-as-Service (SaaS) providers, colocation facilities, data processors, cloud storage providers, and others.
How does SOC 2 compliance bolster data security in the environment? When an organization must meet the guidelines and requirements of SOC 2, it means it must adopt specific internal controls. These controls help identify risks, audit and review current security control, oversee and perform security awareness training by personnel, review access controls, and review disaster recovery and business continuity.
Organizations that meet the requirements outlined for the SOC 2 certification have a thorough understanding of data security in their organization. In addition, they have identified and understood risks in the environment and any issues that need remediating.
SOC 2 Trust Service Principles
A unique aspect of SOC 2 is the SOC 2 reports are different for each business. Therefore, each organization can design its own controls to meet the outlined trust principles defined by SOC 2. In addition, SOC 2 defines five core principles referred to as the trust service principles. What are these?
Security – With the security trust principle, it refers to the protective measures taken to prevent unauthorized access to systems and attacks on these systems. The security mechanisms protect against compromising data, unsanctioned use of software or applications, data leaks, or data exposure. SOC 2 certification means organizations use the tools and technologies to help protect against and prevent security issues in the environment, such as multi-factor authentication, security technologies, firewalls, intrusion detection, etc.
Availability – When systems and data are available, they are accessible by customers for business-critical processes. Availability guarantees or expectations are defined in service level agreements (SLAs). It is an agreed-upon expectation between the two parties. However, it presupposes the underlying technical means that ensure availability, such as site failovers, disaster recovery, security incident handling and mitigation, performance monitoring, etc.
Processing integrity – Processing integrity helps determine if a system can process the data flow as designed and in a way that is acceptable to all involved parties. The data processing must be monitored effectively and vetted with appropriate quality assurance procedures to ensure processing integrity.
Confidentiality – Confidentiality is a vital pillar of the SOC 2 standard. Access to data must be restricted to only authorized persons or organizations. Any sensitive data must be protected at all costs. Enforcing the appropriate controls, such as encryption, is critical to ensuring confidentiality
Privacy – Worldwide, the concept of data privacy is being amplified throughout many compliance frameworks, such as GDPR. Data privacy relates to the use, processing, collection, disclosure, or disposal of personally identifiable information (PII). PII data must be treated as one of the most sensitive types of information.+
What is ISO 27001 compliance?
Like many other security and compliance standards, ISO 27001 is an international standard that provides requirements for information security management. The complete standard is ISO/IEC 27001, Information Technology Security Techniques, and Information Security Management Systems Requirements.
The ISO/IEC 27001 information security standard is published and curated by the International Organization for Standardization in collaboration with the International Electrotechnical Commission (IEC). The specific ISO 27001 standard is the component of the compliance framework that addresses information security.
The ISO 27001 compliance standard is a framework of standards and best practices to help companies have a set of best practices for protecting their information technology infrastructure and the valuable data these store and process. Organizations can also become ISO 27001 certified. Like the SOC 2 certification, ISO 27001 certification helps organizations prove they have the appropriate safeguards to protect their customers' and partners' valuable data.
Core ISO 27001 Objectives
ISO 27001, Clause 6.2 states in part:
"Establish applicable (and if practicable, measurable) information security objectives, taking into account the information security requirements, results from risk assessment and treatment."
It leads to three ISMS security objectives with ISO 27001:
Integrity – Organizations must enforce the security and integrity of their data and systems by ensuring only authorized users can change business-critical and sensitive data
Confidentiality – Keeping data secured so that only authorized users can access data is crucially important
Availability – Data must be available at all times. Availability priorities must be met to ensure data is accessible and available for critical systems and services
Benefits of ISO 27001
There are many benefits to ISO 27001 compliance and certification. These include the following:
It helps prove your security focus – Applying the principles and best practices outlined in ISO 27001 provides a clear indicator to potential customers of your business's security focus, which is critically important today
It enables complying with legal and regulatory requirements – Many of the core tenants of the ISO 27001 standard help meet the many legal and regulatory requirements. The ISO 27001 framework helps organizations prepare for and meet the many challenges and needs for ensuring information security.
It improves your organization's overall cybersecurity posture – Many businesses that adopt the ISO 27001 do so to improve their cybersecurity posture. The ISO 27001 standard helps organizations adopt and implement information security best practices to help meet today's security, privacy, and compliance challenges.
It can give your business an advantage over the competition – The ISO 27001 compliance certification can help your business stand out from the competition. Again, it is a clear indicator of adopting cybersecurity best practices and helps potential customers have confidence in the integrity and security of their data.
It can help with other stringent compliance frameworks, such as GDPR – ISO 27001 shares many of the core compliance framework standards as other compliance frameworks, such as GDPR. As a result, many businesses use ISO 27001 as a springboard for compliance with GDPR.
Why SOC 2 and ISO 27001 compliance should be important to you
As we have discussed, SOC 2 and ISO 27001 are crucially important compliance frameworks that help to ensure the integrity, security, and availability of business-critical data. However, if you are not a cloud SaaS provider or host other cloud services, do you need to care about SOC 2 and ISO 27001? The short answer is yes.
Today, most organizations are heavily migrating data to the cloud and using cloud Software-as-a-Service (SaaS) offerings to carry out business-critical tasks. Even if SOC 2 or ISO 27001 is not required or used by your business, you should look for SOC 2 or ISO 27001 certifications for any cloud services and solutions your organization uses. It helps validate that the solution or vendor used aligns with the de facto information security standards in implementing their cloud services.
Compliance frameworks that your business must comply with undoubtedly require that services and solutions used by your organization meet specific security requirements. Aligning your business with third-party solution providers and cloud services makes compliance audits easier for your organization.
Learn about other frameworks: HIPAA, SOC 2, and NIST.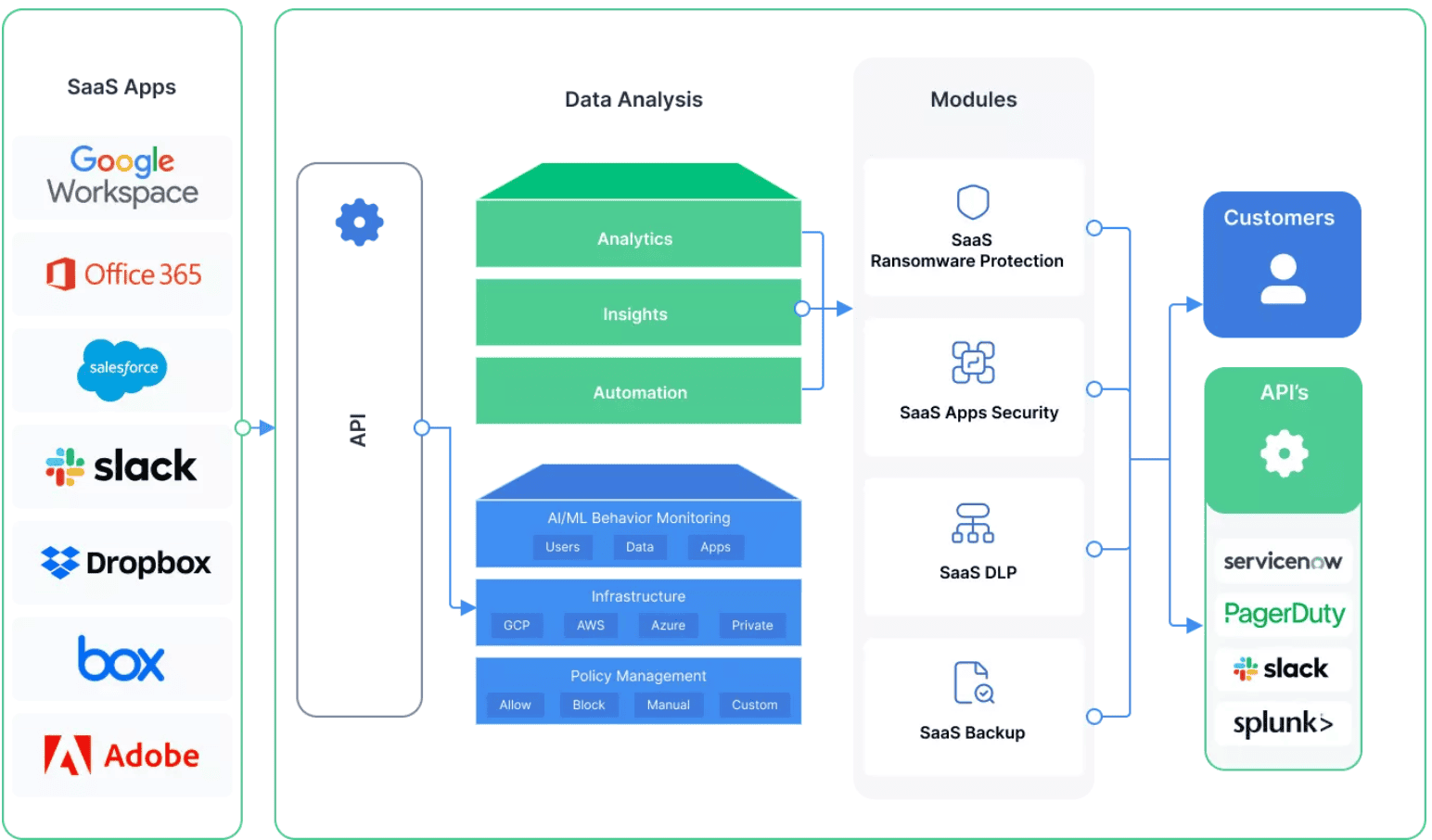 Data Protection and Security
Ensuring that any cloud services meet with SOC 2 or ISO 27001 helps ensure the solution maintains the highest cybersecurity standards for your business-critical data. It includes cloud services you use for data protection and security. Organizations migrating to the cloud and using cloud data protection must ensure the solution they choose aligns with these crucial compliance frameworks.
SpinOne provides world-class data protection and security company using next-generation artificial intelligence (AI) and machine learning (ML) driven technologies to protect your critical data. Spin Technology is committed to ensuring the security and privacy controls of the solution meet or exceed security best practices and regulatory requirements.

SpinOne is an all-in-one platform that protects your SaaS data across multiple environments
Note how security and compliance are at the core of the SpinOne solution.
SpinOne uses secure cloud ecosystems, including Amazon Web Services (AWS), Microsoft Azure, and Google Cloud Platform (GCP)
It allows customers to select the geographic region and cloud service provider where their data will be stored, allowing them to align with data sovereignty and geolocation challenges with ease
It uses the latest versions of secure algorithms and protocols such as TLS 1.3 for transmitting data and AES-256 for data stored at rest.
Physical access is provided by the best-in-class data centers maintained by cloud service provider partners (AWS, Azure, and GCP)
Spin is committed to supported customer regulatory, legal, and contractual requirements and conducts frequent assessments to ensure Spin solutions are in compliance with the following:

The General Data Protection Regulation (GDPR)
The Health Insurance Portability and Accountability Act (HIPAA)
The California Consumer Privacy Act (CPPA)
The Payment Card Industry Data Security Standard (PCI-DSS)

SOC 2 Type II – Spin annually undergoes a SOC 2 Type II audit. The report is available to the existing customers upon a formal request and signing of an NDA
Learn more about SpinOne compliance and data security standards and book a demo for either Google Workspace or Microsoft 365 here: Spin Technology
How Can You Maximize SaaS Security Benefits?
Let's get started with a live demo
Latest blog posts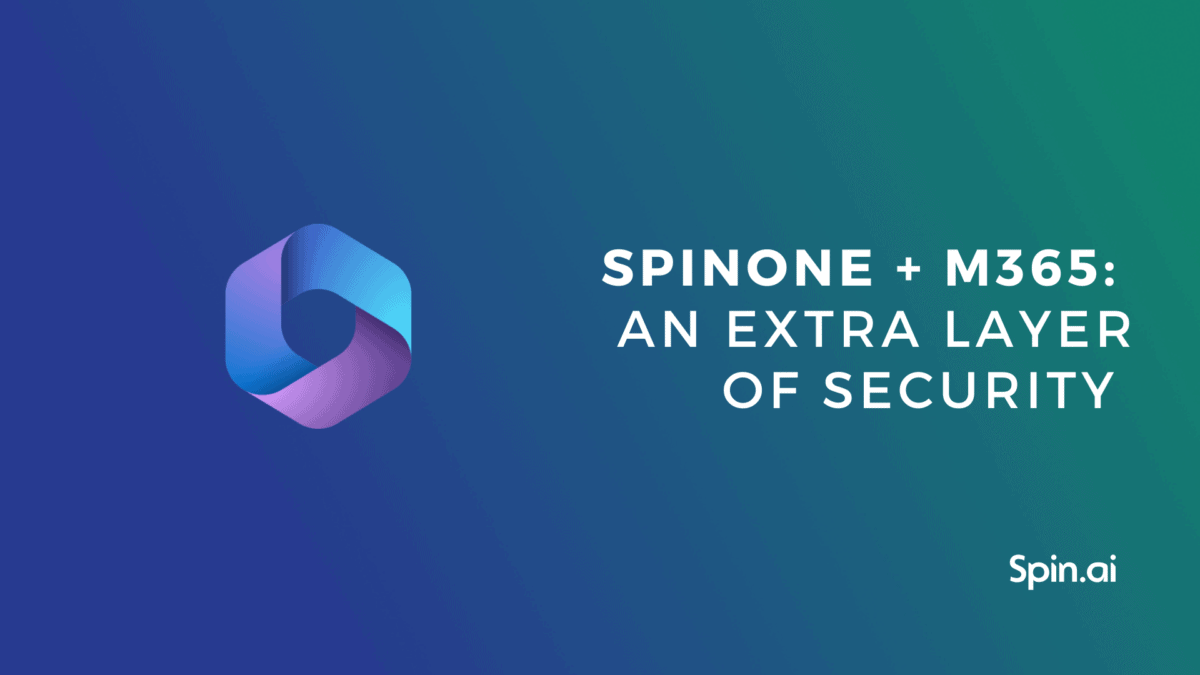 Microsoft 365 (M365) is one of the leading collaboration and communications platforms among organizations today. Companies have been migrating in […]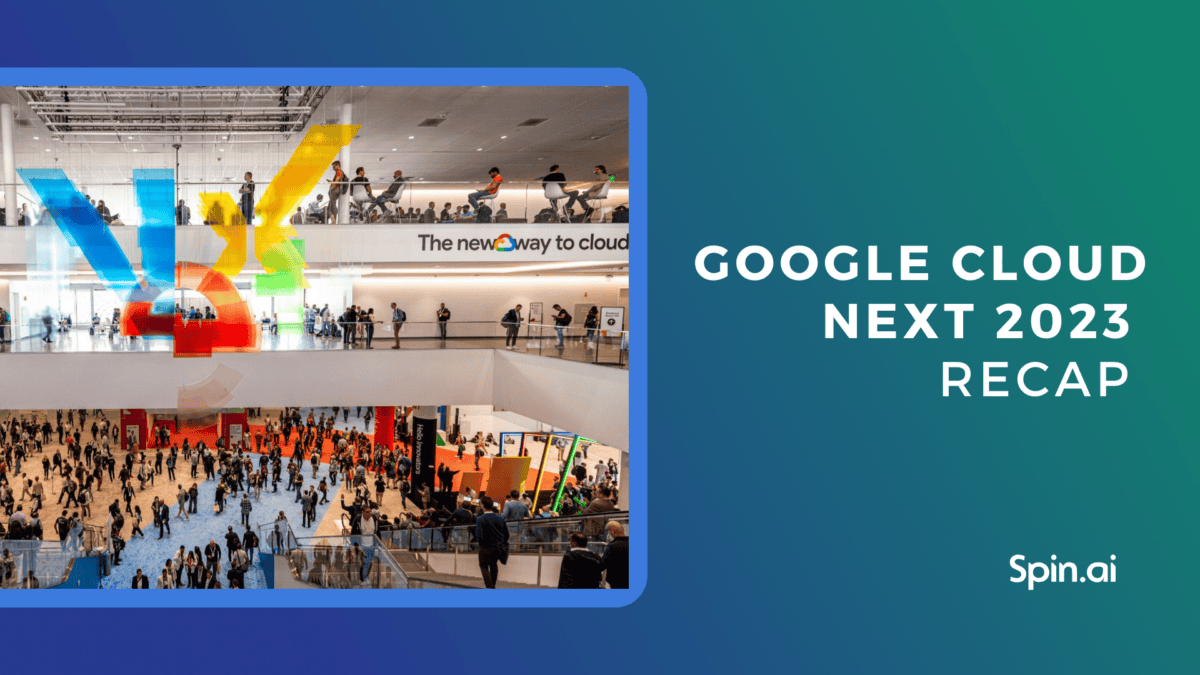 At the San Francisco Moscone Center, the Google Cloud Next 2023 conference was, as expected, one of the highlights of […]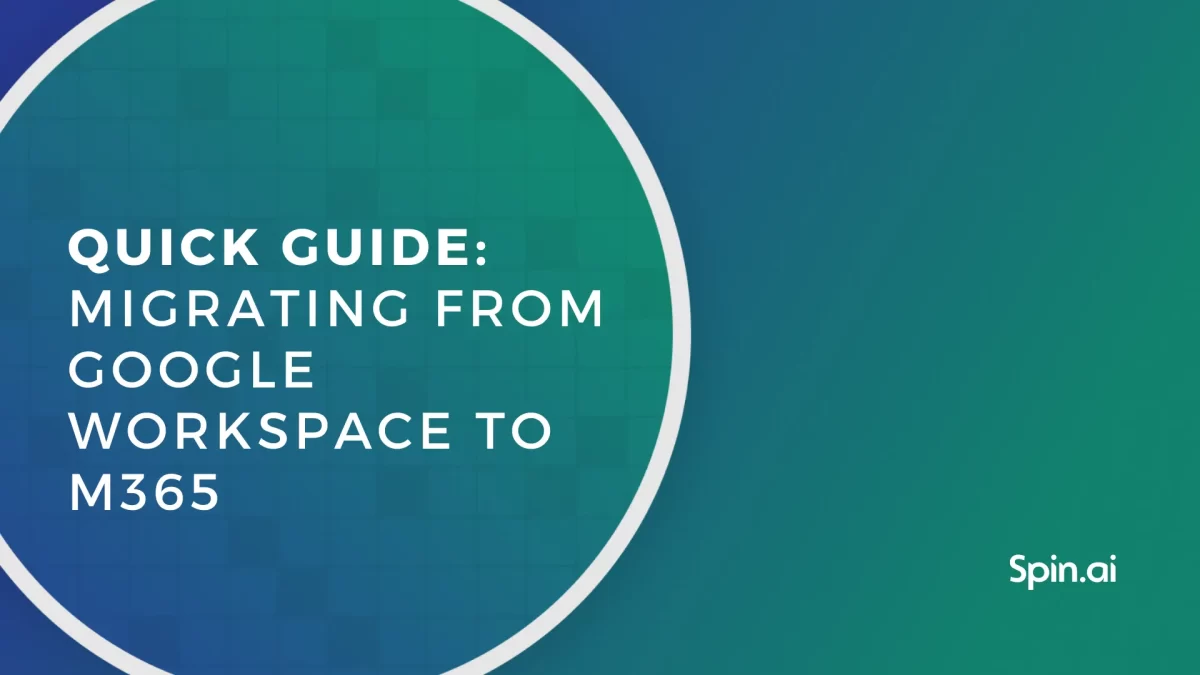 Deciding to migrate from Google Workspace to Microsoft 365 may be on the project list for some organizations. While both […]