August 7, 2023 | Reading time 7 minutes
How to Choose the Right Enterprise Ransomware Protection Solution for Your Business
Large companies have been the primary targets of cyber criminals at all times. Despite the awareness of the growing risks, enterprises fall victim to ransomware attacks on a regular basis. This article will help you to find the optimal enterprise ransomware protection solution for your business.
How To Defend Enterprises Against Ransomware Attacks
Able to pay significant ransoms, enterprises are among the most sought-after targets for cybercriminal gangs. The outcomes of successful ransomware attacks for a large company are devastating. A large company will have to face significant reputational and financial losses, downtime, and legal consequences.
Furthermore, ransomware has proven to be an extremely efficient method of cybercrime for easy data theft and/or money extortion. By reason of that, enterprises need a complex ransomware protection strategy that includes different measures and tools. Hereafter, we list the essential components of such a strategy. Keep in mind, none of them is a "silver bullet" that, used alone, will guarantee business protection.
Data Backup
Backup is a necessary element of data protection not only in case of a ransomware attack. It enables you to restore data that has been encrypted by this type of malware. However, there are several reasons why they aren't enough.
These include the low speed of restoration (especially within cloud environments like GW or MSO 365) and the double extortion technique of the latest strains.
We've been following the attacks since 2014, and most of the recent ones include data theft prior to encryption.
If you want to study the subject deeper, we invite you to read our analysis of the latest FBI and CISA Alert (A22–249A) explaining why data backup isn't enough for enterprise ransomware protection.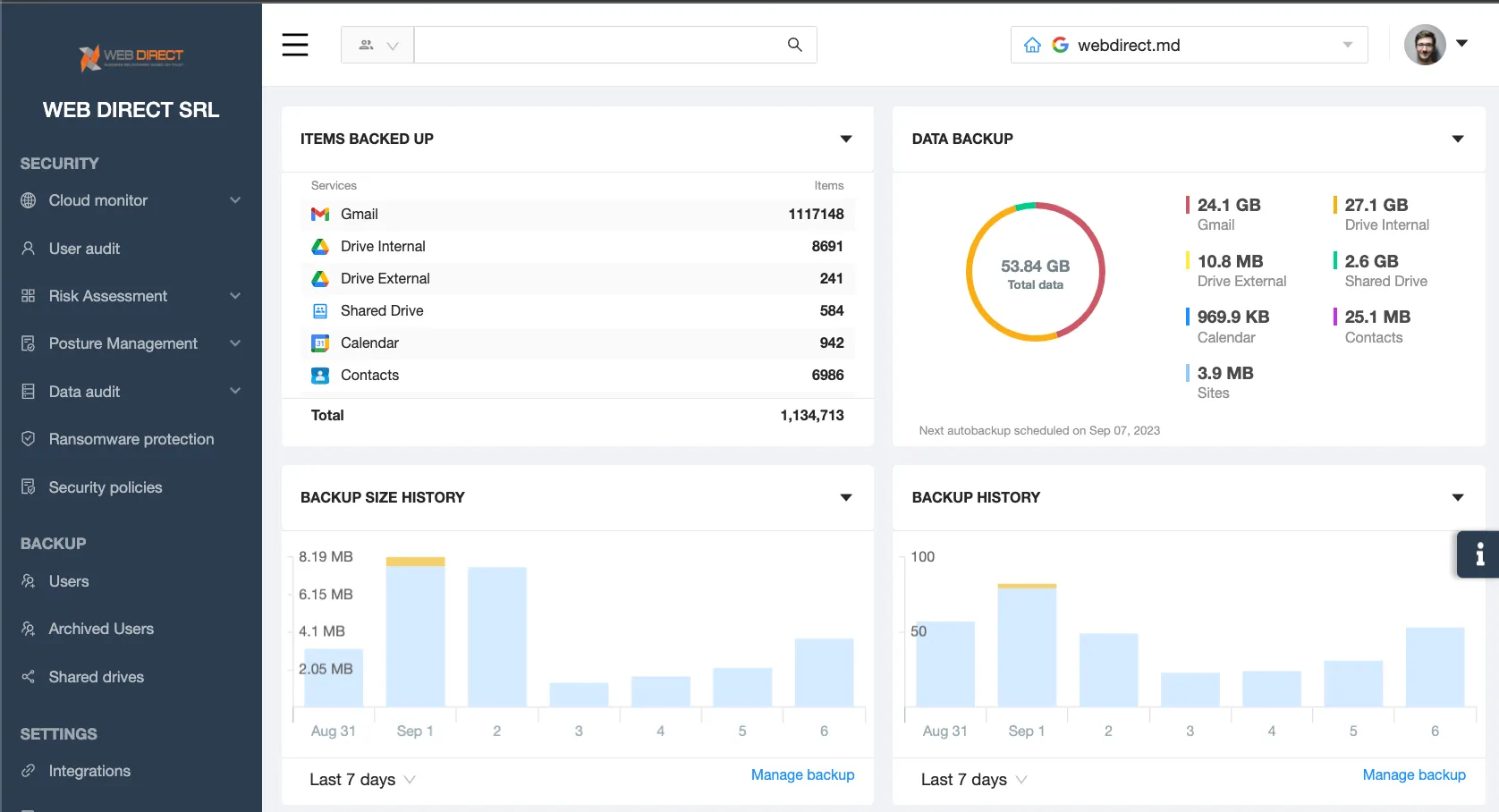 Proper IT Hygiene
Similar to backups, proper IT hygiene is topical when it comes to overall enterprise cybersecurity. It includes imposing regular updates of computer OS and installed software, and using anti-virus and anti-spyware programs.
One more important element is making access to digital environments as complex as possible. This encompasses multifactor authentication and password management.
Proper IT hygiene must also include keeping the employees' cybersecurity awareness high through regular training initiatives.
Finally, enterprises need state-of-the-art monitoring and control of their cloud environment, such as data sharing, cloud access, and SaaS applications.
Remote work
After the pandemic, a part of the workforce is not ready to return to offices. That's why the issue of using unprotected or poorly protected Internet access (like home or public Wi-Fi) remains relevant.
Experts suggest the mandatory use of VPN for remote workers since VPNs encrypt otherwise unencrypted data sent over public networks.
Supply chains, business services, and partners
Consider the recent trend spotted by SpinAI experts monitoring ransomware proliferation. Cybercriminals began actively targeting SMBs that serve enterprises. Their goal is to acquire sensitive data of large businesses including inter alia the credentials that will enable them to access various cloud workloads.
It can be achieved through a thorough oversight of the cybersecurity systems of your potential suppliers, partners, and service providers. In best-case scenarios, your SecOps should be on each buying team with a veto right.
Ransomware protection tools
We suggest acquiring antivirus software for endpoint security and cloud workload protection.
The gold standard would be anti-ransomware tools that incorporate most of the above-listed components. Consequently, an enterprise can get a defense system that guards multiple potential attack vectors for ransomware infection.
This article overviews anti-ransomware software for the cloud.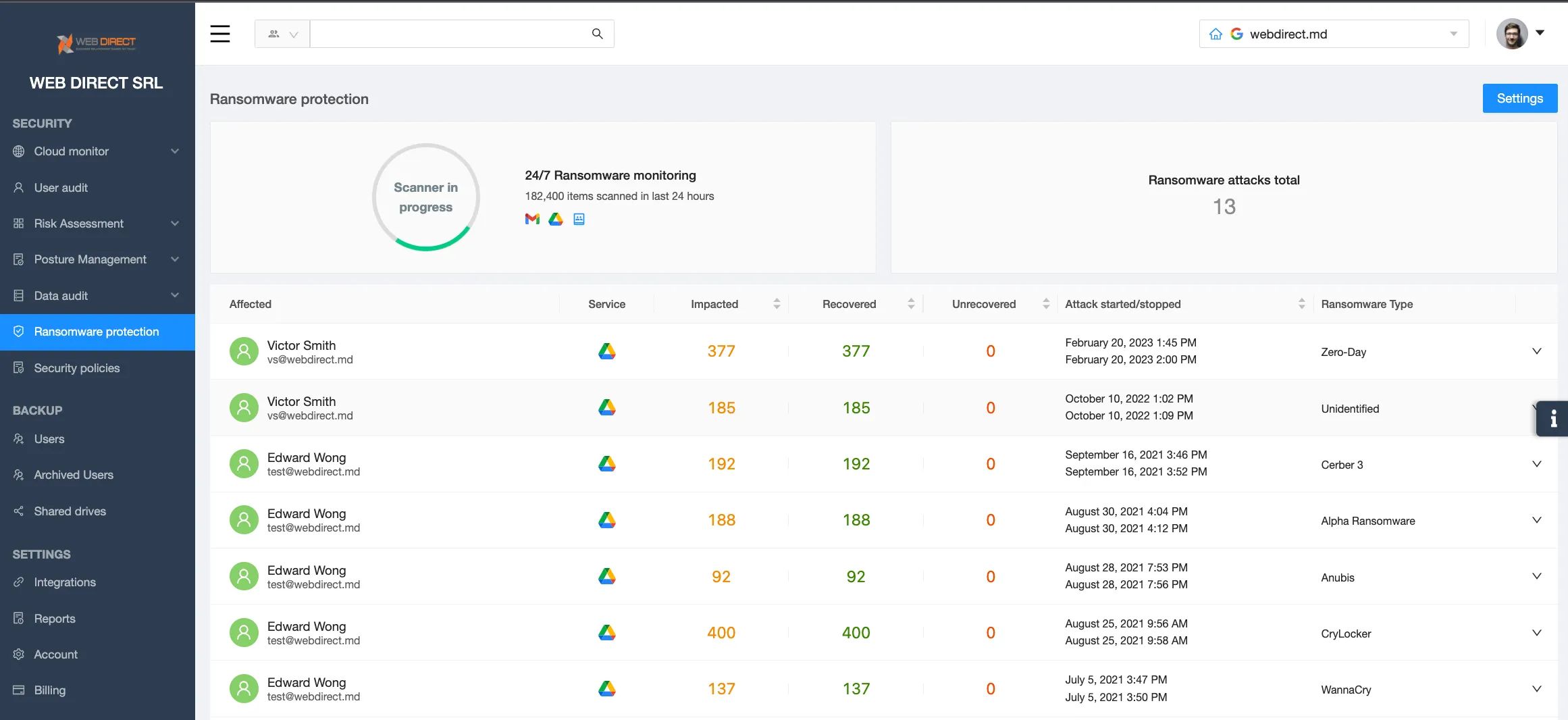 Protection From Cloud Ransomware: Buying Checklist for Enterprises
While one cannot expect to find a one-size-fits-all solution to ransomware threats, we can list a number of important factors to look into when making your buying decision.
Supported Platforms
When it comes to large businesses, the first cloud platform that comes to mind is Microsoft Office 365. Thus many ransomware protection tools on the market are designed specifically for Microsoft Office 365. However, quite a few large businesses prefer Google Workspace. Furthermore, some use both solutions. Respectively, for them, it would be preferable to find a tool that works on both platforms.
Available Features And Functions
If you're examining anti-ransomware software, consider the following key features:
Ability To Find Anomalies
Data behavioral analysis is considered the most advanced feature in ransomware prevention. The tool with such functionality monitors the daily activities of the users in the SaaS environments. Such analysis is often conducted by an AI.
It detects the regular 'data behavior.' When the malware begins file encryption the tool detects it within minutes.
Automation
Another important feature is the ability to take immediate action without human control, i.e., revoke ransomware access to the digital environment. Because IT specialists aren't always present and can't react as fast as software, an automated response is essential.
Response
How quickly does the ransomware prevention tool respond to an attack? The answer will impact your downtime period. Some tools wait for the attack to stop and only then take necessary actions. As a result, the break in the victim's business operations can take weeks.
Backup & Restore
Not all solutions that stop ransomware have backups. We suggest opting for those that have. In this event, the tool will initiate restoration without human involvement decreasing the downtime.
Regular Updates
Ransomware is one of the most rapidly changing programs. It has multiple strains, the new ones being issued every once in a while, at least once a year. Furthermore, new functionality and new techniques are also developed (e.g. first double extortion, then triple extortion).
To keep up with them, you need software that is regularly updated. It is also critical to add, that the lack of updates in any program might pose severe vulnerability exploitation risks.
Customer Support
You should be able to get help when you need it. Make sure the ransomware protection solution you choose has good customer support.
Pricing And Packages
Pricing is important, but don't let it be the only factor you consider. There should be a balance between your company's needs and the budget. Also, it's reasonable to remember that the financial loss from a successful ransomware attack will be greater than the price you pay for its prevention.
SpinOne Cloud Ransomware Protection
SpinAI developed AI-based cloud ransomware for Google Workspace and Microsoft Office 365. It has two products:
SpinSecurity. In a nutshell, it is an isolated tool with a single functionality.
SpinOne. It is a data protection platform with ransomware protection as part of its broader functionality.
We suggest opting SpinOne as some of its features (like shadow IT control) can help you prevent ransomware attacks. In order to avoid confusion and for the purposes of concision, we will use the name of the platform to refer to the ransomware-related functionality.
SpinOne Pros and Cons
Advantages
1. SpinOne uses artificial intelligence and data behavioral analysis to detect ransomware in the cloud.
2. It has a very low false positive rate, meaning that it does not mistakenly identify legitimate files as being ransomware.
3. It has the shortest response time and thus the shortest downtime. In many cases, the attack is over by the time the Admins start an investigation.
4. The tool is fully automated and doesn't require intervention from a human.
5. It doesn't depend on the availability of decryption keys. That's why it is equally good against old ransomware families and new strains.
6. After the attack, you do not need to manually restore data. The solution does it for you.
7. The development team makes sure to regularly update the software.
8. SpinOne has invested many resources to develop straightforward UX. It is easy to manage and you can effortlessly find the necessary functionality.
9. The platform has many features that can take your data protection to the next level.
Disadvantages
1. SpinOne is a cloud-based solution, so you need to be sure you have good internet connectivity for it to work correctly.
2. The pricing is upper mid-range.
Supported Platforms
SpinOne works with Microsoft Office 365 and Google Workspace.
Available Features And Functions
SpinOne is one of the few tools that offers comprehensive protection against ransomware. Let's take a look at the key features:
It provides hands-free 24/7 data monitoring.
It detects and revokes ransomware access to your GW or MSO 365.
It has an in-built automated backup that stores data in GCP, AWS, or Microsoft Azure.
In addition to the above-listed features, SpinOne platform has the following functionality that provides an additional layer of ransomware protection:
Detection of shadow IT
Risk assessment of applications.
Data-protection-related policies.
Sharing monitoring and control.
Abnormal login detection.
Customer Support
SpinOne customer support is praised highly by its clients. The company has a team of experienced and qualified professionals who are available to help customers 24/7 via email, and live chat.
Security, Certification & Compliance
SpinAI puts much effort to ensure security and compliance for its clients. It uses the latest versions of TLS 1.3 for data transmissions and AES-256 for stored data encryption. It is certified under the EU-US Privacy Shield
SpinAI undergoes regular compliance audits:
SOC 2 Type II
GDPR
HIPAA
CPPA
PCI-DSS
Pricing
SpinOne is an optimal solution when it comes to the price-quality ratio both for enterprises and medium businesses.
FAQs
What is ransomware, and why is it a significant threat to enterprises?
Ransomware is a type of malware that decrypts data in an IT system. Without decryption key data recovery is almost impossible. However, data recoverability with description keys is still low. Losing data can cause significant problems for an enterprise.
How do ransomware attacks typically occur, and what are the potential consequences for businesses?
The ransomware attacks occur mostly as a result of successful social engineering attacks or zero-day attacks. The consequences for business include downtime, legal issues, revenue, and reputational losses.
Why is it crucial for enterprises to invest in a dedicated ransomware protection solution?
Right ransomware protection can successfully stop a ransomware attack before it decrypts all the files in the system. Thus enterprises do not have to pay hackers and undergo downtime.
What are some key features to look for in an enterprise ransomware protection solution?
The key features to look for in an enterprise ransomware protection solution are the principle of ransomware detection, the attack termination principle, and the estimated time of downtime. The best ransomware protection tools use AI to analyze data behavior and predict the attack correctly. They terminate the attack as soon as the AI positively determines it by revoking access to the malicious ransomware app. The downtime of such tools is just an hour or less (as opposed to days or even weeks for other tools).
How Can You Maximize SaaS Security Benefits?
Let's get started with a live demo
Latest blog posts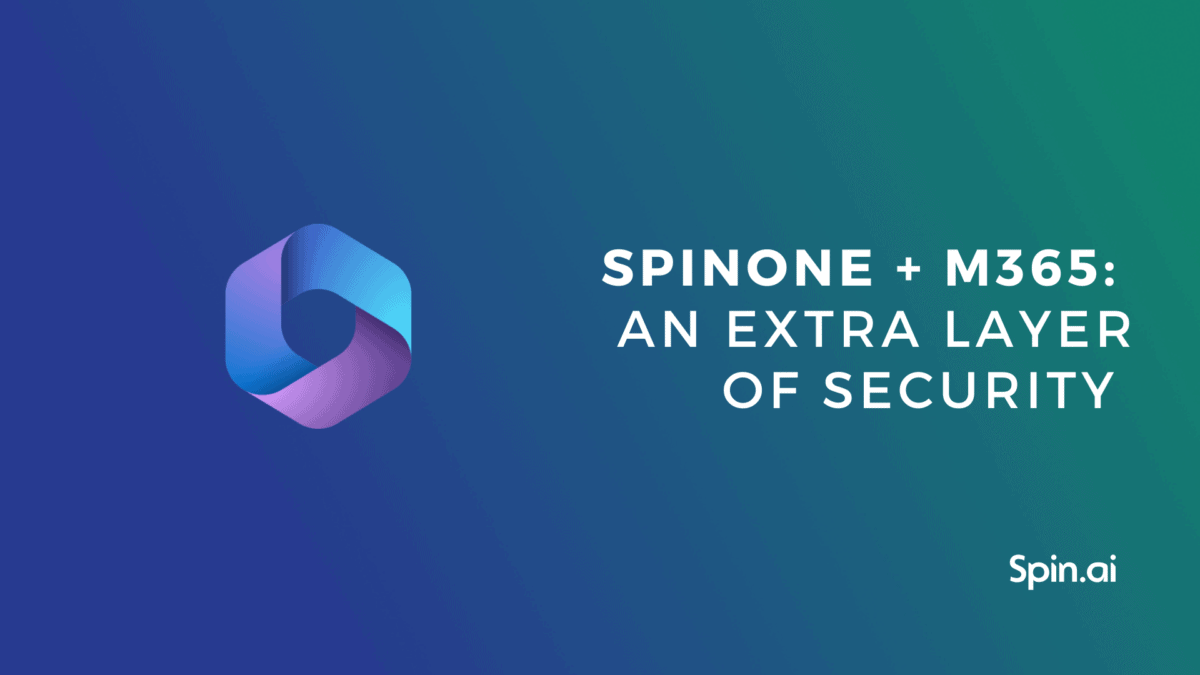 Microsoft 365 (M365) is one of the leading collaboration and communications platforms among organizations today. Companies have been migrating in […]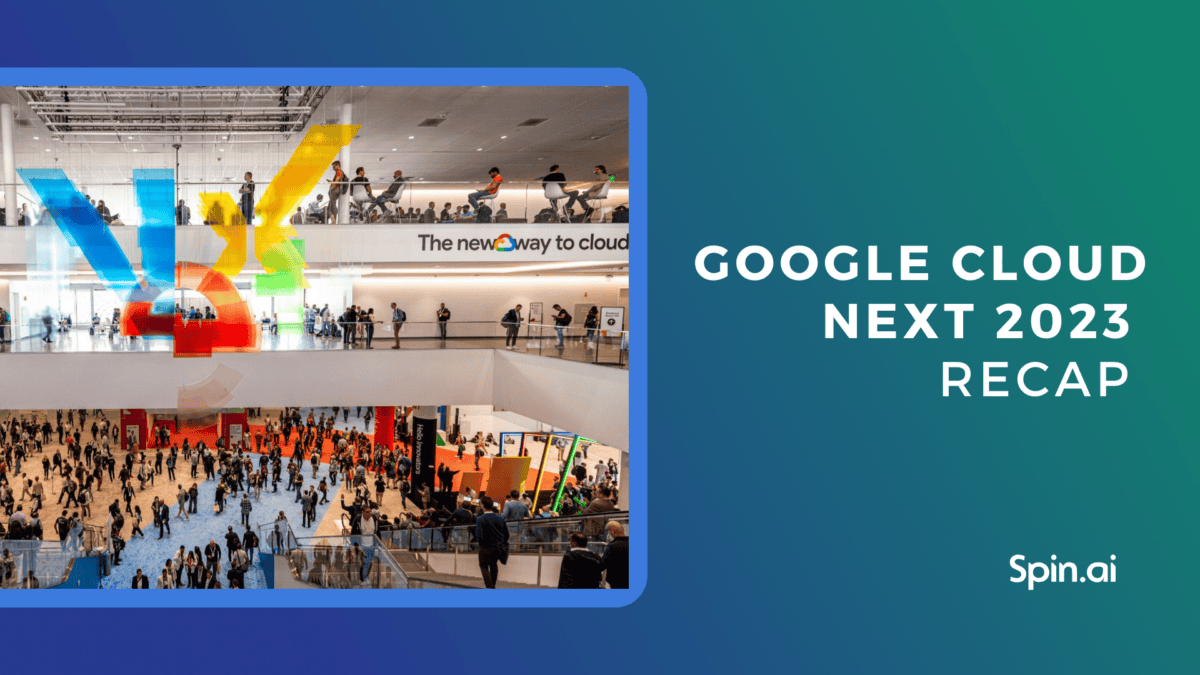 At the San Francisco Moscone Center, the Google Cloud Next 2023 conference was, as expected, one of the highlights of […]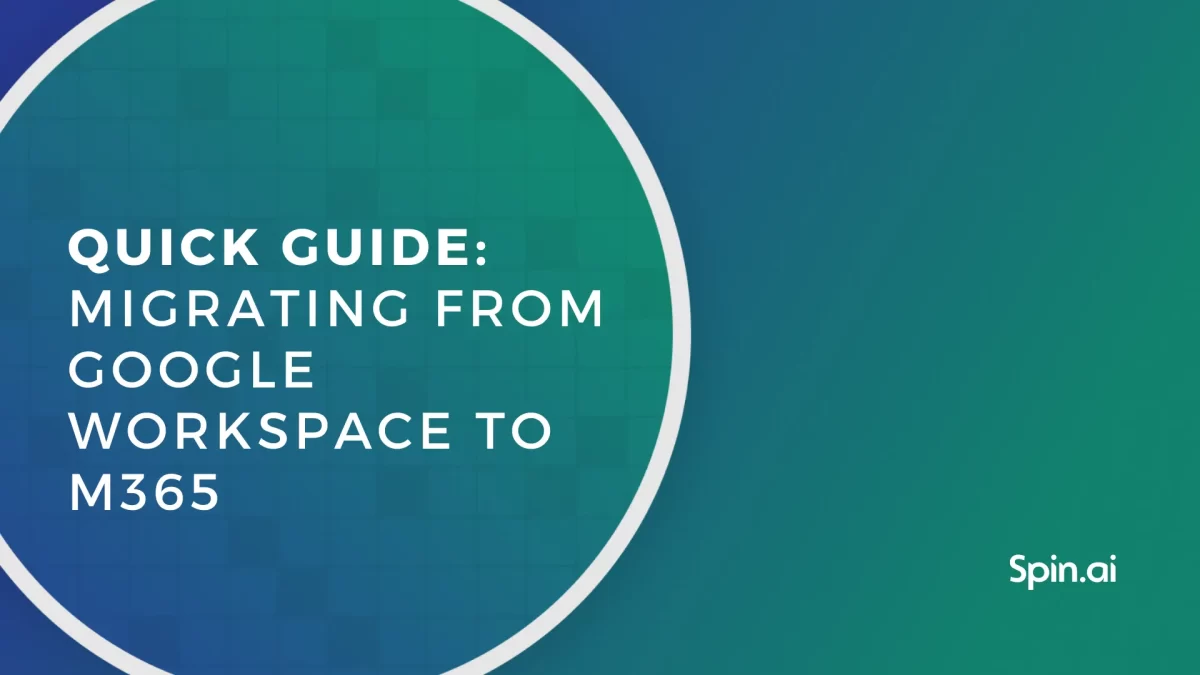 Deciding to migrate from Google Workspace to Microsoft 365 may be on the project list for some organizations. While both […]